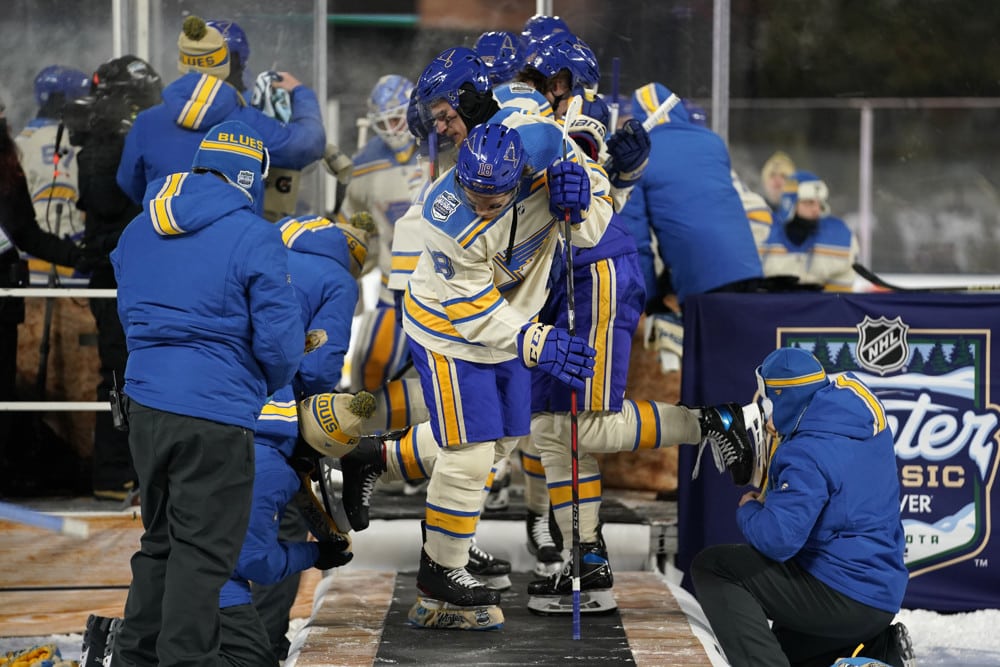 The NHL season is back in full swing after an extended Holiday Break due to the COVID outbreak. Of course, we're right back with our Fantasy Hockey Waiver Wire watch column to help you navigate the COVID-impacted waters.
There is a rather balanced schedule this week with no teams playing more than three games. In fact, 19 teams are scheduled to play three games this week. However, most of those teams are scheduled to play the typical Tuesday, Thursday, Saturday schedule on the busier days. There are eight games on Tuesday and then 12 on both Thursday and Saturday.
On weeks like this, it's important to look at teams that are playing on "light nights" –– nights that have a lighter slate of games. This week, the light nights are Monday (1), Wednesday (2), Friday (2), and Sunday (1). I'm going to keep my Fantasy Hockey Waiver Wire focus on the teams playing three times this week with at least one game on those days.
---
Calgary Flames
The Flames have one game on a light night (Friday) this week, which also happens to be the second half of a back-to-back.
Tuesday at Florida Panthers
Thursday at Tampa Bay Lightning
Friday at Carolina Hurricanes
The Flames were one of the teams hit hardest by the NHL's COVID outbreak with upwards of 20 players on the protocol list. Now, they're healthy and we're running it back with these two players to watch this week.
Waiver Wire Watch: Rasmus Andersson (D – 36% Rostered)
Andersson plays on the Flames' top defensive pair, top power-play unit, and kills penalties as well. He's an all-situation defenseman that can help you across the board.
Andersson has five shots, one hit, and one block in the Flames' final game of 2021. He has 15 assists (six on the power play) in 29 games this season.
With three games coming up this week, Andersson will look to add to his point total as one of the Flames' top defensemen.
Backup goalie watch: Dan Vladar (G – 14% Rostered)
The Flames are one of just four teams scheduled to play on Friday night and you should be able to snag their starting goalie for that game. Vladar may not be favored to get the win in Carolina against a good Hurricanes team, but he'll be able to rack up saves with his .928 SV%.
Vladar may still have the IR indicator in your league, but he should be good to go by Friday (or sooner).
---
Dallas Stars
The Stars have three games scheduled this week, but they could be in jeopardy. Dallas added three players to the COVID list on Wednesday and had its games postponed through Sunday. However, the upside is that Dallas' three scheduled games are all later in the week with one (Sunday) on a light night.
Thursday vs. Florida Panthers
Saturday vs. Pittsburgh Penguins
Sunday at St. Louis Blues
Waiver Wire Watch: Jamie Benn (C, W – 65% Rostered)
This Stars team has a few players that are owned in a lot of leagues and a handful in the middle-tier. Benn is one of those, rostered in 65% of leagues. The Stars captain was placed on the COVID list on Wednesday but could clear before Thursday –– Dallas' first game this week.
There isn't a ton to get excited about with the aging veteran, but Benn can still put up points. He had six points in nine December contests, including a two-point night on December 20th –– the Stars' last game.
Keep an eye out for our midweek Fantasy Hockey Waiver Wire piece for more news on Benn and the Stars.
Backup goalie watch: Jake Oettinger (47% Rostered), Braden Holtby (46% Rostered)
You can't go wrong with either of the Stars goalies. They have a back-to-back on the weekend so they should split those starts at the very least.
Oettinger and Holtby both have a .922 save percentage with the youngster holding a slight GAA advantage over the veteran, 2.24 to 2.44. Holtby is 5-7-2 in 14 starts while Oettinger is 7-2-0 in nine starts.
---
New York Rangers
The Rangers conclude a home back-to-back on Monday as the lone game on the slate before two games on busier days this week.
Monday vs. Edmonton Oilers
Thursday at Vegas Golden Knights
Saturday at Anaheim Ducks
Fantasy Hockey Waiver Wire Watch
Alexis Lafreniere (W – 29% Rostered)
With Artemi Panarin in COVID protocol as of Sunday, there's a chance for someone to step up in his absence. The Rangers have been led by their big guns this season and now it's time for one of the young guns to step up.
Lafreniere, the 1st overall pick in 2020, hasn't lived up to the hype yet with nine points in 33 games. Three of those points are in his last nine games, including a goal on New Years' Eve, so maybe he's heading in the right direction.
Kaapo Kakko (W – 11% Rostered)
Kakko, the 2nd overall pick in 2019, has just 11 points in 29 games this season. However, he could pick up some points playing on the top line with Chris Kreider and Mika Zibanejad. Kakko is also on the top power-play unit with those two, Ryan Strome, and Adam Fox.
Backup goalie watch: Alexandar Georgiev (21% Rostered)
Georgiev was removed from COVID protocol on Saturday and should get the starting nod on Monday night against Edmonton. It'll be the second half of a back-to-back for the Rangers after starter Igor Shesterkin posted a 4-0 shutout win against Tampa on Sunday afternoon.
The Bulgarian netminder is 5-3-2 this season with a .902 SV% and 2.87 GAA. Oilers vs. Rangers is the only game on Monday's slate (with the Rangers as -130 favorites) and you should be able to grab Georgiev off the fantasy hockey waiver wire.

---
Pittsburgh Penguins
The Penguins play thrice this week also with one game on a light night (Wednesday). That game is also the first of a back-to-back and the first of three in four nights for Pittsburgh.
Wednesday vs. St. Louis Blues
Thursday at Philadelphia Flyers
Saturday at Dallas Stars
Fantasy Hockey Waiver Wire Watch
The Penguins are very top-heavy in terms of Fantasy Hockey, so you may not be able to find many valuable pieces on the waiver wire. Hopefully, one of these two is available in your league.
Bryan Rust (W – 66% Rostered)
Rust returned to action on Sunday after missing over a month with an undisclosed injury. Although he hadn't played in several weeks, he showed no signs of rust. He recorded a hat trick and added two assists for a five-point game. Oh yeah, he also had five shots on goal. Rust had nine points in 12 games prior to Sunday and is now above a point per game on the season. He had 42 points (22 goals, 20 assists) in 56 games last season.
Evan Rodrigues (C, W – 56% Rostered)
The Penguins have had injuries to some key players this season and Rodrigues is one of the guys who's stepped up. He also had a hat trick on Sunday to bring his goal total to 13 (26 points) in 31 games this season. The 28-year-old forward has come out of nowhere for the Penguins and needs to be rostered in your league.
Backup goalie watch: Casey DeSmith (20% Rostered)
DeSmith has been thrust into the starter's role with Tristan Jarry on the COVID list. Jarry could return this week, however, but DeSmith should still be on your radar. Pittsburgh is a good enough team to get DeSmith a win or two this week if Jarry isn't healthy.
---
St. Louis Blues
The Blues are fresh off an exciting win in the Winter Classic and have three games this week –– all on light nights! Stock up on Blues if you want to win your matchup this week.
Wednesday at Pittsburgh Penguins
Friday vs. Washington Capitals
Sunday vs. Dallas Stars
Fantasy Hockey Waiver Wire Watch
Ivan Barbashev (C, W – 61% Rostered)
Barbashev is blue-hot for St. Louis and really has been all season. He has 27 points (12 goals, 15 assists) in 32 games overall, is riding a four-game two-point streak, has points in eight of his last nine and 11 of his last 13 games. Rush to pick up this Russian forward.
Robert Thomas (C, W – 26% Rostered)
Thomas returned from a lower-body injury after missing seven games and immediately put up three points in two games last week. He now has 25 points in 26 games this season. Thomas is currently slated on the second line, but could get bumped down when Brayden Schenn returns –– keep an eye on that.
Brandon Saad (W, 14% Rostered)
Saad is a veteran forward that knows how to put the puck in the net. He has 12 goals this season but is in a bit of a rut with just one goal in his last eight games. This follows a three-game goal streak from Dec. 2 to 7 (and also a three-game goal streak from Nov. 18 to Nov. 22). He's playing on the top line and second power-play unit. If he gets hot you're going to want him in your lineup, and the Blues play thrice this week.
---
RELATED CONTENT