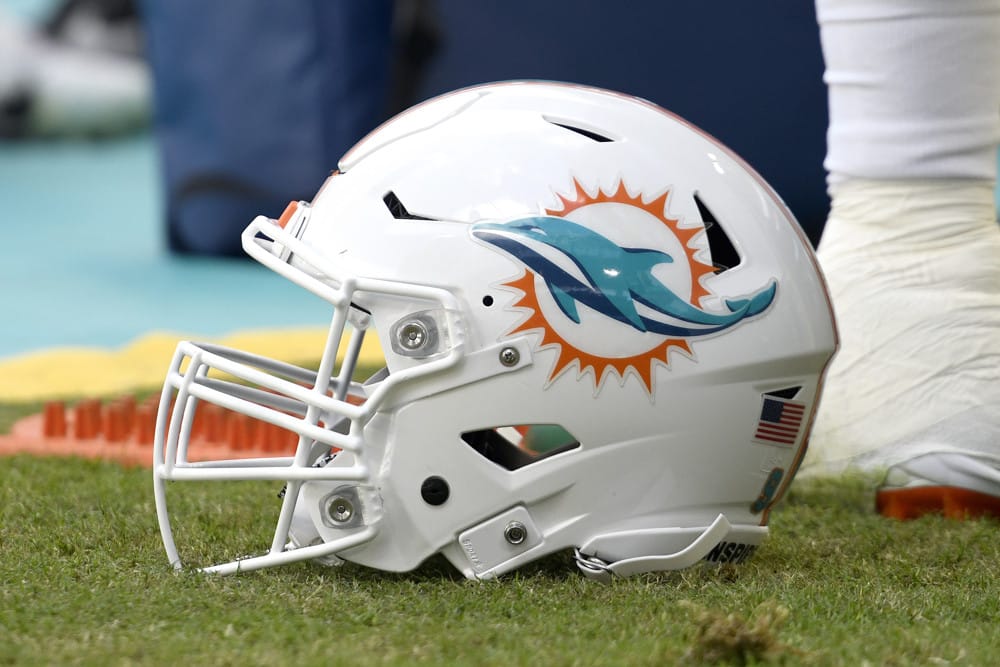 We are almost at the finish line and if you are reading this, you are still alive and ready for these NFL Survivor Pool picks.
As is the case often this late in the season, injuries play a heavy role this week. Several teams are dealing with COVID protocols. Many more have watched their stars leave the field with various ailments. This leaves us with some great opportunities to scratch some unorthodox names off the list. Hopefully, those opportunities pay off and you can advance to Week 16.
Each week, this article will help you identify some of the best NFL Survivor picks to help you live to play another week. Point spreads go a long way to provide context for potential good plays, so to that end, they will be included with each pick. Find these lines courtesy of our friends at Tallysight.
NFL Survivor Pool Picks – Week 15
Miami Dolphins (-8.5 vs New York Jets)
You have to hand it to the Miami Dolphins. They've found a way to put together the third-longest current winning streak in the league. The Fins have been victorious in five straight games entering Week 15. Surprisingly, Miami sits a game behind Buffalo for second place in the AFC East. Of course, no one would have believed that could be possible the way the season began. After a gutsy win against the Patriots to open the year, the Dolphins dropped their next seven games. It was difficult to put together solid outings with Tua Tagovailoa not at full strength for a span. That issue is resolved and Tua now heads a resurgent team. A COVID situation could keep their running backs off the field. That said, Myles Gaskin is vaccinated and still has a shot to play if he tests negative twice before Sunday.
https://twitter.com/MiamiDolphins/status/1469366804569075718
There's no denying the New York Jets just don't have it this season. So far they have managed only three wins on the year. Their rookie quarterback has been tested and has been found wanting. His supporting cast has failed to support him in a way that he can improve at his position. As lacking as they have been with him in, they suffered even more while he was out. They have had to operate without several key pieces this season on top of their quarterback. This week, they will be without the services of rookie wideout Elijah Moore who is out with a quad injury. When it comes down to it, they just do not have the firepower to keep up with anyone let alone a team on a hot streak. Picking on the Jets has kept many people alive this season. It'll keep you alive this week.
---
Houston Texans (+3.5 @ Jacksonville Jaguars)
Finally, the week has come where we get to break the season on the Texans. Chances are, you haven't been brave enough to count on Houston to help you advance. Doing so was the right call in all but two instances. Good on you though, if you picked them to beat the Titans a few weeks back. That win truly was the highlight of an otherwise lost season. To be fair, 2021 was a lost cause even before it began. Not being able to square things with Deshaun Watson sent the Texans spiraling. As a result, Houston has an anemic offense. It also doesn't help that their defense is also at the bottom of the league. Although, in spite of all of this, they get a chance to salvage some pride against a team with its own set of troubles. Not to mention, they have beaten once already this season.
https://twitter.com/HoustonTexans/status/1470094122837028880
That team is the Jaguars. With two wins to their credit this season, the Jags are a frustrating bunch to pick against. In Week 6, the call was that Miami would take care of business and win the game. They did not. In Week 9, the Bills suffered the curse of the NFL Survivor Pool column and lost to Jacksonville. So what makes this different? Ultimately, this boils down to the fact that the Jaguars are currently on a five-game skid with no end in sight. Lackluster play from their offense has led to a tired defense giving up far too many points to overcome. Sure they have played a tough schedule down the stretch. That said, they have hardly put up a fight. Last week, James Robinson gained only four yards. There is no way they can beat another NFL team like that.

---
Dallas Cowboys (-10.5 @ New York Giants)
One thing is certain: The Dallas Cowboys have not been boring this season. On the one hand, you have Dak Prescott and his ever-growing stable of elite wide receivers. Right behind them are Zeke Elliot and Tony Pollard, who is emerging as the 1B in the Cowboys backfield. Their defense has done just enough more often than not to give their offense a chance to win games. All in all, they are about as complete of a package as you can get at this point in the season. They sit firmly atop the NFC East with plenty of cushion between them and Washington. They are riding a two-game win streak entering Week 15. Dallas scored 27 points in each win against the Saints and The Football Team. This line is giant and if you want an NFL Survivor Pool stress-free week, the Cowboys offer that and then some.
https://twitter.com/dallascowboys/status/1470100752815243264
You have to feel for the New York Giants. They started the season with high hopes. Getting Saquon Barkley back and the addition of Kenny Golladay was supposed to lift them to the next level. Sadly, that did not happen. Barkley suffered setbacks, Golladay never panned out and recently, Daniel Jones is hurt. It's been one thing after another for the GIants. Over the last two weeks, Mike Glennon has attempted to hold serve. He has failed in both instances. What's more, the New York defense is suspect against the passing game. Consequentially, this does not bode well against a team with a potent passing attack. The cards are stacked against them this week and it's too much to ask for them to come away this week with the win.
---
Minnesota Vikings (-3.5 @ Chicago Bears)
When you look back at the Minnesota Vikings season, you'll find yourself confused. On paper, the Norsemen should be right up there with the best in the league. They have a seasoned veteran quarterback, a running back that can torch his opposition and a wide receiving corps that can embarrass any team's secondary. On the other side of the ball, they boast a physical linebacking corp and cornerbacks and safeties hungry for the takeaway. All of that and they still find themselves a game under the .500 mark and fighting for a playoff spot. To make matters worse, they continue to find themselves in one-score games that come down to the last play. Last week, they hung tight to win one of them against the Steelers. This week though, it shouldn't even come down to that.
https://twitter.com/Vikings/status/1469130298067546112
Thumper would tell us that if we can't say something nice, don't say anything at all. Sorry little bunny, but the Bears are awful. You can point your fingers just about anywhere and land on an issue. They pinned their hopes on Andy Dalton to start the season. When that didn't work, they rushed the future of their franchise into action. Through 14 weeks of action, that hasn't worked either. Their running game is inconsistent. Their defense is lost without Khalil Mack's services. For a glowing quarter in Green Bay last week it seemed as if the Bears could pull off an upset. Sadly, the Packers shut that down with authority. The cons outweigh the pros in the Windy City. We are in for another primetime dismantling of the Bears. Live to see Week 16 in your NFL Survivor Pool with this pick.
---
Related Content