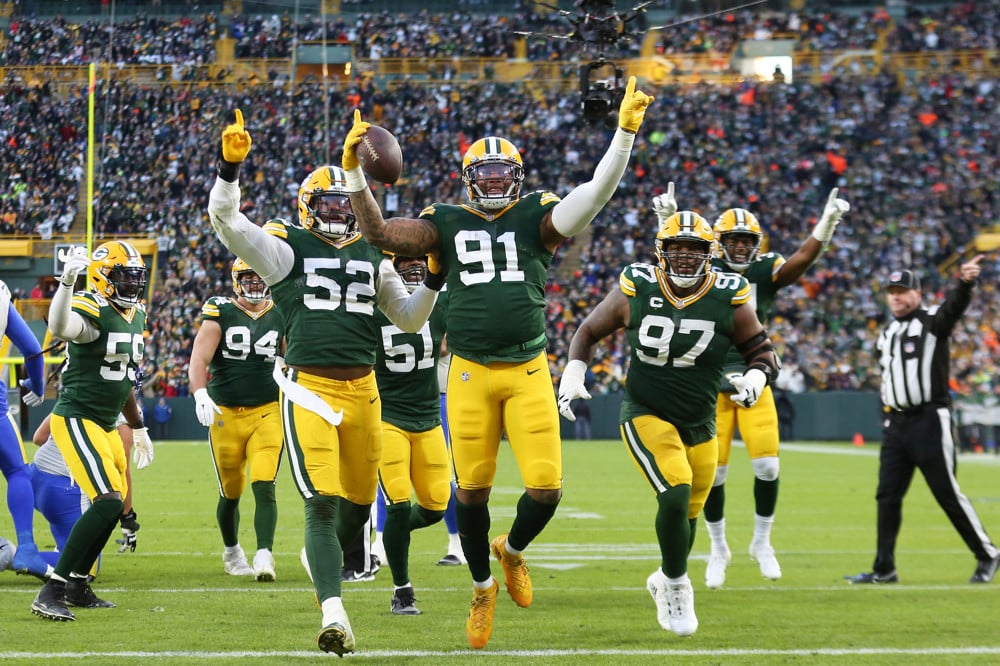 Precious few weeks remain in your NFL Survivor Pools and the options are growing increasingly harder to choose. You've got this, and as always, this article is here to help you make those tough decisions.
A lot of your most obvious selections are likely gone at this point. This means you are having to figure out if this is the week you go for broke and pull the trigger on a losing team with a good matchup. Luckily, one of those teams has exactly that matchup and the IS the week you can play them. That will save one of those slam dunk plays you've been sitting on for late in the season still in play. There is also a riskier play this week that should pay off much like the Washington call did last week. It could end up being a stressful week, but if all goes well, you will live to see Week 15.
Each week, this article will help you identify some of the best NFL Survivor picks to help you live to play another week. Point spreads go a long way to provide context for potential good plays, so to that end, they will be included with each pick. Find these lines courtesy of our friends at Tallysight.
NFL Survivor Pool Picks – Week 14
Atlanta Falcons (+2.5 @ Carolina Panthers)
Surviving this long probably means you have avoided the Atlanta Falcons. It's worked out for you more often than not so far. Although, with the pool getting much shallower week by week, it's getting harder to find better options. The dirty birds have been the model of inconsistency this season, especially in the last month and change. With Calvin Ridley out of the picture, Matt Ryan and the offense have hung their hopes on all-purpose Cordarrelle Patterson and rookie tight end Kyle Pitts to keep them afloat. It's tough to stomach this selection. Especially given the fact that the last time these two teams met, Carolina came away with the win. A lot has changed since Halloween for their competition. There might be some leftover tricks in the bag for Atlanta to be able to steal a win this week.
https://twitter.com/AtlantaFalcons/status/1467559177379880973
Of course, that all depends on which Cam Newton decides to show up on Sunday. In his triumphant return under center for the Panthers, the prodigal quarterback threw for two touchdowns and ran for another. He proudly announced his return to starting status. That reign was short-lived. Last week against the Dolphins, Newtown failed to break 100 yards passing and threw two interceptions. Ultimately, he was benched. It's clear this team has lost all direction on offense, especially with Christian McCaffery on the shelf. Carolina's defense has done their best to hold serve, but tired legs surrender points. With that in mind, beating a team twice in one season is already difficult. Doing it with a revamped team is almost impossible. The Panthers are 2-4 at home this season and 1-2 as home favorites. This leaves them wide open for this NFL Survivor Pool upset.
---
Seattle Seahawks (-7.5 @ Houston Texans)
As we've established, most of what is left on the board after 13 weeks of picks, does not look pretty. To that end, and for the first time this season, it's safe to offer up the Seahawks. Hardly anyone anticipated Seattle to occupy the cellar of the NFC West at this point in the year. But, after a 2021 filled with injury, and just flat-out uninspired play, there they sit. Only four times have the Seahawks made it to the final whistle with the lead. The last of which came last week as Seattle completed the season sweep over San Francisco. Even then, they had to mount a comeback and benefited from a last-minute mistake by Jimmy Garoppolo to win that game. All in all, they are a mess. So why pick them this week? History. In their four total matchups, the Texans have only one win.
https://twitter.com/Seahawks/status/1468736103599382532
The Texans have only managed two wins so far this season. One of them came three weeks ago in a spirited win against the Titans. Houston's defense came up big forcing Ryan Tannehill to throw four interceptions. Unfortunately, they could not carry that momentum any further dropping their next two games. After the win against Tennessee, the Texans fell to the Jets. Last week, they failed to score a single point against the Colts. This team has yet to recover from losing Deshaun Watson and it doesn't look like they will for the rest of the season. As such, if you see a team you have yet to use on the Texans schedule, use them. It starts with this Week 14 NFL Survivor Pool pick.

---
Green Bay Packers (-11.5 vs Chicago Bears)
If you endured too much of a sweat last week with your pick and have yet to use the Packers, here is a chance to catch your breath. These teams already have a game in their past this season in which Green Bay came out on top. The Packers defense gave rookie Justin Fields all he could handle that day. They sacked the Bears young signal-caller four times and picked him off once. On the other side of the ball, Aaron continued to own the Bears throwing two touchdown passes and rushing for another one. Ultimately, the 24-14 final score looked much closer than the game really was. Green Bay has stumbled some recently, losing to the Vikings and the Chiefs recently. That said, they enter Week 14 on the heels of a high-scoring shootout against the Rams. Chicago does not stand a chance in Lambeau, in December.
https://twitter.com/packers/status/1468407485593649155
The good news for the Bears is that they will be getting their starting quarterback back on the field. The bad news is that they are getting him back in a tough road game against a divisional opponent. Sure they have managed to keep themselves from being completely embarrassed at points this season. Even still, their best efforts have still come up short whether it's been Fields or Dalton at the helm. Losing Khalil Mack on defense certainly did not help the cause either. Far too many things are going wrong than right for this team. They did not have enough in their tank to beat Rodgers and company at home. They for sure don't have enough to accomplish this on the road in one of the toughest stadiums in the league. Load up this pick if you don't want to worry about anything on Sunday.
---
Arizona Cardinals (-2.5 vs Los Angeles Rams)
After 13 weeks of football, Arizona sits atop the league with a 10-2 record. What's more, they enter their Week 14 matchup as healthy as they have been in several weeks. Last week, Kyler Murray made his return to the field in spectacular fashion. He found the end zone twice with his legs in addition to his two touchdown passes. One of those found DeAndre Hopkins who also enjoyed his first game action since Week 8. As effective as the Arizona offense has been, their defense has been relentless. Last week, they sacked Andy Dalton three times. They also registered four interceptions. They are seemingly unstoppable in every aspect this year. What's more, they are unbeaten within their division. This includes a win against the Rams back in October. The Cardinals ended that game 17 points better than Los Angeles. At full strength this week, they can do it again.
https://twitter.com/AZCardinals/status/1468415284491046916
Last week, the Rams stopped a two-game losing streak with their free space win against the Jaguars. It was a much-needed get-right game for Los Angeles as they had suffered back-to-back losses to the 49ers and the Packers leading into the week. Much of the season has been a track meet for the Rams. They have been involved in four games with more than 50 combined points. They have scored at least 34 points by themselves five times this season. All that said, this week, they are facing a red hot team who has already notched a win against them this season. They have the horses to compete, but their spirit may be broken to the point where winning this game will prove to be too difficult. This NFL Survivor Pool pick is among the riskier ones this week but should pay off.
---
Related Content