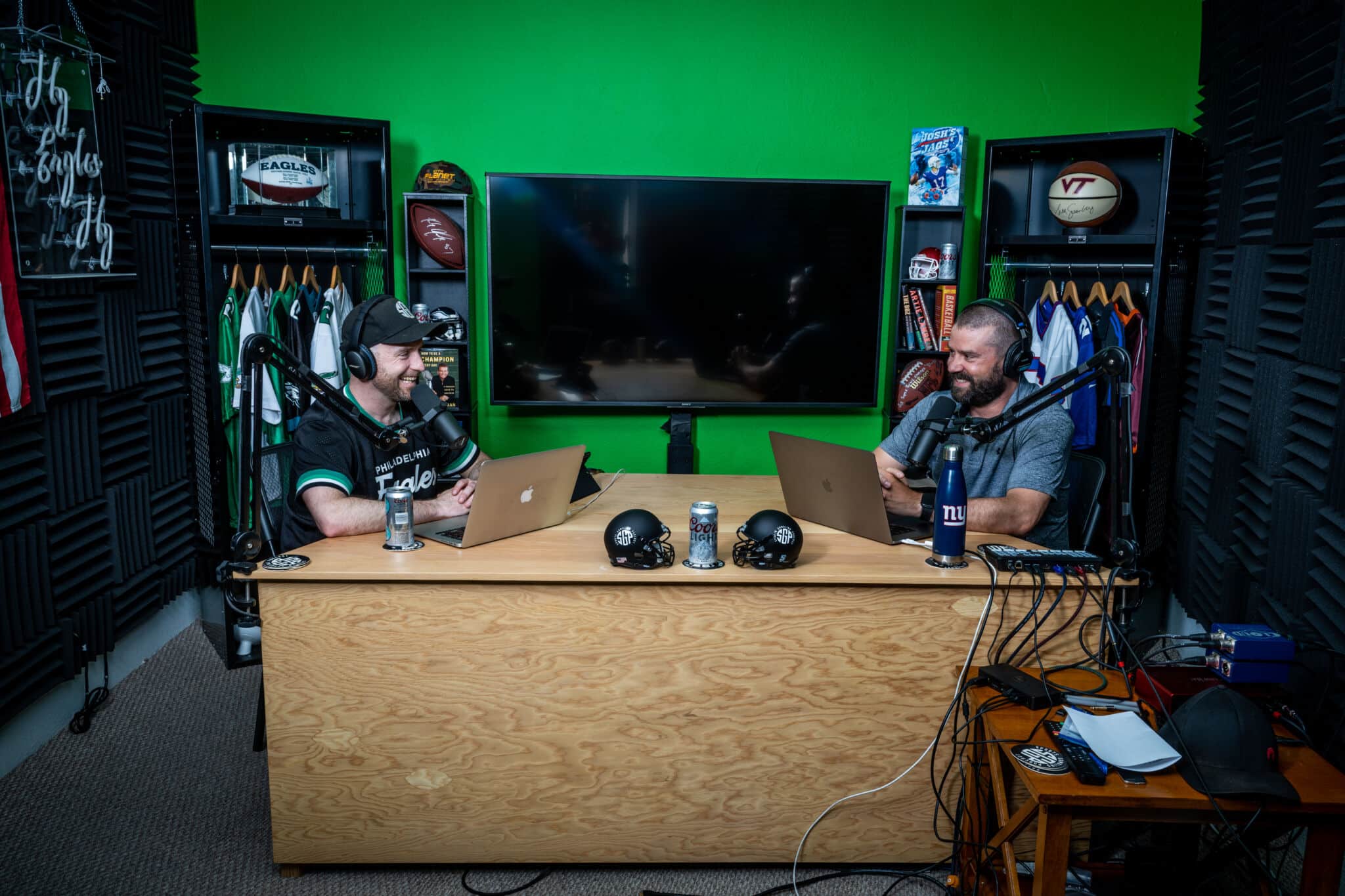 10TH Anniversary Celebration On Tap in 2022 For Top-Tier Sports Wagering Content Platform 
LOS ANGELES, CALIF. (December 14, 2021) — Sports Gambling Podcast Network (SGPN), the only major independent sports wagering media network that places a premium on entertainment value and free user content, will clobber industry growth projections with a 30 per cent year-over-year increase in total downloads during the course of 2021.
According to the podcast analytics website Megaphone, SGPN has amassed a total of 2,848,068* downloads since January, led by the popular Sports Gambling Podcast, which focuses on the most prominent games and issues of the day with selections, analysis and opinions of co-founders and rising stars Sean Green and Ryan Kramer.  SGPN expects to hit three million downloads by the end of the year.
* Data per Megaphone's IABv2-compliant data that provides industry-standard measurement.
SGPN launched eight new podcast feeds this year and has seen marked growth in unique visitors, YouTube views and podcast audiences thanks in part to its affiliation with the BlueWire Podcasts distribution network.  SGPN's 30 per cent growth over 2020 compares favorably to the industry-wide podcast consumption growth of 17 per cent reported by prominent media research company Edison Research of Somerville, NJ. http://www.edisonresearch.com/wp-content/uploads/2021/03/The-Infinite-Dial-2021.pdf 
Unlike the clutter of football- and basketball-specific podcasts and offerings that leverage the prominence of legacy brand network- or betting house-affiliated offerings, SGPN has grown organically and now provides personalities and content from some 50 expert contributors covering all aspects of 10-plus sports, including international soccer, boxing/MMA and fantasy sports.
"The industry battle for eyeballs and listeners in our space is as fierce as it is among the wagering houses who spend millions of dollars to acquire account deposits," stated Green, the Philadelphia area native now working out of his SGPN Studios in Los Angeles.  "SGPN is free.  We're happy to serve the growing number of sports wagering enthusiasts at no cost with sophisticated picks, analysis, commentary and deep-dive detail.  Now, our growth shows that it is appreciated and we're ready to build on that success using our tried-and-true formula heading into 2022, when we'll be celebrating our 10th anniversary."
Green provides NFL picks on a weekly basis for Burb Media in Philadelphia and is a favored sports talk radio guest on shows around the country.
Also a working stand-up comic in the Los Angeles region, Green used his immersive knowledge to win $200,000 in a DraftKings Daily Fantasy Football (DFS) competition in 2017, enabling him to enhance the SGPN facilities and branding initiatives.  The following year, the Professional and Amateur Sports Protection Act of 1992 (PASPA) was struck down by the courts and the current blizzard of growth ensued.  Still, fewer than half of the states have legalized sports wagering, so the industry has tremendous expansion ahead, a huge positive for SGPN and other established players.
Co-founder Kramer, a northern New Jersey native who played rugby at Virginia Tech, is the analytics honcho on the team.  Also a sports enthusiast since toddlerhood, Kramer spent two decades as a computer engineer working for companies including AT&T, Yellow Pages and Hulu before the SPGN launch.  He specializes in the interpretation of large sets of data to weigh in on line movement analysis and over/under probabilities in his wide-ranging handicapping and fantasy sports offerings.
"We've got a loyal following and statistics show that the growth is consistent, demonstrating that the sports wagering enthusiasts out there trust our content," added Kramer, who appears regularly as guest expert on television, radio and digital outlets.  "We're nimble, so they know that there's more relevant information to digest in any and all return visits.  I can't believe it's been 10 years."
 SGPN content is most readily available on the SGPN App, available on all devices and downloadable at Apple's App Store and Google Play Store or via www.sportsgamblingpodcast.com. 
***********************
About SGPN
Sports Gambling Podcast Network™ was established in 2011 as one of the first website/digital media platforms to provide consumers with an entertainment experience featuring sophisticated insight and analysis plus definitive wagering recommendations and selections across the full spectrum of legally-available sports. Co-founded by sports and entertainment personalities Sean Green and Ryan Kramer, it is home to the Top 40 All-Time football podcast (per Chartable.com) Sports Gambling Podcast, one of 11 separate podcasts.  The website, www.sportsgamblingpodcast.com, boasts over 45 contributors delivering editorial content and social media postings under the SGPN banner.  The platform generates millions of unique page views and podcast downloads annually and remains a primary destination for the burgeoning population of sports fans across America and around the world. In addition to his stand-up comedy act, Green is an accomplished TV comedy and script writer with credits including MTV's Ridiculousness and Nickelodeon's Crashletes with Rob Gronkowski.  He has also anchored several sports wagering and fantasy sports shows for SiriusXM and ESPN+.  Kramer is a SiriusXM contributor and a sports wagering marketplace influencer who specializes in NFL game prop bet predictions.  He has multiple top finishes in the Fantasy Football Players Championship (FFPC) Main Event. SGPN is a member of the Fantasy Sports Gaming Association (FSGA).
###
Contact: 
 Steve Griffith 
Vizion Group PR 
484 433 7757 
Greg Wiley 
Vizion Group PR 
215 840 8843