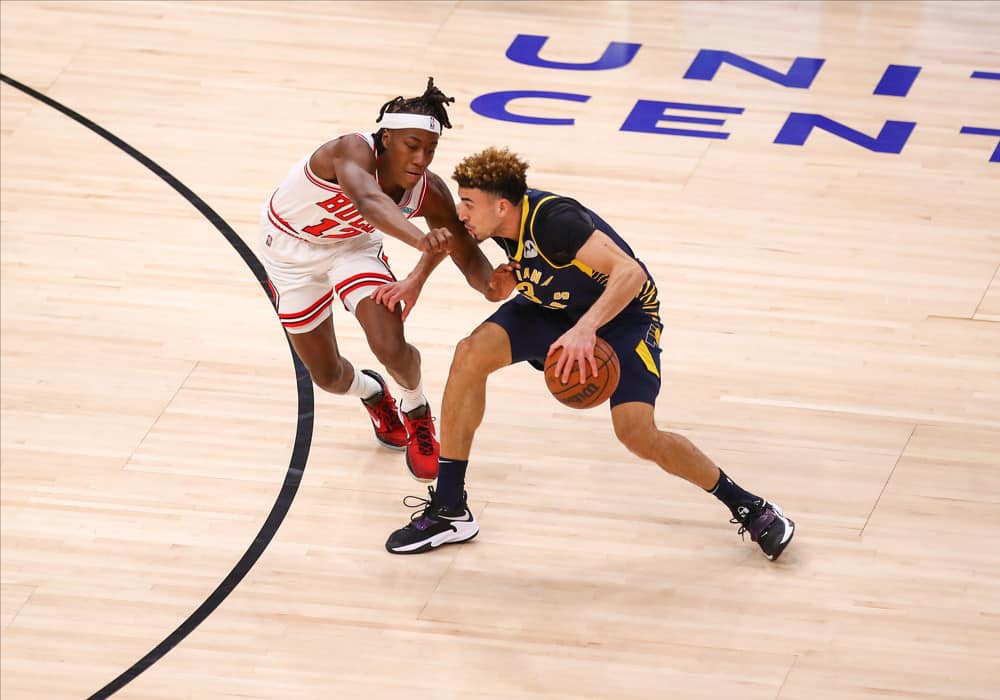 Get your holiday shopping done early by grabbing some quality fantasy basketball waiver wire players for yourself! Stuff your stockings with some stat stuffers! 'Tis the season for fantasy basketball deals! Ok, I'll save the rest of the bad holiday humor until later on in the month. Here are the best players available currently on the majority of fantasy basketball waiver wires out there.
(only includes players rostered in less than 50% of Yahoo Fantasy leagues)

Fantasy Basketball Waiver Wire: Best Pickups Dec 1st
Chris Duarte – Indiana – SG – Rostered 34%
13.1 ppg, 4.1 rpg, 2.0 apg, 0.9 spg, 0.1 bpg, 2.0 3PT/G, 41.9% FG, 66.7% FT, 1.7 tpg
A first-timer tops our list this week (and a first-time I've gotten to include a fellow Canadian) in rookie Chris Duarte. He's been streaky, as per usual for a first-year player, but he's back on a hot one again. He went for double-digit points in all four of the Pacers games in the past week, averaging 13.3 ppg, 3.5 rpg, and 2.7 apg while hitting over two three-pointers a game. Get in on him while he's hot again.
Eric Bledsoe – Clippers – PG/SG – 35%
9.9 ppg, 4.3 rpg, 3.4 apg, 1.3 spg, 0.5 bpg, 0.9 3PT/G, 41.6% FG, 81.8% FT, 2.2 tpg
You don't usually find a player with the pedigree and track record of an Eric Bledsoe on the waiver wire, rostered on just over a third of the teams out there, but he's struggled in his return to La La Land. However, he seems to have turned a corner (hopefully) over the past week, posting three-striaght double-digit scoring games, while also grabbing a very impressive 10 rebounds in one of them. The rebounding, assists and steal numbers could be a nice addition to your lineup.
11.0 ppg, 3.7 rpg, 1.5 apg, 1.3 spg, 0.4 bpg, 2.0 3PT/G, 43.3% FG, 87.1% FT, 1.1 tpg
A buttload of fantasy owners have jumped on the KCP train since he appeared in this column last week, rocketing his rostered percentage from 16% to 46%. And for good reason, as he's scored 20, 16 and 17 points in his last three games, respectively, while also posting good rebound and steal numbers. Plus, as mentioned in the past, three position eligibility is an added bonus.
Patty Mills – Brooklyn – PG/SG – 49%
12.2 ppg, 1.8 rpg, 2.5 apg, 0.5 spg, 0.2 bpg, 3.1 3PT/G, 45.7% FG, 90.9% FT, 0.8 tpg
The Aussie stayed on fire last week, hitting seven threes for 23 points last Wednesday, while also averaging two boards and two assists a game. He hasn't been quite as good in his past two games, so maybe his scorching stretch is over, but he's been a pretty consistent scorer and three-point shooter over the course of his long career.

Jae Crowder – Phoenix – SF/PF – 27%
8.9 ppg, 4.7 rpg, 1.4 apg, 1.3 spg, 0.5 bpg, 1.9 3PT/G, 38.1% FG, 76.9% FT, 0.8 tpg
Yet another newcomer to the list this week is Phoenix's 3-and-D forward Jae Crowder. Fresh off a 14 point, six rebound, four three-pointer night against the Warriors, Crowder brings you nice rebounding, steal and three-point numbers (but your FG% numbers will take a little hit).
12.5 ppg, 2.8 rpg, 2.2 apg, 0.5 spg, 0.2 bpg, 2.1 3PT/G, 46.5% FG, 94.7% FT, 1.2 tpg
With key players out, young Anfernee Simons has stepped up for the Blazers, continuing to have a career-best season. He's in the midst of four-straight double-digit scoring games, including a 24-point night, two six rebound games, a five assist game, a three steal game, and a game with five three-pointers, all just in the last week.
Derrick Rose – New York – PG/SG – 48%
12.2 ppg, 2.9 rpg, 3.7 apg, 0.9 spg, 0.6 bpg, 1.6 3PT/G, 45.1% FG, 94.7% FT, 1.3 tpg
A former MVP on the waiver wire?! Don't get too excited – it's just Derrick Rose. But still, he's having another nice season in Gotham, getting plenty of run off the bench for the Knicks. Back from an injured ankle, he looked no worse for wear last night, posting a line of 16 points, five rebounds, and nine assists, with no turnovers. You don't find production like that on waivers every day.
11.4 ppg, 2.7 rpg, 4.3 apg, 0.8 spg, 0.1 bpg, 1.3 3PT/G, 46.0% FG, 62.5% FT, 1.3 tpg
Monte Morris continues to be a consistent contributor for the injury-ravaged Nuggets. Good points and assist totals, low turnovers for a point guard. Nothing flashy, but he could be a solid addition to your roster if you are lacking in those areas. And the minutes will continue to be there for him all season long it appears.
Other fantasy basketball waiver wire players worth checking out: Grayson Allen (in a slump currently), Darius Bazley, Cody Martin (currently out for illness or would have made the main list), Malik Monk (on fire)
Related Content