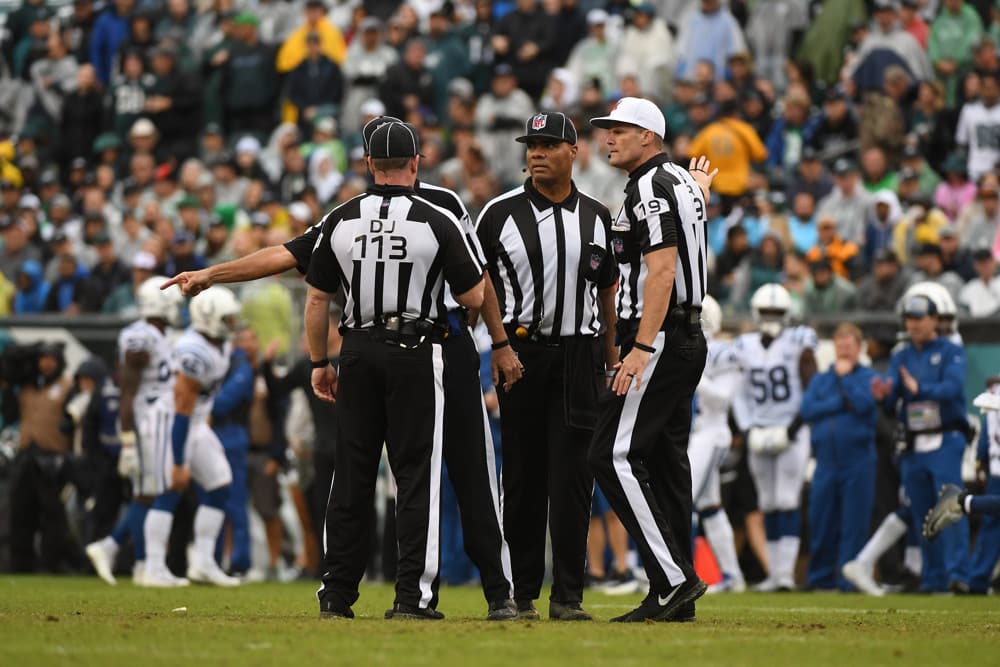 Every single week we have profitable angles cashing as far as betting trends for a few NFL referees. I have highlighted this over the last several weeks. This week I thought I would highlight a few referees who have a streak going.
As always make sure to check the referee assignments that are correlated with a betting side or total. I will remind you DO NOT forget about Shawn Hochuli, Alex Kemp, Ron Torbert, and Clay Martin trends!
Let's dive into these streaks and see below the Week 12 NFL Referee Assignments.
Week 12 NFL Referee Report: Betting Trends & Stats
Carl Cheffers
Road underdogs are cashing at an exponential rate in the games officiated by Carl Cheffers. In fact, over the last eight weeks, road underdogs are 7-1 against the spread. Furthermore, the Over is 5-1 in games officiated by Cheffers. Those six games are averaging 57.5 points per game including the Sunday Night Football shootout between the Steelers and Chargers where both teams combined for 78 points.
Land Clark
Land Clark is an NFL referee I have highlighted over the season. However, over the last five weeks of the season, Clark officiated games are 4-1 to the Under. In fact, in those five the average combined total points is 32.5. Furthermore, since the league has cracked down on taunting calls this season, Land Clark's crew has called seven taunting penalties thus far this season. The next closest crew have called no more than three.
Since the NFL has doubled down on taunting this season, it's good to note that one crew (Land Clark's) has called seven taunting penalties this season, no other crew has called more than three, and three crews have called none.

Nice consistency, guys.

— Doug Farrar ✍ (@NFL_DougFarrar) November 21, 2021
---
NFL Referee Stats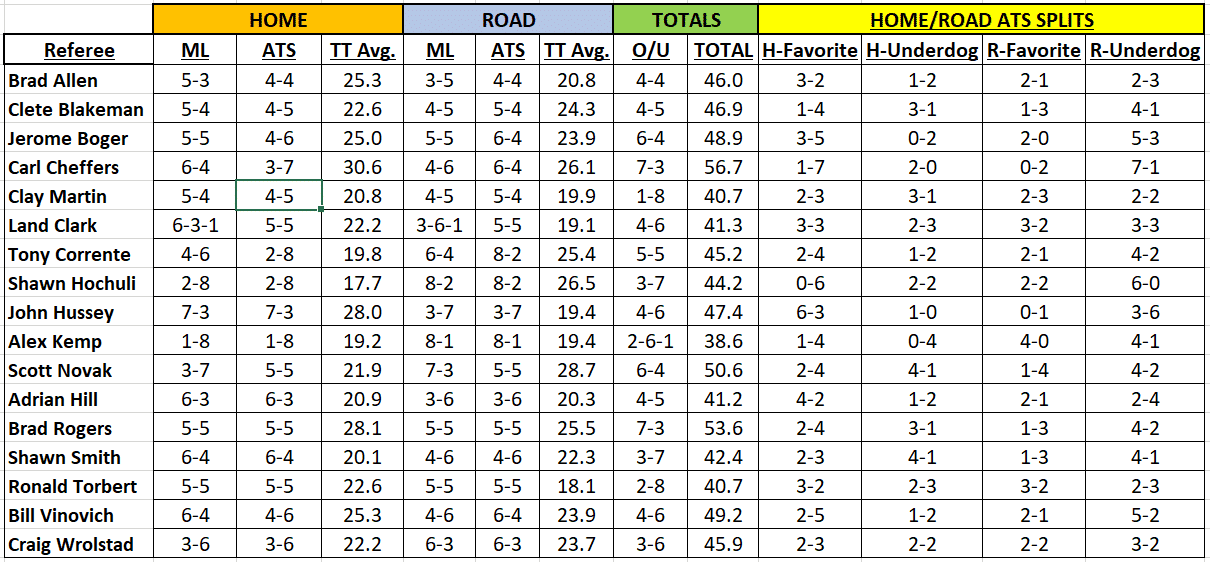 ---
Tony Corrente
Oh good ol' Tony Corrente! I am shocked he is still being allowed to officiate games and is still an NFL referee. But are we surprised? In Week 11, Corrente officiated the Texans' upset win over the Titans in Nashville. Additionally, over the last five games, road underdogs are a perfect 5-0 against the spread. Case in point, the Texans, YES THE TEXANS winning outright as a double-digit underdog.
John Hussey
If your hometown team is in desperate need of a win for the sake of getting a win or need to make a playoff push, John Hussey is the man so far. Home teams are a perfect 7-0 straight up over the last seven weeks of the season. Furthermore, home favorites are 4-0 in that span in games officiated by Hussey. Perhaps the Lions should request Hussey to officiate a home game for them? Make sure to check below for Week 12 NFL referee assignments!
Shawn Smith
Over the last eight games officiated by Shawn Smith, the Under is 7-1 with an average total final score of 39.1! Additionally, road underdogs are 4-1 in Smith officiated games. Check out the Week 12 NFL Referee Assignments below!
NFL Referee Assignments
Related Content