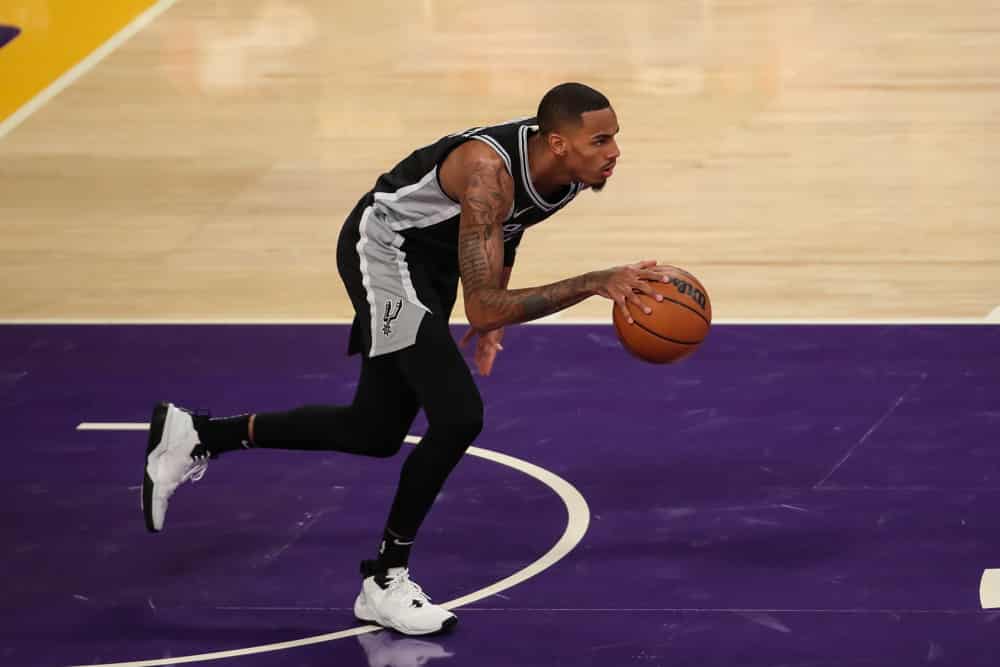 As always, the Thursday slate for pro basketball may be smaller than usual, but they always produce some of the best match-ups. Tonight's schedule includes a banger between the Sixers and the Nuggets in Denver, as well as teams like the Warriors and Jazz in action. Let's see who we choose to cherry-pick out of these spots to make a money-winning NBA DFS lineup.
(NOTE: This NBA DFS lineup was made ahead of time. Always check for the latest injuries and inactives prior to lineups locking. )

NBA DFS Picks for Thursday – Nov 18th
On Tuesday night, Murray finished one assist short of his second straight triple-double. While he hasn't scored 30 points in a game all year, that isn't stopping his fantasy scores and value from shooting through the roof. Both of these two games netted him at least 60 fantasy points and makes him one of the top scorers this week. However, it's more than just a week-long trend. His assist numbers are way up from a year ago, going from 5.4 to 8.1. That difference has turned him from someone nice to have in your NBA DFS lineups, to a target – all while saving you as much as $2,000 over some of the other top point scorers.
Anthony Edwards is a picture of consistency in your NBA DFS lineups. In all but two games this year, he's scored at least 30 fantasy points. He supplements his safety net of baseline scoring with great defense. He's picking up 1.3 steals per game and, on multiple occasions, has blocked three or more shots. This defensive premium gives you an upside to go along with the comfort of knowing he's going to put points on the board.
There's no doubt about why you put Bogdanovic in an NBA DFS lineup – you want the three-pointers. He's been hot lately, hitting 11-of-20 in his last two games combined. Now he faces a team in Toronto who is allowing 12.3 three-pointers per game. Utah is going to get the attempts to hit the deep ball. If Bogdanovic keeps the hot hand, we could see him flirt with 40 fantasy points as he has in the last two games.
In the early part of the season, it looked like the Spurs were uninterested in getting Thaddeus Young any real burn. It drove his NBA DFS number further and further down – bottoming out at $4,100. Since then, he's gotten hot and earned himself at least 20 minutes every game. In those games, he's never fallen below 20 fantasy points and, in about half of those, he cracked 30.
Not once this year has Draymond Green failed to get at least five boards and five dimes. He's averaging nearly eight and seven respectively, but it's that floor that I love. Whether or not he gets on the board with points, which he hasn't done much of, he's still incredibly valuable. Plus, he's coming off of three straight 30+ fantasy point performances.
In terms of a bargain bin pick, Bones Hyland is one of my favorites for this week. On Monday, he had a miserable game where he only logged 11 minutes and scored two points with one rebound – and added in two turnovers. However, leading into that, he had back-to-back performances where he put up 30 fantasy points on the heels of double-figure scoring with multiple three-pointers. With back injuries likely to keep both Michael Porter Jr. and Will Barton out of tonight's game, you have to like the possibility that Hyland could put up a big spot for one of the lowest costs in this NBA DFS slate.
Clarke had a brutal start to the season. He logged a handful of games where he got the "DNP  (coach's decision)", which is a nightmare for any NBA DFS lineup. However, a performance from a week ago Monday put him back on the trajectory he was on the last few years. He scored 33.3 fantasy points and since then has logged double-digit minutes and double-digit fantasy points in every game. For the cost you're getting him at, he seems like a nice sleeper pick.
UTIL – Kyle Lowry ($7,600) – MIA
I like finishing off the lineup here with Lowry for a couple of reasons. Firstly, he's been up over 30 points in all of his last four games. Twice in that span, he gave us 40 points. At that NBA DFS price, he's already worth it knowing just that. However, he's also coming off a rest day. The Heat sat him yesterday against the Pelicans. With the rest of the team playing and shooting a ton last night, I think a fresh Lowry is going to factor into this one on a bigger level than usual.



Make sure to check out all the great NBA coverage we have to offer and be sure to listen to the NBA Gambling Podcast, which airs twice a week. This week the guys are breaking down all the best plays for the coming days.  
Related Content