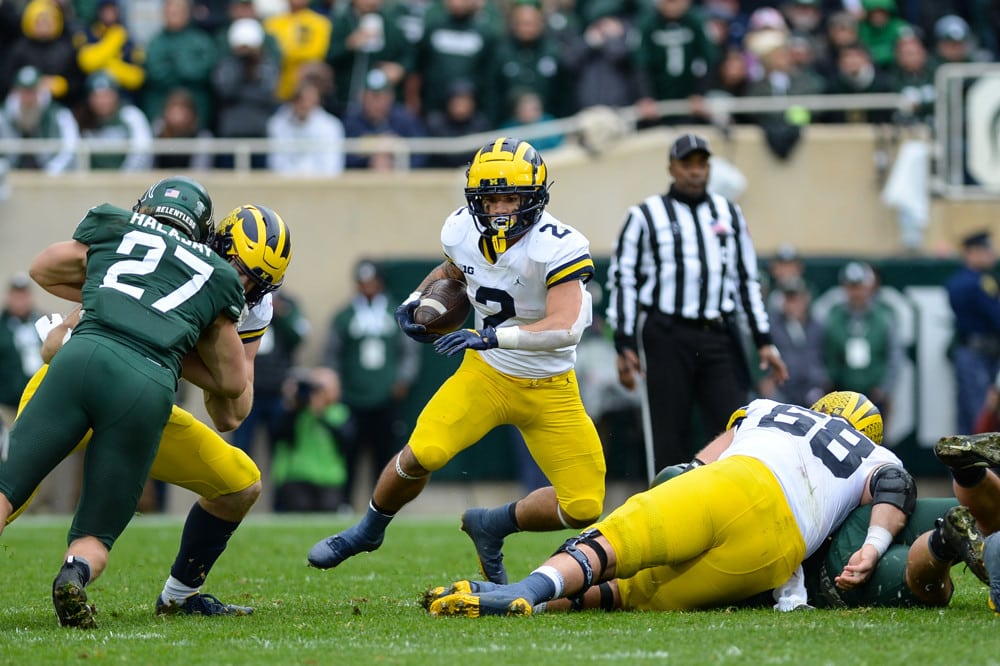 The college football schedule these past few weeks has been fairly mediocre. Some interesting matchups, but lacking those big games that we wait all year for. Well my friends, the wait is over. After a bit of a lull in the schedule, Week 11 of college football is here to pack a punch. Highlighted by four top 25 matchups with College Football Playoff Implications and some likely conference deciding games. As with all major games, there are always a few aspects that help create an edge and ultimately a win. Here we breakdown three games where injuries are likely to play a major role.  Welcome to the Week 11 college football injury report!
College Football Injury Report: Michigan vs Penn State
Odds: Michigan -1, O/U 48.5
Blake Corum (RB) Michigan
Ankle Injury, Initial Injury: 11/6/21
The Michigan Wolverines still are very much in the College Football Playoff picture. This statement seems absurd considering the horrendous year this team had last season. Arguably the biggest difference this season has been this team found its identity on offense, RUN THE BALL. Michigan is averaging an impressive 36.2 points per game, largely due to racking up 234 yards on the ground per contest. Another element of the run game is it comes in the fashion of a classic 1-2 punch in the backfield. Well, in the first quarter of last week's game one of those punches fell flat and concern grew on the Wolverine's sideline.
After just one carry in last week's game, RB Blake Corum hobbled off to the sideline after suffering an apparent ankle injury. This injury was later confirmed after he was unable to return. He was also seen dressed in street clothes and had a walking boot on his right foot. After much speculation, it appears the walking boot was more precautionary after an update provided by head coach Jim Harbaugh.
He states that he didn't think the ankle injury is "serious" indicating Corum is likely to suit up this week. Corum has gained 778 yards on the ground and scored 10 TDs so far this season, slightly behind his counterpart Hassan Haskins numbers. Both Michigan backs will need to be ready to roll this week. This Penn State defense is only allowing less than 17 points a game, and a top unit in the nation.
Erick All (TE) Michigan
Undisclosed Leg Injury, Initial injury: 10/30/21
Another reason it is imperative for Michigan to have success on the ground this week is they may be without one of their best pass-catchers. Junior and lead tight end Erick All limped off the field in the final second of Michigan's sole loss of the season two weeks ago. The severity and nature of the lower leg injury is unknown at this time. However, the injury was serious enough to keep him out of the lineup for at least last week.
All is an important piece of this offense both as a blocker and receiving outlet in the play-action game. With 26 receptions on the year for over 250 receiving yards, he is a reliable target for QB Cade McNamara. There has been no update this week provided on the status of the junior TE for this week. However, I would expect All to be at least limited, forcing Michigan to find unproven guys to secure key blocks and first down receptions. As preached throughout all of college football, it will be next man up following All's injury.

College Football Injury Report: Purdue vs Ohio State
Odds: OSU – 21, O/U 63
Payne Durham (TE) Purdue
Concussion/Undisclosed Injury
The Purdue Spoil-makers will need to be firing on all cylinders to ruin another team's playoff hopes. After defeating both Iowa and Michigan State coming off their biggest wins of the year, Purdue heads to Columbus to try to dethrone the Buckeyes. One recipe for this unlikely success would be through exposing this at times leaky Ohio State defense. The Buckeyes have given up some big plays through the air this year, and Purdue star WR David Bell won't be able to defeat them alone.
This is where Purdue's TE Payne Durham will need to step in. Durham is second on the team in receptions and third in receiving yards with four TDs. He has missed some time however with a concussion, and once cleared immediately picked up an undisclosed injury. The news here is Durham is reportedly getting healthier and will be in the game plan more this week. He will still likely be limited in some capacity, but having that reliable target over the middle will be key. Whether its to open up space for Bell to break loose or to secure a TD in the red zone, Durham will need a big day to help Purdue pull off the upset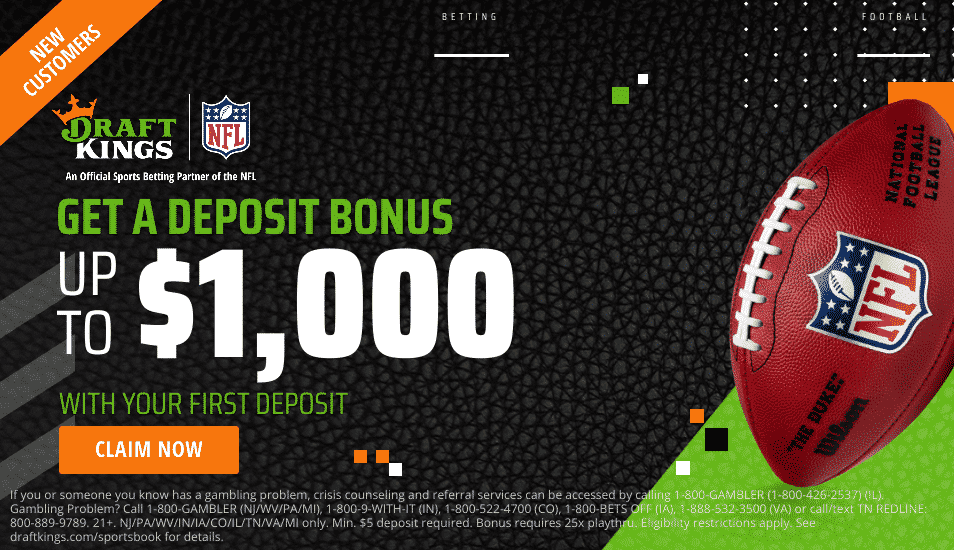 College Football Injury Report: Texas A&M vs Ole Miss
Odds: TAMU – 2.5, O/U 57.5
Matt Corral (QB) Ole Miss
Ankle Injury, Initial Injury: 10/16/21
QB Matt Corral is quickly becoming a staple of this weekly injury report and a major college football headline. As Ole Miss continues to find themselves in big games, more questions arise regarding the health of their QB. When healthy, Corral is undoubtedly one of the nation's top players and a true dual-threat to hurt the defense. However, this nagging ankle injury is causing his game to become more one-sided as more of a pure passer.
Head coach Lane Kiffin stated that this week is similar to last week where Corral will not practice fully in order to be ready to play on Saturday. The ankle injury appears minor enough to allow him to play while hurt. However, Corral not being able to fully rest and heal the ankle makes for an increasingly risky situation. Not only does this injury severely hinder the QB's mobility inside and outside the pocket but the risk for reinjury increases with the muscle already damaged.
Despite making the adjustment to stay in the pocket more often, Corral is still the team's leading rusher by a comfortable margin. This Texas A&M defense is one of the best in the nation, allowing on 14.7 points per game and under 200 pass yards. In order for Ole Miss to come out victorious, they will need to establish a balanced attack on offense. With Corral's ability to use his legs hindered, this is a much tougher task for this Rebels offense.
Ole Miss Wide Receivers
Dontario Drummond, Braylon Sanders, Jonathan Mingo
This Ole Miss offense is going to be fighting an uphill battle all day Saturday. A leading offense in college football is also top of the league in the injury report. Not only is there QB hindered by an ankle injury but he will also likely be without his top three receivers. The Rebels have sported an electric offense these past few years and much praise has been given to Lane Kiffin's offensive scheme. Well, this scheme will surely be tested as the wide receiving group has been decimated by injuries recently. It would be bad enough to suffer three injuries to the same position group, but having the top three players at this position go down is just cruel.
First on the list is WR Dontario Drummond, who missed last week's game with a hamstring injury. Drummond is the team's leading receiver by a wide margin, totaling 658 receiving yards and 6 TDs this year. The unfortunate news here is hamstring injuries are tricky as they can be easily reinjured and should not be rushed back. An injury to a player's hamstring also severely limits their lower body power and cuts down on their ability to make explosive plays.
Additionally, Ole Miss will definitely be missing their WR2 and WR3. Braylon Sanders, who has 373 receiving yards and 3 TDs, is "nowhere near 100%" according to Lane Kiffin. He is dealing with an ankle injury that caused him to stabilize his foot in a walking boot for a period of time. Finally, the third-leading receiver for the Rebels, Jonathan Mingo, broke his foot and his season may be over. There are talks of him returning for a bowl game potentially, but he will be unavailable against a stout Texas A&M defense.
---
Time to start stacking up our winnings like names on a college football injury report! Follow me on Twitter @SGPNFootballDoc for NFL and CFB injury analysis and breakdowns all season!
Related Content