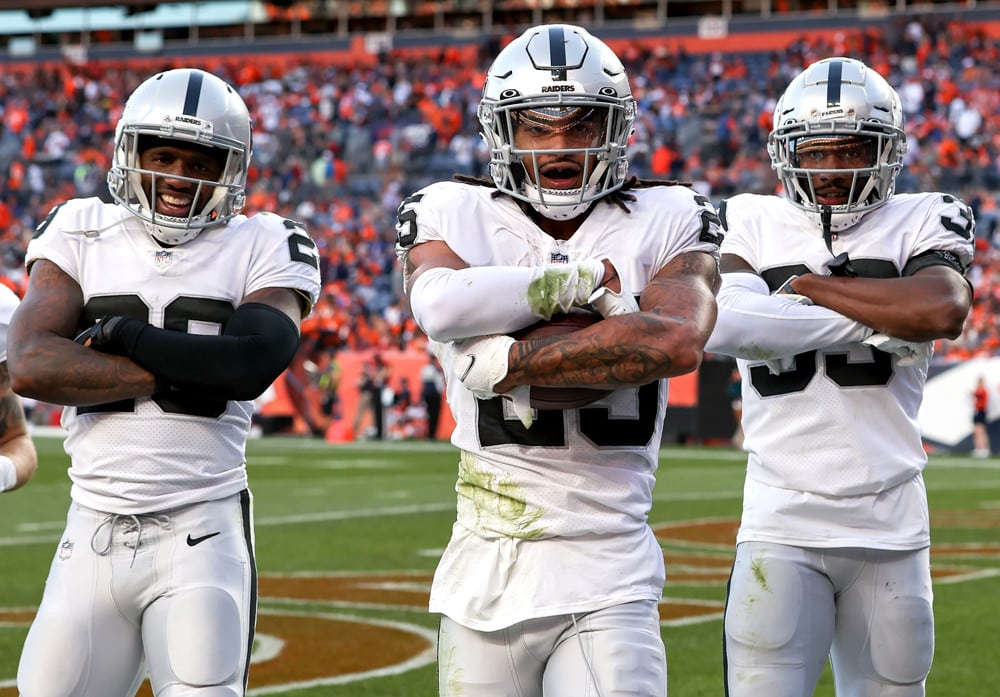 It's been a wild first half of the season and if you've made it this far, your reward is here in these Week 9 NFL Survivor Pool Picks.
This week has bombarded us with news right from the start. Major players are missing their games, some are no longer on a team. With all the noise that has circulated around the league since Monday, let's quiet things down a little. This week, we are again forced to dip back in the pool to reuse teams. With that said, here are four relatively safe picks to help you get through to another week in your NFL Survivor Pool.
Each week, this article will help you identify some of the best picks to help you live to play another week. Point spreads go a long way to provide context for potential good plays, so to that end, they will be included with each pick. Find these lines courtesy of our friends at Tallysight.
NFL Survivor Pool Picks – Week 9
New England Patriots (-3.5 @ Carolina Panthers)
After a slow start to the season, most people had left New England for dead. Over the last month though, the Patriots have started to come together. They've won three out of their last four games including a big one last week against the Chargers. Rookie quarterback Mac Jones is picking up his offense accounting for two touchdown passes in four of his last six outings. There is still work to be done defensively as many of the New England contests have turned into a tightly contested battle. All things considered, they are entering Week 9 on the heels of a two-game winning streak. The last of which was an emotionally charged win against a Super Bowl favorite team. What's more, the Patriots are perfect on the road so far this season. It might be tempting fate to mention, but that streak should continue this week.
As for the Panthers, they too are coming off of a big win of their own against their division rivals. Last week, Carolina got back in the win column against Atlanta after a four-game losing streak. It's been a roller coaster season for Sam Darnold and company. They started the season with three straight wins. Lately, though, the team has had to deal with injury and lack of production on both sides of the ball. This has led to the aforementioned losing streak. The Panthers have dropped their last two home games which will make it difficult to pull this one out against a red hot road team. It's not likely they will get blown out, but Carolina will be hard-pressed to win this game. It will be even harder for them if they find themselves without Darnold, who has been questionable at practice this week.
---
Buffalo Bills (-14.5 @Jacksonville Jaguars)
Bills fans had all of one week to celebrate their decisive owning of the reigning AFC Champions. The following week brought them back down to Earth as they lost to the Titans. All things considered though, at 5-2, Buffalo finds themselves on top of the AFC East. They are still the odds on favorites to win this year's Super Bowl to boot. The team is stocked with talent on offense and boasts a stifling defense on top of that. So much so in fact, that they've pitched two shutouts through the first eight weeks of the season. If you haven't already used Buffalo and were waiting for a slam dunk week, that week has arrived. The formula of picking on the Jaguars begins again with this NFL Survivor Pool pick.
Analysis of the Jacksonville Jaguars begins and ends with the word, "no." Should you count on them to win a game? No. Can you expect them to contend with a far superior team? No. Is there a good week to predict a win from this team? No. There is only one question that can be answered in the affirmative. Will the Jaguars lose this game? That friend is a definitive yes. Bookmakers agree as they have deemed the Jags as more than two touchdown home underdogs. In a week in which we are trying to catch our breath, this is a set it and forget it, no stress play.

---
Las Vegas Raiders (-3.5 @ New York Giants)
With very little fanfare, the Las Vegas Raiders are one of the best teams in the league. To be fair, there has been much attention paid to what has been happening off the field. Unfortunately, this has taken some of the luster off of what the players have been accomplishing on the field. It's not fair really considering they now sit atop the AFC West. Most experts had basically handed the Chargers the crown to start the season and expected them to keep it all year. Such is not the case. Las Vegas is just outside of the Top-10 in overall scoring offenses per game. That is helpful considering their defense is towards the bottom third in terms of points allowed per game. They're coming off of a much-needed bye week entering this game. They've had time to clear their heads and fully prepare for a wounded Giants team.
That wounded Giants team is heading back home after a disappointing Monday night loss to the Chiefs. For the better part of last week's game, New York seemed to have the better of Patrick Mahomes and the rest of Kansas City. It seemed as if Daniel Jones would be able to lead his team to a huge upset. Even earlier than that, the defense picked off Mahomes giving life to the underdogs. Sadly, none of this was enough to keep their opponents from marching down the field late in the fourth quarter and kicking the game-winning field goal with just over a minute left. Very little has gone right for the Giants up to and including the health of their star players. It's all added up to nothing good and will continue to do so again this week.
---
Pittsburgh Steelers (-6.5 vs Chicago Bears)
If one were to sum up the essence of the 2021 Steelers, the word underrated could easily be used. With all the factors that are working against Pittsburgh, they have still managed to stay above the .500 mark and in the mix in their division. This is in large part because of their current three-game winning streak. Over the last three weeks, they have beaten the Brown, the Seahawks, and the Broncos. In that span, they improved their 1-3 record to a respectable 4-3 mark. Leading that charge is rookie running back Najee Harris. Harris has continued to improve his game and become a clear leader on his offense. Also worth noting, the Steelers also have the most wins on Monday Night Football than any other team. They had an 18 game streak snapped last year. Look for them to start a new one this week.
That streak will come at the expense of the Bears who were forced into full rebuild more earlier than expected. Chicago was pressed into starting Justin Fields far before they had anticipated after losing Andy Dalton. Since then, it's been a mixed bag of results for the Windy City. The team has shown flashes of positivity with wins over Cincinnati and Las Vegas. On the other hand, they are now on the wrong end of a three-game losing streak. In each of these losses, the defense has failed to keep opposing offenses in check. Also, Fields and the offense haven't done enough to outscore the other team. Even with the contributions of Khalil Herbert who has filled in nicely for David Montgomery, the Bear have fallen short. This primetime matchup will put a nice winning bow on this week's NFL Survivor Pool picks.
---
Related Content