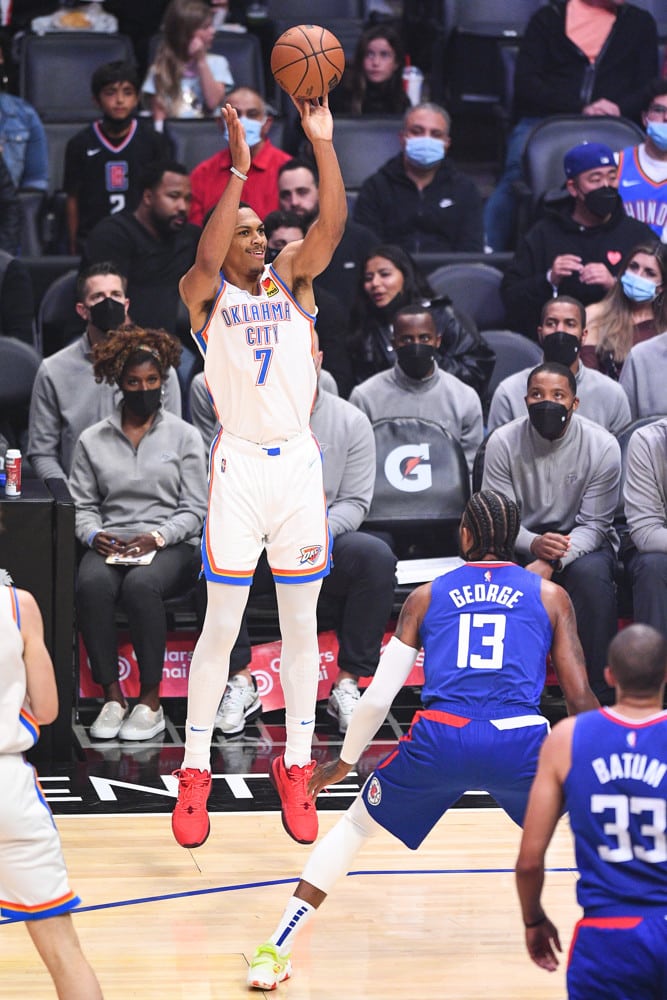 The NBA season is in full swing, which means so is fantasy basketball. Whether you've jumped out to a quick lead in your league or you're dragging near the bottom, it's not too early to peruse the fantasy basketball waiver wire and grab some players who can help you RIGHT NOW. Here are the current best finds in the fantasy basketball waiver wire bargain bin.
(only includes players owned in less than 50% of Yahoo Fantasy leagues)

Fantasy Basketball Waiver Wire: Best Pickups Nov 3rd
Cody Martin – Charlotte – SG/SF – Owned 24%
9.5 ppg, 4.6 rpg, 2.4 apg, 1.3 spg, 0.5 bpg, 1 3PT/G
Swingman Cody Martin has quietly put up career-high numbers for the surprisingly strong Hornets through their first eight games. While there was concern his stats would take a hit once Terry Rozier came back, in the two games since he still played 21 minutes a night on average and stacked the stat sheet. While he won't wow you in any one category, he is solid in each and every one of them.
13.0 ppg, 4.3 rpg, 1.3 apg, 0.6 spg, 0.4 bpg, 3.1 3PT/G
Yes, he's extremely unlikable, but that's the type of player you want on your team rather than playing against. And the defending champs are sure glad he's on their side this season. While he won't bring you much in the defensive categories, you want to grab him for his scoring – especially his three-point shooting. He's hitting over three long-range bombs a game at a very solid 36.8% clip, plus adding some decent rebounding numbers to boot. Note: he isn't available on the fantasy basketball waiver wire in my league, because I grabbed him.
Darius Bazley – Oklahoma City – SF/PF – 31%
10.7 ppg, 6.4 rpg, 1.4 apg, 1.0 spg, 1.0 bpg, 1.1 3PT/G
A few warnings beforehand – he's inconsistent, can't shoot, and turns the ball over. But if you're looking for the stats I have listed above – points, boards, steals, blocks, threes, Bazley could be your man. When he's on, he's on, like on Oct 27th when he hit four triples, scored 20 points, grabbed six boards, dished two assists, made four steals, and added a block.

14.1 ppg, 2.7 rpg, 2.3 apg, 0.6 spg, 2.9 3PT/G
Ok, he won't bring you any defensive stats whatsoever. But, once again, if you're needing points and threes, he brings it in spades. Almost three three-pointers per game while shooting 44.4% from deep is a very nice addition to any roster. Plus a couple of assists per game helps too.
Alex Caruso – Chicago – PG/SG – 47%
8.3 ppg, 2.3 rpg, 3.9 apg, 2.6 spg, 0.6 bpg, 1 3PT/G
The 2.6 steals per game jump right off the screen at you. A hard to get stat that Alex Caruso offers right off the fantasy basketball waiver wire. Plus he's a good shooter and brings the assists to your lineup as well. Grab him like he grabs the ball from opponents.
11.0 ppg, 5.1 rpg, 1.8 apg, 0.9 spg, 0.3 bpg, 2.1 3PT/G
We head back to the world champs for our next pickup. If you're interested in Pat Connaughton, now is the time to grab him while the Jrue Holiday and Khris Middleton are on the sidelines. He wasn't shooting the three with his normal accuracy to start the season, but last night he broke out, going four for five from deep.
12.7 ppg, 5.0 rpg, 0.3 apg, 0.3 spg, 1.2 bpg, 68%
I wanted to find at least one center to add to our fantasy basketball waiver wire pickup list, and I surprisingly came across LaMarcus Aldridge. Not only did he surprisingly return this season from a brief health-related retirement, but he's been providing great value for the Nets. The points, rebounds, and blocks are all there for you.
Also worth checking out: Justin Holiday, Jalen Brunson, Luke Kennard, Terance Mann, George Hill
Make sure to check out all the great NBA coverage we have to offer and be sure to listen to the NBA Gambling Podcast, which airs twice a week.