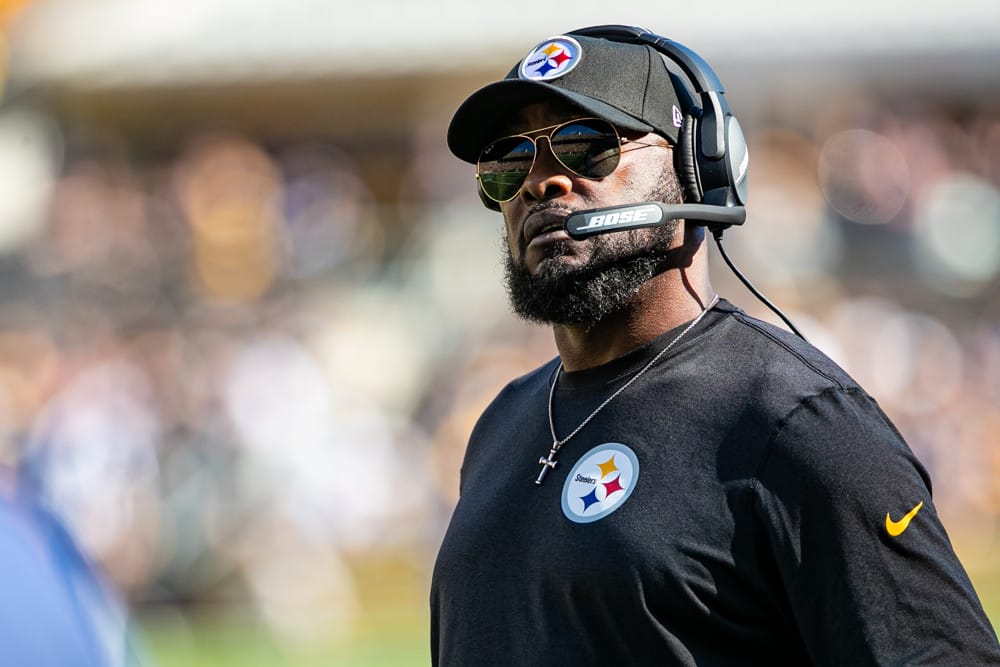 On the latest edition of the show devoted to Underdogs in college and pro football, host T.J. Rives is back with his guests to go over their best plays against the number for another week and to close out October.
First, T.J. welcomes Brian Edwards, Sr. Handicapper of Vegas Insider and from Majorwager.com back to the show. Brian has thoughts on the Florida Gators as a huge doggie in their rivalry game with the #1 Georgia Bulldogs Saturday in Jacksonville. Also, he likes a Big Ten home pooch, as well. Then, Brian turns to a big surprise in the NFL with a large road underdog to keep it close. Meanwhile, T.J. wonders if the Steelers and Mike Tomlin (above) are raring to go after some controversy of whether he might leave to go coach in college at LSU or USC?
Next up, T.J. brings former Virginia/New York Giants great, Tiki Barber, on the program. T.J. and Tiki just worked the Ohio State blowout of Indiana on national radio. So, Tiki has insight on what he saw out of the top 5 Buckeyes. The guys also discuss Oklahoma and their issues despite being 7-0. And, Tiki makes the case for his UVA Cavaliers to potentially upset BYU.
Continuing, T.J. has Tim Brando of Fox Sports up next in the conversations. "Timmy B" just worked Texas Tech's collapse at home to lose to Kansas State, which resulted in coach Matt Wells being fired Monday. Now, the Red Raiders are massive underdogs at Oklahoma. Tim has thoughts on it all. Plus, some talk about "his" Atlanta Braves being in the World Series and also, will the College Football Playoff attempt to hose Cincinnati from their final 4?
Then to conclude things, our "No Huddle Underdogs" are back with T.C. Martin of the 5 day a week "T.C. Martin Show" in Vegas, Bill Rohland of the "Yards and Stripes- Service Academy Football Podcast" and Colby Dant of the "College Football Experience" are all ready to make more doggie selections in the college and NFL slates.
It's all part of 3 Dog Thursday and make sure to follow/subscribe on Apple Podcasts, Spotify, Google, etc.!!
Download the SGPN APP today https://sgpn.app and leave us a rating & review.
Support for this episode – WynnBet | PropSwap.com code "SGP" | Prediction Strike code "SGPN"