Another week is in the books for the NFL season. We move on to NFL Week 8 and there are a few exciting matchups starting Thursday Night.
Last week, I  highlighted taking advantage of the home team's team totals in games officiated by Carl Cheffers. Despite, the full game going under the total, Giants scored 25 points to get over the total. Furthermore, road teams on the money line continue to dominate in Shawn Hochuli officiated games.
Let's dive into the Week 8 Referee Trends and Stats.
NFL Referee Betting Trends and Stats Report: Week 8
Game Totals
Clay Martin
Clay Martin thus far this season is a cash cow to the Under this season. In fact, in the six games he has officiated this season the Under is 5-1 with an average total of 43 points per game. Additionally, both teams are averaging around 21 points per game. In NFL Week 8, Clay Martin is assigned to officiate the Los Angeles Rams visiting the Houston Texans. Lastly, over the last five weeks, Texans are 4-1 to the Under.
Alex Kemp
I have highlighted Alex Kemp as a referee who is profitable for road teams against the spread and on the money line. On the other hand, he is also an official who is one of the best to Under. In fact, Kemp is 4-1-1 to the Under with an average game total of 41.3 points per game.  In Week 8, Kemp is assigned to officiate the Thursday Night showdown between the undefeated Arizona Cardinals and the Green Bay Packers.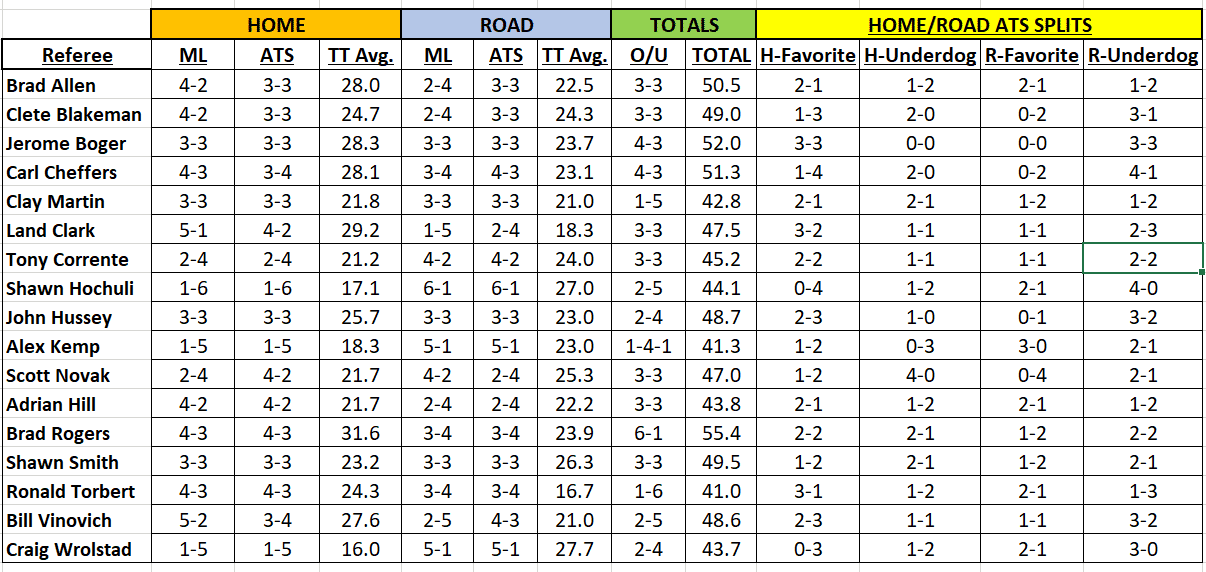 Against The Spread
Let's go ahead and quickly highlight that Shawn Hochuli continues to be the winning side for road teams. On Monday Night Football the Saints go the victory straight up but failed to cover the spread. Furthermore, Hochuli is prefect 4-0 to road underdogs. Take a look below on to see which game Hochuli is assigned to this week.
Scott Novak
The reason I wanted to highlight Scott Novak this week is that he is a perfect 4-0 to home underdogs thus far. Additionally, home teams are 4-2 overall against the spread. In Week 8, Novak is assigned to the Sunday Night Football game between the Dallas Cowboys and the Minnesota Vikings. Currently, the Vikings are home underdogs of 2.5 points.
Craig Wrolstad
Craig Wrolstad loves to travel to these different cities and favors the road teams. Thus far this season Wrolstad's officiated games are profitable road teams. In fact, road teams are 5-1 against the spread and straight up. Furthermore, road underdogs are 3-0 so far this season. This week, Wrolstad is assigned to officiate the game between the red-hot Cincinnati Bengals and New York Jets.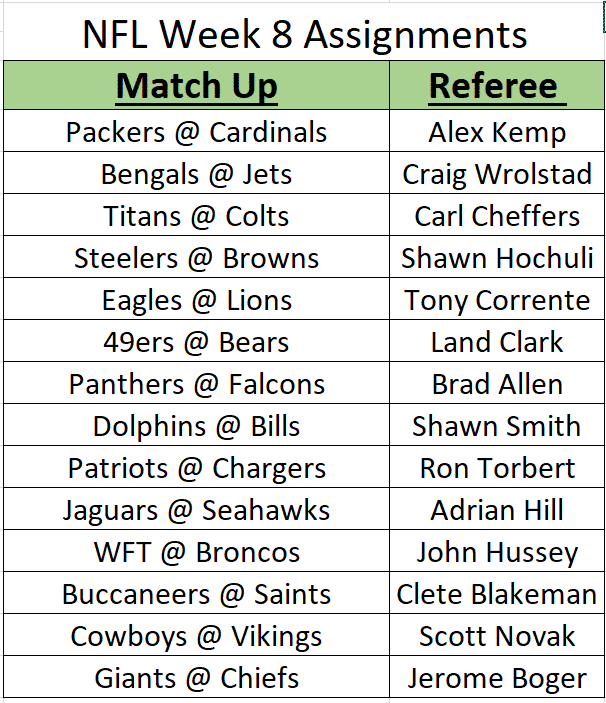 NFL Related
Early Week 8 Waiver Wire Fantasy Football Targets