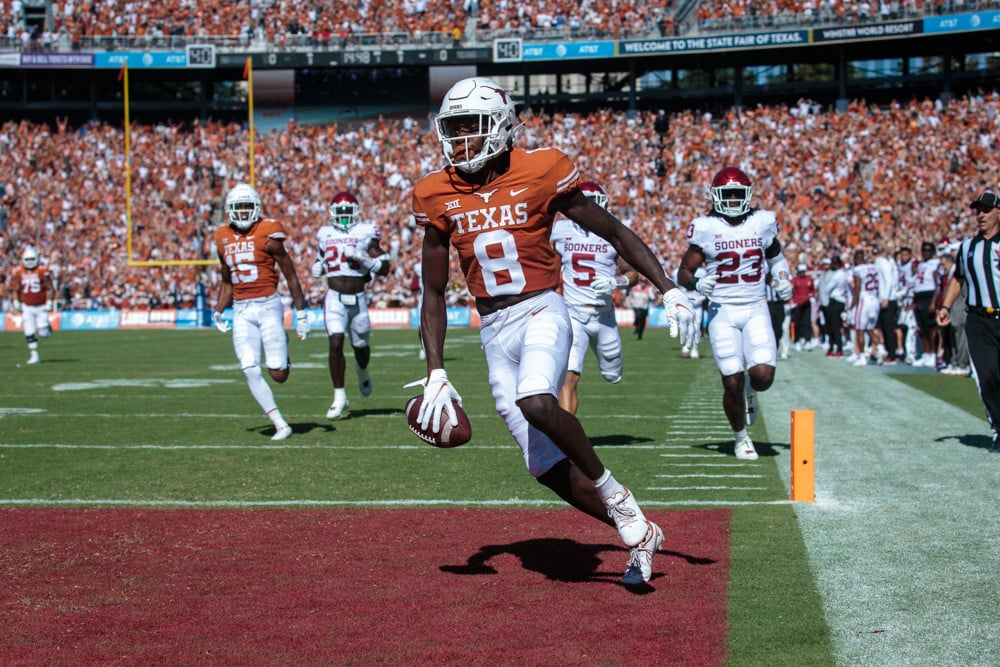 You know it's a good day when you break 200 fantasy points in DraftKings and that's exactly what we accomplished in last Saturday's main slate. Between the column and the pod, hopefully you picked up on and rostered guys like Keytaon Thompson ($4.6K) and Marvin Mims ($4.4K) who were both dirt cheap and still put up over 30 fantasy points.
Let's do it again, shall we?  As usual, for each position, I will highlight my favorite expensive option, my favorite middle-of-road option, and my favorite bargain bin player.
College Football Fantasy Picks: Quarterback
Sam Howell – North Carolina ($9.2K)
Other than the opener vs VT, Sam Howell had his lowest fantasy performance of the season last week in a baffling 10 point home loss to FSU. Even in defeat, Howell registered 28.9 fantasy points. The junior QB has been hovering around the 30 point threshold the last few games after blow-up performances of 53.5 and 48.5 points in Weeks Two and Three. Perhaps it's about time for another monster game where Howell reminds us why he was a Heisman hopeful entering the season.
UNC welcomes a bad Miami team into Chapel Hill this weekend. The Tar Heels still have the 16th best offense in the country and The U's passing defense ranks 94th in the nation, giving up over 250 in the air per game. I like the bounce-back spot for Howell but you will have to pay up for him.
Adrian Martinez – Nebraska ($7.9K)
I plan to spend big on the QB position in this slate on Saturday. Typically, I like to throw out a mid-tier QB that's a bit cheaper, but Adrian Martinez has been a model of fantasy consistency this season. Through the last six games, the Cornhusker QB has put up between 24 and 35 fantasy points. He's a dual threat that will get the production one way or another.
Nebraska travels to Minnesota for a Noon kick this Saturday and I expect Martinez to continue his tear. The Golden Gophers have excellent defensive statistics on the year, but I'd argue that they're misleading. The only offense of note that they've faced was Ohio State and they struggled. Since that opening game, the Minnesota D has feasted on pitiful offenses like Bowling Green, Colorado, and Purdue so don't put too much stock into their top 20 defensive ranking. I like another big game for Martinez.
Braxton Burmeister – Virginia Tech ($6.3K)
If you are looking to target a low-dollar QB in this slate, either Braxton Burmeister or Texas A&M's Zach Calzada (also $6.3K) make a ton of sense. I might give the edge to Burmeister who has a home game vs a Pitt team that struggles to defend the pass.
Georgia Tech isn't known to have a prolific air attack and they just threw for 359 and two TDs vs the Panthers. A couple of weeks before that, Western Michigan traveled into Heinz Field and threw for 337 yards and 3 TDs. Burmeister hasn't set the world on fire this year, but he'll have opportunities come Saturday.

College Football Fantasy Picks: RB's
Isaiah Spiller – Texas A&M ($6.6K)
If you can't fit the Aggies QB onto your roster, I'd advise gobbling up Isaiah Spiller who also comes with an affordable price tag. Missouri has been absolutely dreadful on the defensive side of the ball this year. They rank 129th in the country in total defense and dead last in stopping the run, giving up 287.2 yards per game (almost 20 more than the 2nd worst team).
Spiller has been a favorite DFS play of mine over the last couple of seasons but the struggling Texas A&M offense has really limited his production this year. The Aggies got things cranking a bit last week vs Alabama and have the juiciest of matchups vs Mizzou. Get pieces of this A&M offense and thank me later.
Tyler Goodson – Iowa ($6.5K)
I'm leaning towards rostering a couple of mid-tier RBs this weekend instead of spending up big at the position. Guys like Bijan Robinson ($8.9K) and Tyler Badie ($8K) have been dynamite but have tough matchups on Saturday. While I'll never argue against rostering either, I'll be looking to save some coin after spending up at QB.
That's where Tyler Goodson enters the picture. The Junior RB has consistently put up solid fantasy performances this season as the main Hawkeye RB. He has five TDs on the year but hasn't found pay dirt since September 18th which makes him my favorite positive TD regression candidate of the week.
Tyrion Davis-Price – LSU ($4.4K)
It was tough targeting a low-dollar RB that I was interested in this week but LSU's Tyrion Davis-Price fits the bill. Before last week's game vs Kentucky, LSU's rushing attack was basically an after-thought. Although the Tigers got smacked around, Davis-Price turned 22 carries into 147 yards and 2 TDs. It was the most touches he received all season and is firmly entrenched as the RB1 for LSU. As long as Coach O continues to emphasize the ground game, TDP could be a steal.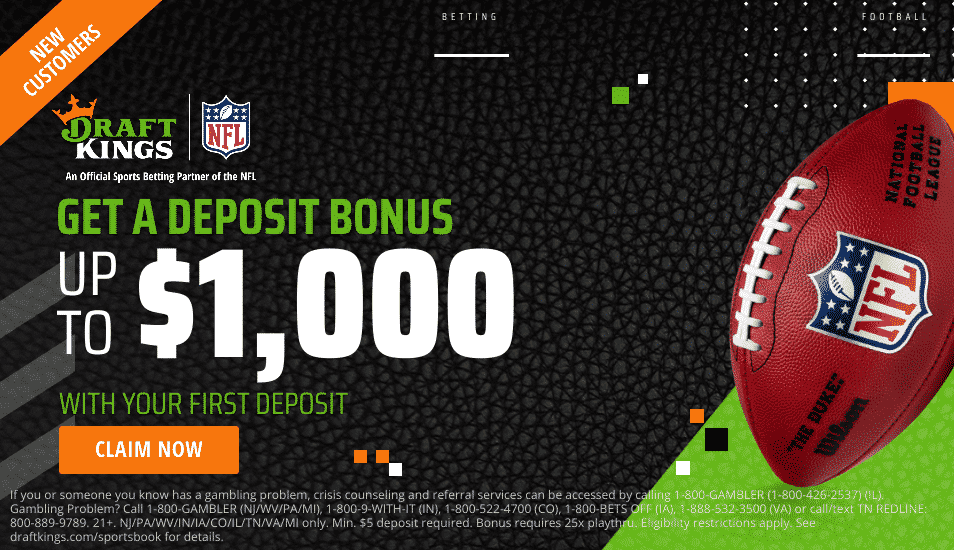 College Football Fantasy Picks: WR/TE's
Xavier Worthy – Texas ($7.4K)
It's typically not a great idea to chase fantasy points when playing College or NFL DFS. Xavier Worthy just caught 9 balls for 261 yards and 2 TDs vs Oklahoma. The chance of duplicating that effort this week is slim to none. However, you can't deny the freshman's potential.
As with most first-year players, it's been an up and down season. The game before OU, Worthy just caught one ball for seven yards. In the game before that, he caught 5 for 100 and 3 TDs. There's high variance here but Worthy is looking like one of the best receivers in all college football. Another monster game and he'll be much more expensive soon. I'll try my luck again with the Freshman.
Tyquan Thornton – Baylor ($5.2K)
For the last couple of years, you could basically pass the Baylor offense over when looking for solid pass catchers to roster. Well, their Senior WR Tyquan Thornton, who has been a steady contributor for four years, has recently broken out. Last week vs WVU, Thornton took a 75 yard TD to the house on the second play of the game while finishing with 8 catches for 187 yards and two TDs.
I'm assuming most of the nation has not heard of Tyquan Thornton making the wideout a sneaky, under-the-radar play. Don't expect over 40 fantasy points like last week, but this guy can surely carve out another solid game vs BYU.
Ladd McConkey – Georgia ($3.6K)
There's a bunch of low-dollar pass catchers that are on my radar in this slate. I'm a fan of rostering guys like Ainias Smith ($4.4K), Peyton Hendershot ($4.3K), and Puka Nacua ($4K) but for the sake of this column, let's go even cheaper and put the spotlight on Ladd McConkey.
McConkey is a true freshman who just had the best game of his infant career, catching 5 balls for 135 yards and a TD vs Auburn. His story is interesting as well, McConkey was an unheralded recruit who was set to attend Chattanooga before a late offer from UGA came in. However, I was a bit bummed to learn that he is not related to former NY Giant WR Phil McConkey. Either way, I've liked what I've seen so far.
https://twitter.com/ugafootballlive/status/1447070364916490240?s=21
---
RELATED