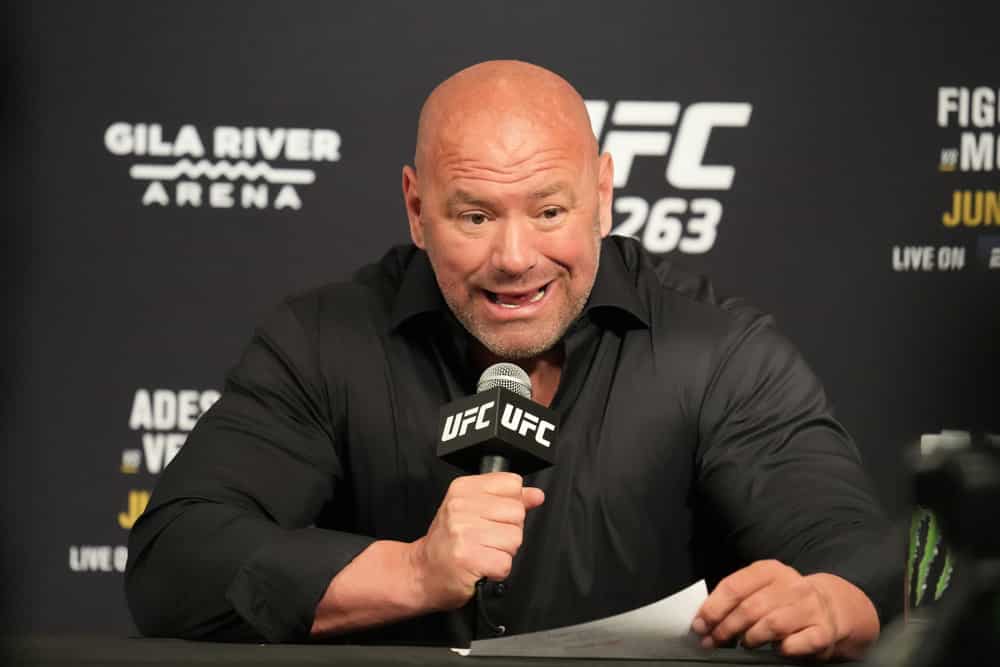 Everybody's favorite Tuesday night action is upon us again. Dana White's Contender Series is back for Week 5, live from the Apex in Las Vegas. It seems that nearly anybody who wins on this year's edition of the show (and even one who didn't) is a lock to win a contract. Regardless of who walks home with a big win, we're here to help you pick up some wins at the bookmaker.

Dana White's Contender Series – Week 5 Predictions
Lukasz Sudolski (-225) vs Igor Poterya
Sudolski is my first pick this week on the Contender Series. While there are things I am concerned about, like the fact that he seemingly is always leaving his chin in the air, I really like his mixture of skills. He cracks chins with the best of them and also scores trips from all different clinch positions. On the ground he does great ground and pound work, even making good use of some knee on the belly action. Poterya may be more technically sound when it comes to striking, and certainly protecting his chin, but he isn't particularly dangerous with his shots. He also is sort of susceptible to takedown attempts and winding up on the bottom. Although he works to his feet moderately well, I worry that it won't be well enough to win here without a finish – and I don't think he'll get one of those.
Manuel Gaxhja (+270) vs Chris Duncan
I'd probably be a lot more confident in this pick if Gaxhja had fought any level of real competition. He mostly has fought guys who were making their debut or were 1-1. That doesn't exactly instill confidence, which is why you see the line where it is. However, when you watch him, you can see that his skills would translate well to any fight. He counters extremely well and has power kicks. The hand speed is fast and he isn't afraid to be a little flashy with any of his strikes. He really is a fighter made for Contender Series. Duncan has fought a much higher level of competition in Bellator and elsewhere. My issue is that when he is having any success on the feet, he leaves himself open to counters. He rushes forward with the intention of pouring it on his opponent, which has worked so far. I do worry that'll get him in trouble with someone who counters like Gaxhja. So despite the experience levels, I like the Albanian here.
Caio Borralho (+135) vs Aaron Jeffery
A lot of people are really high on Aaron Jeffery and for good reason. Since losing on the Contender Series to Brendan Allen, he has rattled off some very impressive wins. One of those includes a TKO of TUF alumni Andre Petroski. In that fight, and a lot of the other ones in that time, he showed that his takedown defense is really sound – much more sound than it looked against Brendan Allen. He also is tight and patient on the feet and makes good use of openings that his opponent leaves. The problem is that he's up against a striker who isn't going to test that takedown defense or leave very many openings. Borralho fights from a karate-style stance a la Lyoto Machida. He jumps in similarly to 'The Dragon' and gets away quickly. While I think that Jeffery is one of the better prospects on this season, I think this is a rough style match-up for him. I like the quickness and elusiveness of Borralho here to pick up a win.
Daniel Zellhuber (-165) vs Lucas Almeida
This fight is the one I'm the least sure of on the whole Contender Series card. On one hand, Almeida is a wild swinger who works to all parts of the body while refusing to take a step back. Zellhuber has been backed up in nearly every fight of his that I've seen. On the other hand, Zellhuber is a way better boxer in terms of footwork and cutting angles. He does find a way off the cage each time. He also does a way better job at picking his shots and keeping his guard up. I think both have some pretty decent KO power, so it wouldn't surprise me to see either get the stoppage. I am going to ever so slightly lean to the better technical boxer, who may just be able to wear Almeida out with his movement and defense.
Rizvan Kuniev (-275) vs Edivan Santos
This is the pick I'm feeling the best about on the card. Santos has fought some of the very worst competition I have ever seen for somebody coming to the Contender Series. His last three opponents are a combined 2-35. Unlike our other combatant who hasn't fought hardly anyone decent (Manuel Gaxhja), Santos hasn't even looked all that good. At the start of his fight with Davi Lucas, who was 0-10 at the time of the fight and is now 0-14, Santos looked scared to exchange. He wound up getting backed against the fence and had trouble working off of it. The scariest part of all this is that issue is precisely what Kuniev is great at. He backs you up against the fence and wears on you. Plus, he scores takedowns from anywhere. In one of his more recent fights, his opponent was in on a single leg and Kuniev flipped him from the crotch and got a takedown of his own. Kuniev will roll easily in this fight.

Don't forget to check out all of our MMA coverage on SGPN, including our UFC picks posted each week. And remember to listen and subscribe to the MMA Gambling Podcast, where you can get even more Contender Series and UFC insight each week.