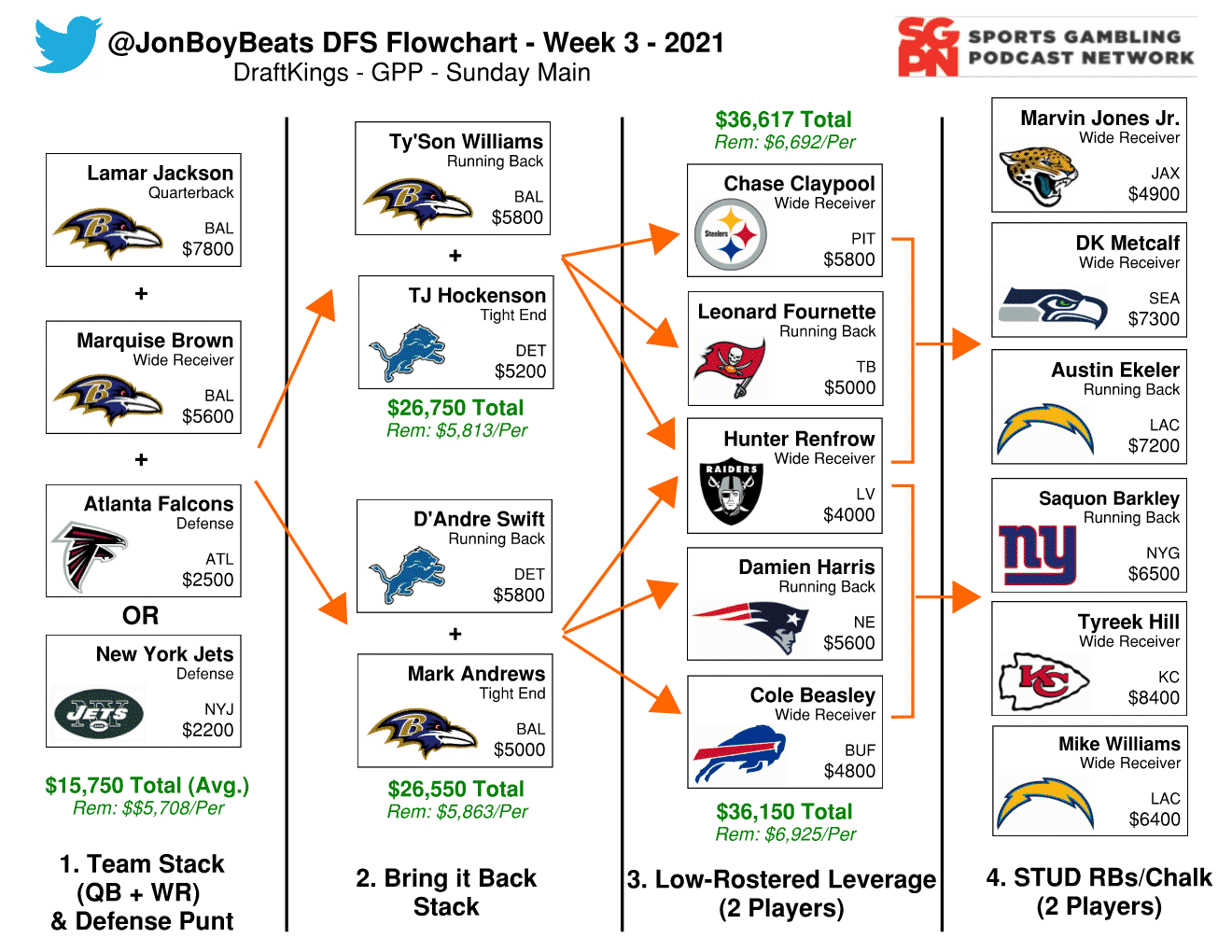 We bounced back a little bit with The Flowchart in Week 2. It was actually a heck of an accomplishment to even min. cash last week if you didn't have Derrick Henry or Cooper Kupp in your lineup, but we managed to get a few combinations in the green. Min. cash is not the goal though, so we are back at it again this week looking to crawl higher in those GPP contests. I am a groomsmen in a wedding later today, so the write up is going to be a bit condensed. I'll make sure to head to Twitter tomorrow morning if any crazy news happens, Let's get into it!
EXCLUSIVE SGPN FANTASY CONTENT
SGPN Fantasy Football Rankings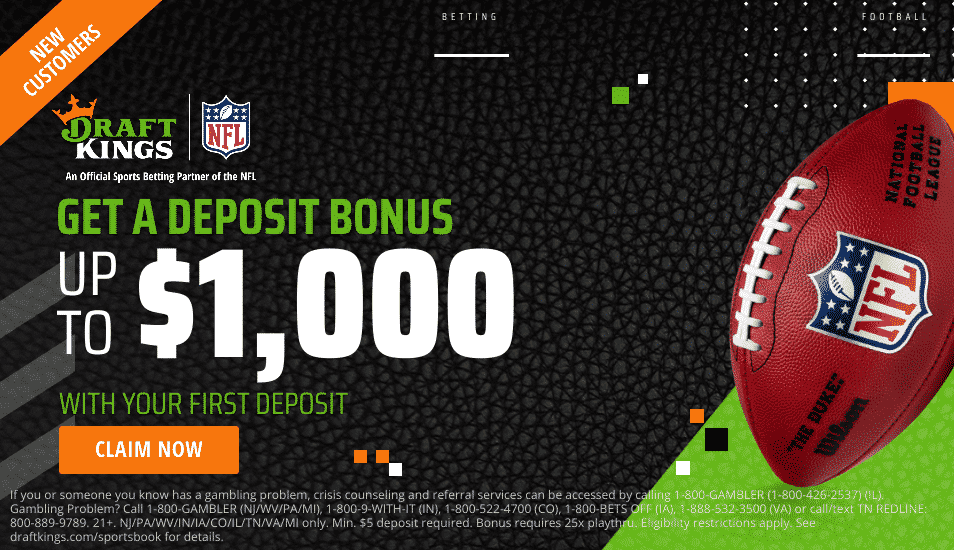 Game Stack
I have a feeling that Lamar Jackson is going to be one of the highest rostered QBs on the slate, but I really don't think a lot of people are going to double stack him or go heavy on this game. With an elite rushing QB like Lamar, it's always popular to skinny stack (1 player) or run him naked (no players), but I've chosen for the full double stack this week. Marquise Brown is the constant in The Flowchart this week, and he has really emerged as the alpha receiver through two weeks. Dating back to the end of last season, Brown is on a hot streak so we will look for that to continue in Detroit. I really like the symmetry this week between our Tight End and RB options in the bring back stacks. TJ Hockenson is the clear top receiving option on the Lions, and has been on fire to start the season. If you think the Ravens are going to air it out a bit, then it makes sense to pair Mark Andrews up with Lamar and bring back D'Andre Swift. Conversely, if you choose the Hock route, then I am choosing to go with Ty'Son Williams this week and loading up on a run-heavy game script. A lot of good options in this game, that in my opinion, has sneaky potential to be a shootout.
Low Rostered Leverage
I had a tough time sniffing out some blue chip leverage plays this week. Salaries feel pretty efficient across the board, and I think roster percentages are going to be spread out at multiple different tiers. With Robert Woods and Cooper Kupp projected to be very popular Darrell Henderson is a great leverage play, but I just couldn't get myself to play an RB against that Tampa Bay front seven. Instead, I went the route of pivots to lower-rostered players at some of the popular price points this weekend.
Clyde Edwards-Helaire ($4800) and Mike Davis ($5100) will probably find their way to a lot of rosters this weekend, so that's why I went with the Leonard Fournette pivot. I like the TB/LA game environment more, but there's definitely a wider spread of fantasy production on the TB sideline. Similar to the Henderson thesis, Fournette also provides leverage on the TB passing attack which should be popular. Hey there's a chance that this game between two Top 5 defense isn't a pure shootout like everyone is thinking!
Chase Claypool comes in right about the same price point as Robert Woods ($5700) this weekend, but is projecting to be rostered 5X less. Even though he's got noodle arm Big Ben throwing to him, Diontae Johnson is on the sideline this week, and Claypool should be in for a big day.
Play the Studs
In order to make some of the combinations work this week, you might have to shave a little bit off at the Defense position. That's fine, because defense is a coinflip randomizer event anyways. Tyreek Hill has a ceiling projection that absolutely jumps off the page this week. After putting up a dude in Week 2, he could bounce back with a vengeance against the Chargers. On the other side of the ball, Austin Ekeler erupted for 9 catches last week after not seeing a single target in Week 1. The Chiefs run defense is looking abysmal to start the year, so Ekeler should see a big workload here.
Through two weeks, Tyler Lockett has stolen the show in Seattle, but we all know that DK Metcalf is just as capable of putting up those big scores. In an up-tempo game environment against Minnesota, this could be the week. This is a good matchup for Saquon Barkley against Atlanta this week. He got a heavy workload in Week 2 coming off short rest, so I have no more injury concerns with him. The field probably still will, so he will come in lower rostered than normal. Fire Saquon up!
That does it for this week's flowchart. I hope to see some screenshots come Sunday afternoon!
RELATED CONTENT
Week 3 Fantasy Football Injury Report
Surprising Fantasy Football Player Values After Week 2