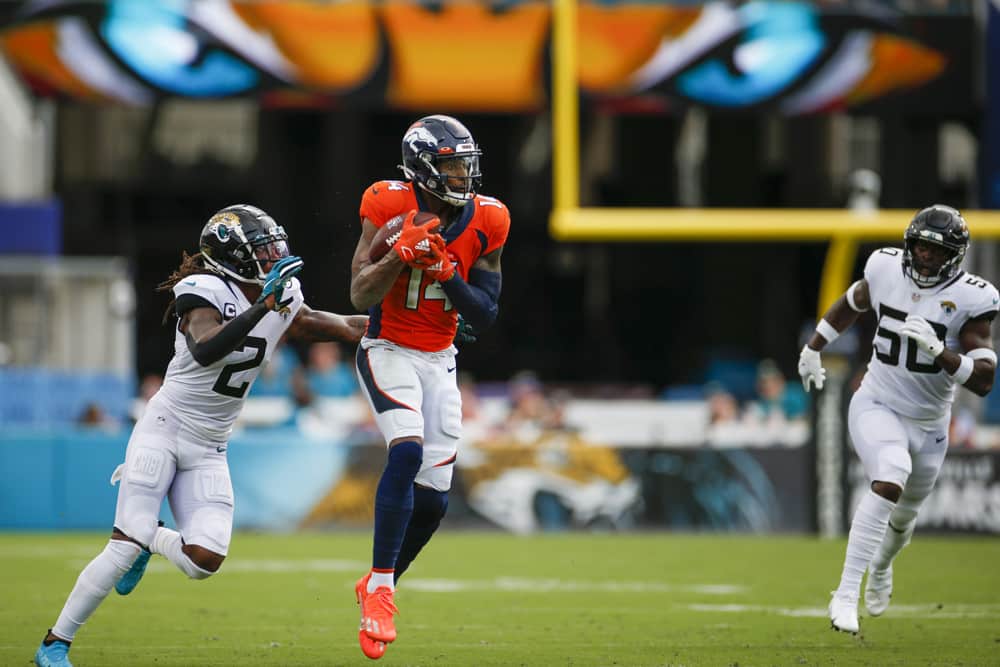 Two weeks of football are in the books and you may be looking to make changes to your fantasy football team. Maybe you have underperformers or started 0-2 and you are looking for value. Let's take a deeper dive into what the numbers are showing for player's stocks and what players are this week's fantasy football values that you may want to consider trading for or trading way.
EXCLUSIVE SGPN FANTASY CONTENT
SGPN Fantasy Football Rankings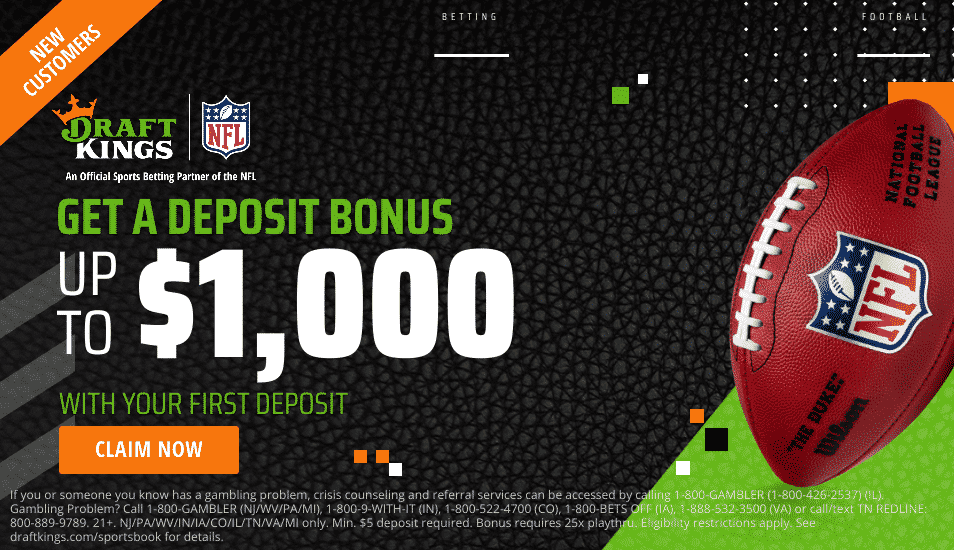 Trending Up
Here are 5 guys who are trending up – target these guys either in your waivers or trades. The obvious names such as Marquise Brown, Aaron Jones, Tyreek Hill, etc. aren't on here because the capital to trade for them would be high. Instead, this looks at guys that maybe aren't getting the attention from fantasy football owners, but are getting the attention from their teams.
Courtland Sutton (WR) Denver Broncos
There was a lot of speculation on who would gain additional targets from Jerry Jeudy's injury and the names I heard the most were KJ Hamler and Tim Patrick.  Nobody was talking about Courtland Sutton, who only had 3 targets in Week 1, converting his 1 catch into 14 yards.  However, in Week 2 he went from 8% of the target share to 35%, converting 12 targets into 9 catches for 159 yards.  It's doubtful he's being slept on after gaining 159 yards, but he's a player whose stock rose from Week 1 to Week 2 and should stay consistent. Sutton could be a rapid riser among the fantasy football values and you should consider trading for him.
K.J. Osborn (WR) Minnesota Vikings
What if I told you the leading wide receiver for the Minnesota Vikings was only rostered in 15.7% of leagues? After 7 catches for 76 yards in week 1, Osborn's target share rose to 19% in week two where he had 5 catches for 91 yards and a touchdown. The Vikings pass offense can be deceivingly good in fantasy football and Adam Thielen and Justin Jefferson aren't the only two benefiting from Kirk Cousins slinging it down the field. Osborn has huge upside and is making up for their lack of tight end targets.
Maxx Williams (TE) Arizona Cardinals
No tight end had a bigger target share increase than Maxx Williams did from week 1 to week 2. After a disappointing 1 target, no catch performance in week 1, Williams showed up with a 7 target, 7 catch game for 94 yards. Kyler Murray is second is passing yards in the league and if his pace continues, grabbing part of the passing game would be wise.  Williams is only owned in 2.3% of leagues and if he can continue putting up performances like week 2, he could be a valuable tight end asset.
Braxton Berrios (WR) New York Jets
One of the biggest surprises in the Jet's offense so far has been Braxton Berrios. In Week 1 he had 5 catches on 7 targets for 51 yards, good enough for 19% of the target share. In Week 2 he proved it was no fluke as he rose to 33% of the target shares, turning 11 targets into 7 catches for 73 yards. It looks like he has developed real chemistry with Zach Wilson and averaging 10.3 yards per catch can provide real fantasy value, especially for a team that looks like they will be playing from behind often. His stock is on the rise and he's only owned in 1% of leagues.
Even if you don't want to start him next week, he is worth a stash. He also has prolific speed. Fantasy football values are all about the upside and Berrios has that in spades.
Braxton Berrios can get going in a hurry. #Jets pic.twitter.com/n7pynaHpJD

— Jets X-Factor (@jetsxfactor) September 22, 2021
Freddie Swain (WR) Seattle Seahawks
Maybe you missed out on D.K. Metcalf and Tyler Lockett in the draft but you still want a piece of that pass-happy, powerful Seahawks offense. Freddie Swain, available in almost all leagues, went from 1 target in Week 1, which was 4% of the target shares, to 16% of the target shares in Week 2 with 5 targets. He converted all 5 targets into catches for 95 yards and a touchdown. His stock is trending up and if he can remain consistent in this offense he's worth a stash on the bench before somebody else grabs him up.
Trending Down
With players trending up we also get players trending down. If you have them on your team it may be time to see if there's a trade market for them. Here are 5 players whose stock dropped from Week 1 to Week 2. It is not enough to add positive values to your fantasy football squad. You also have to move off of declining values and these are those guys.
Allen Robinson (WR) Chicago Bears
Okay, so you probably aren't running to trade offers to get rid of Allen Robinson if you have him. However, his situation is worth monitoring. Robinson, who has been consistent for years, trended down from Week 1 to Week 2, going from 37% of the target shares to 17%. What's more telling is that when Justin Fields entered the game he targeted Darnell Mooney more than Robinson. If Dalton misses time to his knee injury Robinson's stock may continue to stay lower than average due to Fields being able to spread the ball around more. Even if Dalton doesn't miss time, he only targeted Robinson once prior to exiting with an injury. It would take a lot to move him but if you're wide receiver heavy, Robinson may be one to involve in a trade to strengthen your team in other areas.
Tyler Higbee (TE) Los Angeles Rams
Tyler Higbee looked like he was going to make a lot of noise in the Rams' offense after posting a 23% target share in Week 1, turning 6 targets into 5 catches for 68 yards. In Week 2 though, Higbee dropped by 20% in target shares to just 3%, being targeted once for 8 yards. With only two weeks it is hard to tell which of these will become the more consistent stat line however, for now, Higbee's stock is down in a Rams' offense that has a lot of mouths to feed.
Antonio Gibson (RB) Washington Football Team
Pre-season talk on how much this organization liked J.D. McKissic and wanted him to stay involved seemed to have been all talk after Week 1's stat line when Gibson saw 20 carries to McKissic's 1 and 5 targets in the passing game to McKissic's 1. But in Week 2 the stats looked more like the team had talked in the preseason with Gibson's carries falling to 13 and only two targets in the passing game.
He went from 24% target share to 4% while McKissic went up to 13% of the target share and got the redzone carry to steal a touchdown from Gibson. If the team continues to split the workload this way Gibson may be somebody you want to trade away now before his stock drops too low in a split backfield. Move off of Gibson before it is too late and there are no fantasy football values to get back in return.
Imagine handing off to this guy when Antonio Gibson is on your team.pic.twitter.com/tEUg94pkrE

— John Hyslop (@sloprules) September 17, 2021
D.J. Chark Jr. (WR) Jacksonville Jaguars
Not far removed from being the Jaguars top receiving option D.J. Chark started Week 1 like nothing had changed, getting 24% of the target shares. His stat line looked like it could have been even better given that he had 12 targets but only 3 catches for 86 yards and a touchdown. If he could convert a few more of those targets Chark would be a top WR option, but instead, Chark's usage dropped as he saw only 4 targets in Week 2. Marvin Jones, who had 9 targets in Week 1, had 11 targets in Week 2. If Jones continues to see the majority of the target share, Chark may not be able to regain the value he once held and would be better off left on the bench as his stock is dropping.
Ezekiel Elliott (RB) Dallas Cowboys
If I had told you at the beginning of the season that after two weeks of football Tony Pollard would have more rushing yards and more receiving yards you'd wonder what kind of injury Ezekiel Elliott had. Elliott doesn't have an injury and even though his carries went up from 11 in Week 1 to 16 in Week 2, it's hard to deny that Tony Pollard has looked explosive and may eat into more of Zeke's workload. Elliott has 104 rushing yards on the year to Pollard's 123 and Pollard has done it in 11 fewer carries.
Pollard has also averaged an 8% target share in the passing game to Zeke's 4%. Elliott has 32 yards receiving to Pollard's 60. Elliott is still a good back and a big name who would bring in a good haul if traded in fantasy, and with his stock dropping due to Pollard's involvement it is worth exploring to see what you can get. Zeke is a rapid faller among the fantasy football values.
RELATED CONTENT
Week 3 Fantasy Football Injury Report
Week 3 NFL Thursday Night Football DraftKings Picks: Panthers vs. Texans