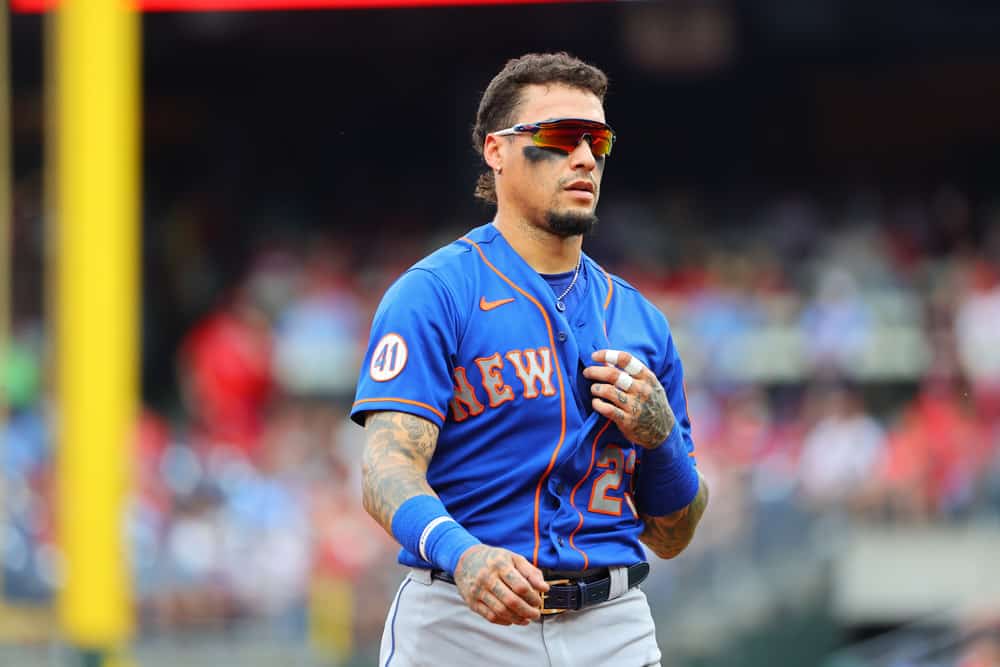 This week, Sunday Night Baseball is about more than just a game in the standings. It's about pride. We've got a rematch of the 2000 Subway Series – Yankees versus Mets in a crosstown rivalry match-up. Both teams have seen their playoff hopes dwindle over the past couple weeks. Whether either of them makes it to October, we're here to help you score big with our MLB DFS Showdown lineup.
(NOTE: This MLB DFS lineup was made before official lineups were posted. Always check starting lineups prior to your lineup locking)

MLB DFS Picks (NYY/NYM Showdown) Sept 12th
Captain – Javier Baez ($14,400) – NYM
After a very slow start with the Mets, that led to some much talked about shenanigans, Baez has gotten red hot. Over the past three games, he's put up a whopping 78 fantasy points for an average of 26 a game. All of those games were multiple hit games and all had at least one extra-base hit. But those aren't the only indicators that he's turned a corner. In fact, even looking past the past three games, he has three other multiple hit games this month already. He also has four other extra-base hits. Give him a starter that has been struggling a little his past few times out in Andrew Heaney, and I'm really liking Baez to keep it going.
If you told me I'd put Carrasco in a MLB DFS lineup in any capacity after how he first looked coming off the IL, I would have laughed at you. He was bad to start. So bad that despite his last couple starts, he still has a 5.88 ERA. However, we need to look past that and get to his past four starts. Over that span, Carrasco has gone at least five innings in every start. He's also managed to allow three or fewer runs, and strike out an average of five batters. None of those games will set the world on fire, which is why he's not my captain. He is good enough to roster at this price though.
Conforto is another one like Carrasco. His batting average sits at an ugly .227. He's managing a mere 6.1 fantasy points a game for the year. It would seem crazy to put him in an MLB DFS lineup if we looked just at the big picture. However, if you look at his past 10 games, it seems crazy not to use him. Over the past 10 games, Conforto has 12 hits. He's also moved up his walk numbers in those games. The end result is averaging 10.5  fantasy points a game. That number is pretty juicy when you consider the current state of other hitters around or above this cost.
It took me this long to take a Yankee's hitter in an MLB DFS Showdown lineup, which at the end of August would have seemed unfathomable. However, this run where they have lost seven of eight and 11 of 14 has been particularly futile for a lot of their hitters. DJ LeMahieu isn't one of those guys. In the past 12 games, LeMahieu only failed to get a hit once. He's not getting a ton of extra-base hits or driving in a lot of runs over that span. Then again, no Yankee is. That being said, there is a nice floor there that makes playing LeMahieu a helpful piece to get you in the green.
People were a bit worried that Torres was going to be pushed from the lineup upon his return from the IL. He seems to have assuaged all those concerns and reasserted himself as the everyday shortstop. He's another Yankee who is maybe not the sexy MLB DFS pick, but he is putting up some production since returning. He's got a couple of multi-hit games this month and may be more of a stolen base threat than he's showed in the past couple of weeks. This far down in the salaries, you're not going to find much more certainty than that.
Although Torres and LeMahieu were MLB DFS picks because of where they fit salary-wise, I legitimately like Brett Gardner at any price right now. The fact that he's at $4,000 seems criminal at this point. Over the past four games, he's averaging 18 points a game. In that time, he has three extra-base hits, five RBIs, and four runs. He's also got the most experience of any Yankee against Carrasco, with a moderate amount of success. But regardless of whether you believe this can continue, you can't not play a guy on this streak at this price.

Make sure to check out all the great MLB coverage we have to offer and be sure to listen to the MLB Gambling Podcast, which airs twice a week. This week the guys are breaking down what's going wrong with the Yankees and chatting about underdogs hitting.