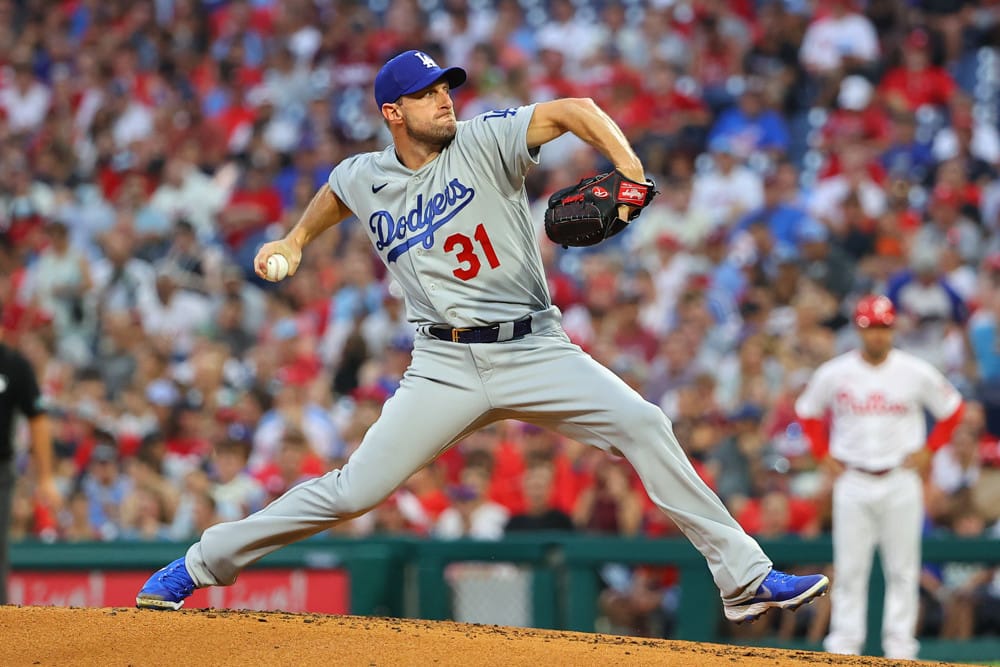 This week's edition of Sunday Night Baseball is coming to you live from the Big Apple. The Mets look to avoid the sweep at the hands of the Dodgers and recent import Max Scherzer. Each of the first two games has been decided by a single run. Whether this one is a close one or a complete blowout, we've got the MLB DFS lineup to get you into the green tonight.
(NOTE: This MLB DFS lineup was made before official lineups were posted. Always check starting lineups prior to your lineup locking)

MLB DFS Picks (LAD/NYM Showdown) Aug 15th
Captain – Max Scherzer ($16,800) – LAD
As is no surprise, if you've read any of my MLB DFS Showdown pieces, I have a pitcher in the captain's spot. This one is a little more obvious than usual though. Scherzer is a strikeout machine coming off a performance where rain shortened his night to 3.1 innings and he still struck out 6. Meanwhile, the Mets have one of the worst offenses. They have the 14th most runs scored in the NL (only ahead of the Pirates). While they don't strike out at an abnormal clip, they have struck out 24 times already in this series. Scherzer should toe double-digit Ks tonight and be well worth the cost.
Util – Max Muncy ($9,200) – LAD
Max Muncy is simultaneously a safe MLB DFS pick and one with big potential. He has put up points in all of his last nine games, so there is a high floor there. But the home run and extra base hitting potential are there as well. He's got four extra-base hits in his last eight games. It'll help that opposing pitcher Carlos Carrasco is a righty, as that makes Muncy about 50% more likely to hit a dinger.
Some people will say this is just a play based on Bellinger's big hit on Saturday night. His 10th inning double brought it home for the Dodgers in Game 2 of the series. Although he has not been himself this year, in the last week and a half we've seen a much more normal Bellinger. In the last 10 games he's hitting .278 and has five extra-base hits. He's also another case of being a lefty against Carrasco, which helps here.
Util – AJ Pollack ($6,000) – LAD
If you haven't noticed by the top of this offense, I'm sort of expecting the Dodgers' bats to come alive tonight. In his three outings since coming off the IL, Chris Carrasco has managed only 9.1 innings and been roughed up pretty good. It's part of why I'm abandoning my usual two starting pitcher strategy I love for MLB DFS. Pollack is more than just fading Carrasco though. He's scored 7+ fantasy in six of his last nine games. This Mets series has been an anomaly for him, but I'm predicting a bounce back for the finale.
Dominic Smith seems to be one of the few Mets who is hitting at this time. He hasn't been much of a slugging threat as of late, but as we dip into the low salary picks, I'm mostly looking for any production. Hitting .286 in his last 10, he seems like a good playable option here. He does have hits in both games of the series already too.
Whereas Smith was more of a result of finding the best option in the Walmart bargain bin, Conforto is actually a pick I really like here. He's on a five-game hitting streak, hitting .438 in those five games. The kicker is that one of those games he didn't even start. Although this is Conforto's worst offensive season, the run and cost makes him a pretty clear MLB DFS play here.

Make sure to check out all the great MLB coverage we have to offer and be sure to listen to the MLB Gambling Podcast, which airs twice a week. This week the guys are breaking down the ever evolving playoff picture with some crazy divisional races.