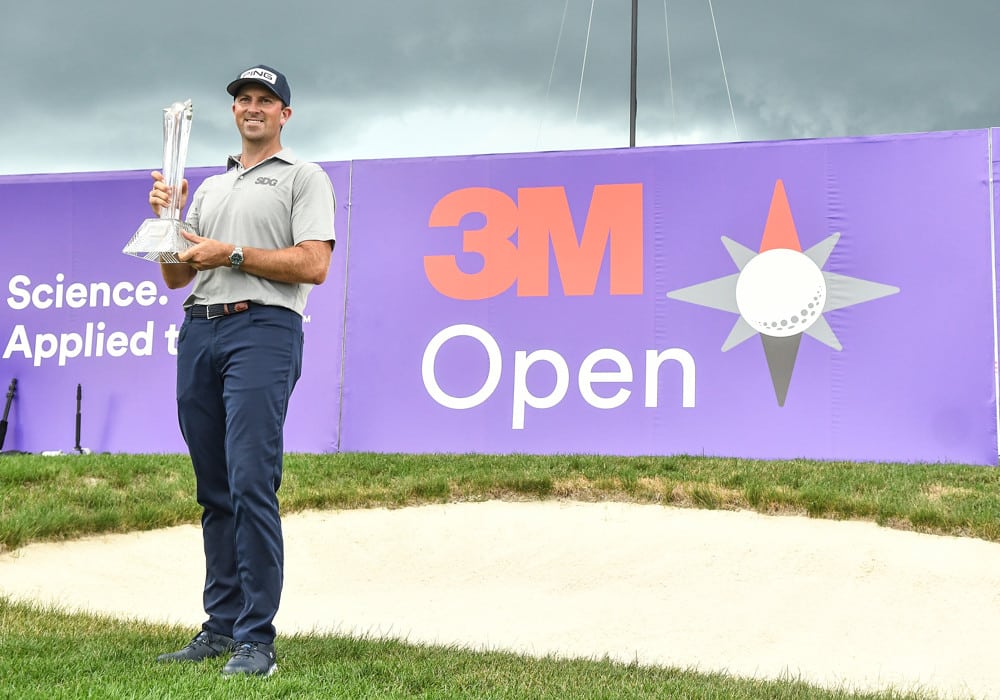 After a lovely weekend in the United Kingdom, the PGA Tour heads back to the United States. A full field travels to Minneapolis for the 3M Open at TPC Twin Cities. As always, here is your early deep-dive on the 3M Open and a preview for how to bet.

3M Open Preview – The Field
Tournaments the week after majors struggle to attract lots of big names. This week at the 3M Open is no exception. Only seven of the world's Top 40 players tee it up this week, highlighted by Dustin Johnson. DJ played this tournament last year and put up an opening-round 78 before withdrawing from the tournament. After this debacle, Dustin Johnson tore through the PGA Tour with four wins over the next 8 months. He'll look for redemption at TPC Twin Cities this week.
Other notables in the field include Tony Finau, Rickie Fowler, Sergio Garcia, Louis Oosthuizen, Patrick Reed, and Matthew Wolff. It wouldn't be a surprise for any of these players to withdraw early this week.
For the full field, click here.
3M Open Preview – The Golf Course
TPC Twin Cities opened in 2000. It was designed by Arnold Palmer with consultation from Tom Lehman, Minnesota's favorite golfer. The property was once a sod farm, and Palmer and Lehman transformed it into the current 18 hole layout. The greens at TPC Twin Cities are bentgrass. They also run about 12 on the stimpmeter (slightly faster than average) and don't have very complex undulation to them. This golf course was the site of a Champions Tour event before making its way onto the PGA Tour. In 2019, it replaced the Greenbrier on the schedule.
Let me first start by saying something nice about TPC Twin Cities. Like almost all golf courses in the TPC network, it is in immaculate condition. The greens are also in excellent shape. There are no dead spots in the fairways or rough, and the bunkers are smoothly raked with soft sand. Though TPC golf courses can be a bit of a burden on the wallet, one can expect fantastic course conditions for the amount of money someone forks over for a round or a membership.
With that said, TPC Twin Cities is an absolute catastrophe of golf course design.
If EA Sports gave an 11-year-old a two-liter of Mountain Dew and asked them to design a custom golf course for one of the Tiger Woods video games, the output would be TPC Twin Cities. "Oooooo, let's put a water hazard here! Let's also put a bunker here! And look, here's another giant water hazard over here. MOAR BUNKERS! Can I also put the Metrodome in the middle of the 12th fairway?"
Seriously, this golf course is a complete overindulgence of hazards. It's also a huge mess tee to green for several holes. There's absolutely nothing natural about the golf course itself. Don't believe me? Here's what the property looked like before they broke ground.
In all, 12 of 18 holes on the golf course bring water into play off the tee or on the approach shot. There's nothing wrong with strategically placed water hazards or bunkers to challenge players. But the manner in which they're placed at TPC Twin Cities seems with more of the intention of showing off and peacocking instead of placing them in a strategic fashion.
Worse off, there's a lot of placement of bunkers where they just don't make any logical sense. There are a few holes on the golf course that feature fairway bunkers where only a gross miss-hit off the tee is capable of putting it into play. For example, the 1st hole features a fairway bunker that requires a 256-yard carry from the back tees (where the pros will play it) and only 198 yards to carry from the blue tees (where most mid handicappers will tee it up from).
Only a poor tee shot will bring this bunker into play. Why are Palmer and Lehman are doubly punishing a poor tee shot on this hole? That bunker would be much better served up the fairway or on the opposite side where the landing zone widens up. This issue can also be seen on holes 3, 6, 10, and 14, where there are bunkers off the fairway that are only accessible by poor tee shots that doubly penalize a player.
Nonsensical bunkering can also be found on Hole No. 7, supposedly a driveable Par 4:

There is no incentive to take on the green. Not only is it a big carry-over the water hazard down the left side, but players also have a huge bunker 40 yards short of the green one would have to carry as well. There's also a large bunker short right guarding the green, as well as fairway bunkers hugging the entire right side. In order for us common folk to drive the green, you'd have to hit almost a perfect right to left tee shot to fit perfectly down the narrow neck of the fairway to avoid all the water and sand down the hole.
I'm sure the good folks of Minneapolis are proud of this golf course. It's in great shape. They also probably take pride in how tough it is on us mere mortals. But just because a golf course is "tough" doesn't mean it's good. If you're reading this and are a mid to high handicapper, you probably would be pretty hard-pressed just to break 100 with all the trouble on each hole. Who really wants to sign up for that while also forking up a ton of money for a private membership there and knowing you could lose an entire box of Titlist Pro V1's anytime you play 18.
With all that said, the 2019 3M Open delivered one of the most exciting finishes on the PGA Tour:
Since the PGA Tour came to TPC Twin Cities, the golf course has been altered a bit. A few new bunkers were added to the driving zones for players. Fairways were also shrunk in width. Somehow, a horrible and unfriendly design for amateurs got even worse. TPC Twin Cities is a step in the wrong direction for golf architecture.
3M Open Preview – Betting Strategies
Weak fields on easy golf courses are difficult to handicap. And that's what bettors face this week at the 3M Open. The field is very top-heavy and outside the big names is a sea of mediocrity. While there are lots of water hazards and fairway bunkers, the field hits fairways at TPC Twin Cities at high rates. The driving accuracy percentage at the 3M Open through two events is ~63.5%, slightly above average for the PGA Tour. Given how many penal areas there are, it truly is a premium to hit lots of fairways this week. Spraying it all over the map won't cut it at TPC Twin Cities. However, this isn't a golf course that puts angles into the green at a premium. As long as one finds the short grass off the tee, scoring opportunities exist.
The field also peppers the greens at high rates with short and mid irons. The green in regulation rate through two events is well north of 70%. In addition, the midwest has received a tremendous amount of rain this summer. The greens are going to be pillow-soft at TPC Twin Cities this week. Players will confidently go pin-seeking from the fairway.
As such, this contest is a test of who can keep the ball out of trouble off the tee. It's also a ball-strikers contest for those to fire away at gettable pins. And then it comes down to who can get hot with the putter. The winners of each 3M Open are Matthew Wolff and Michael Thompson. Both are wildly different players. Wolff is a bomber, while Michael Thompson is great with his wedges and putter. But Wolff drove the ball very well all week and had numerous wedges into the green. He also is a player who catches lightning in the bottle with the putter, and that's why he won in 2019. As far as Thompson, he hit fairway and greens in regulation at high rates and sank numerous good looks for birdie.
Contests like this are also really wide open. Easy golf courses that allow high rates of hit fairways and greens shrink the gap between the most and least talented players. PGA Tour pros have a green light anytime they're holding an iron in hand into a soft putting surface. Target players who typically do well in these sorts of setups.
Similar course conditions and setups to TPC Twin Cities include the Greenbrier, TPC Deere Run, Sedgefield CC, Detroit Golf Club, TPC River Highlands, TPC Summerlin, and TPC Craig Ranch. All these golf courses feature similar fairway's hit and greens in regulation percentages. Of these, the Greenbrier, TPC Craig Ranch, TPC Summerlin and TPC Deere Run feature bentgrass greens.
Lastly, players in the field who have gained more than 1.5 strokes per round on the field at TPC Twin Cities include Adam Hadwin, Matthew Wolff, Charl Schwartzel, Emiliano Grillo, Tony Finau, Charles Howell III, Bo Hoag, and Cameron Tringale. Most of these players are fairly good ball strikers with their irons. A handful of these players can run hot and cold with the putter. That's the ideal player to target at the 3M Open.
RELATED CONTENT
Best Prop Bets for the Open Championship
The Open Championship: Outright Picks
Open Championship DFS Picks w/ Nagels Bagels | Golf Gambling Podcast (Ep. 72)