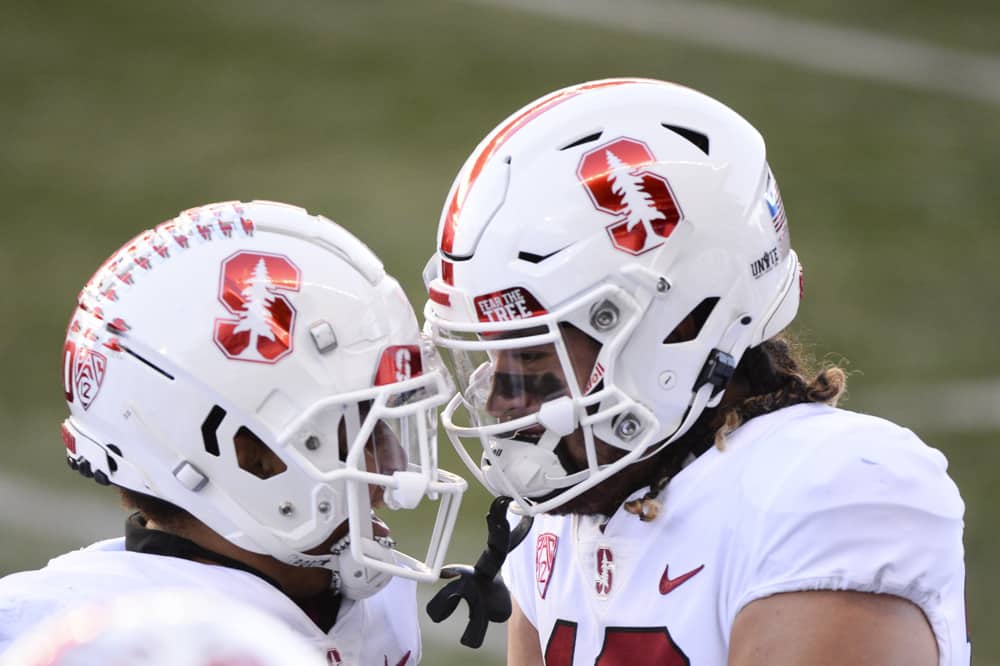 When ranking the top college football schedules in the country the first thing I circle is how many Power 5 schools are you playing.
Then the second thing I look at is what are the back-to-back away games and if they have any or not. The statistics have told us over the years that back-to-back away games are absolutely brutal for any college football team but especially against other Power 5 opponents.
Last but not least you must pay attention to the FCS opponents and bye weeks and when you get them. Based off a few weeks of studying schedules, this is what I believe to be the top 10 toughest schedules in college football.

1. Stanford Cardinals
Somebody tell the Cardinals to chill out because they schedule crazy almost every year. This year they are the only team in college football playing 12 Power 5 schools. Yes, that means there is no group of 5 opponents or FCS opponents on their schedule which means they must bring it each and every week of the season. Their out-of-conference games include a neutral site game in Texas against Kansas State, an away game at Vanderbilt, and a home game against Notre Dame. Then if you analyze their back-to-back away game set up, they have two sets of back-to-back away games. The first being at their bitter rivals USC in Los Angeles followed by a cross-country trip to Vanderbilt. The second being a game on a short week at Arizona State in the desert followed by a trip to the cold northern desert that is Pullman, Washington, and Washington State. Absolutely brutal.
2. Arkansas Razorbacks
Arkansas Razorbacks Season Preview | The College Football Experience (Ep. 671)
Last year Arkansas Athletic Director Hunter Yurachek complained about the schedule the SEC dished out to his Razorbacks and well this year they did him even worse. The Razorbacks may only play nine Power 5 schools but they do reside in the SEC West. That's not it though, the Razorbacks have two sets of back-to-back away games and the first set is basically three away games in a row with a "neutral site" game in Texas against Texas A&M followed by at Georgia and at Ole Miss. That is an absolutely brutal three-game road trip. Then to make things even worse the SEC gave the Razorbacks another back-to-back away game stretch in November when Arkansas plays at LSU followed by at Alabama. It's almost laughable at this point. Plus the out-of-conference schedule includes a home game against Texas and then a tough group of 5 matchup against Georgia Southern sandwiched in between Texas & Texas A&M. Sure, they get Rice & Arkansas Pine Bluff but the back-to-back away games speak for themselves.
3. Purdue Boilermakers
Purdue is doing Jeff Brohm zero favors year in and year out with their scheduling. They play zero FCS teams and 11 Power 5 schools. Making things even worse is they have two sets of back-to-back away games. The out-of-conference schedule is home to Oregon State, at Uconn, and at Notre Dame in back-to-back weeks. The other back-to-back away game stretch is at Ohio State and at Northwestern, who have only played for two of the last three Big Ten Championship games. Purdue is also playing Ohio State, Michigan State, and Indiana from the Big Ten East. The top two teams in the East a season ago. Absolutely brutal. Boilermaker fans should just be happy if Brohm gets them bowling.
4. USC Trojans
The Trojans do this to themselves every year. They've never ever played an FCS opponent and they schedule as aggressively as anyone in the country year in and year out. This year they basically play 11 Power 5′ games with Notre Dame and BYU being two of their three out-of-conference games. The other out-of-conference game is against a team that went unbeaten in the regular season a year ago and won the Mountain West title in San Jose State. San Jose State also starts a sixth-year senior who has started at Texas A&M and Arkansas. USC also plays one set of back-to-back away games in early November with Arizona State and Cal in back-to-back weeks.
5. Colorado Buffaloes
Colorado Buffaloes Season Preview | The College Football Experience (Ep. 690)
Colorado is in this talk almost every year because they normally never play an FCS team. However, this year the Buffs do start the season at home against FCS Northern Colorado and Eazy Ed McCaffrey. After that, the Buffs play 11 Power 5 games. Texas A&M and Minnesota are the other two out-of-conference games and both teams have a shot at playing for a conference championship this year. Then Colorado gets a death blow back-to-back away games at the Cal Golden Bears followed by a game at the Oregon Ducks in Eugene. In fact all of the Buffs away games in conference are against the top tier with games at Arizona State, Cal, Oregon, UCLA, and Utah. Plus the Buffs get Oregon, Washington, Cal, and Oregon State from the North who could be the top four teams.

6. Michigan Wolverines
Michigan only plays 10 Power 5 teams but the Washington Huskies should be a top 20 team when it's all said and done. The other out conference games are Western Michigan and Northern Illinois from the MAC. Yes, those aren't the best teams in the MAC but Western Michigan should be a bowl team and Northern Illinois is better than playing a bad FCS. The real blow to Michigan's schedule is the fact they have two sets of back-to-back away games and those locations are pretty brutal. The first stretch is at Wisconsin followed by at Nebraska. Both places should be lit. The second stretch is at Penn State followed by a game at Maryland. I highly doubt the Wolverines will be able to run through that stretch. The Wolverines also got Wisconsin, Northwestern, and Nebraska from the West. That's tough.
7. Texas Longhorns
Texas probably didn't realize this when they scheduled it but the Longhorns are playing 10 Power 5 opponents and zero FCS opponents. Even worse is they open the season at home against Louisiana a team that has double-digit wins the past two years and should be a preseason top 25 team. Their out-of-conference games are vs. Louisiana, at Arkansas, and home against an improving Rice team in the Conference USA. Then the Big 12 did something daring and actually gave Texas a back-to-back away game stretch although they did give them a bye week coming into it. The Longhorns hit the road to Baylor followed by an away game at Iowa State. All together their away games are some tough games with away games at Arkansas, TCU, Baylor, Iowa State, and West Virginia. Mix that with the neutral site game against Oklahoma and it's a brutal schedule for the Longhorns.
8. UCLA Bruins
UCLA is on this list almost every year and with great reason. The Bruins have never played an FCS opponent and they normally play a Power 5 or two and a group of five on the road sometimes. The Bruins did it to themselves again. Sure, it's a 10 game schedule against Power 5 opponents with their out-of-conference Power 5 matchup being a home game against LSU. The other two out of conference games are against decent mid-majors in Pasadena with Hawaii and Fresno State. The Bruins also get dealt a tough back to back away game stretch with at Arizona followed by at Washington. The Bruins also drew Washington, Oregon, Stanford and Cal from the Pac 12 North.
9. West Virginia Mountaineers
West Virginia may not have any back-to-back away games but they do play 11 power 5 programs. Sure, their 12th game is an FCS team in Long Island that recently joined the FCS. Still, West Virginia's other two power 5 opponents are a season opener at Maryland and a week 3 matchup at home against rival Virginia Tech. The road schedule in conference isn't the most brutal but games at Oklahoma and Kansas State are never easy. Getting Iowa State, Texas, and Oklahoma State at home should help some but it's still a brutal schedule for the Mountaineers.
10. Miami Hurricanes
Miami Hurricanes Season Preview | The College Football Experience (Ep. 727)
The Miami Hurricanes really went for it this year. The Hurricanes play 10 Power 5 opponents and their 11th opponent is a really good group of 5 team in Appalachian State and unfortunately that game comes right after the neutral site matchup with the Alabama Crimson Tide. The other out of conference opponents are Michigan State and Central Connecticut State of the FCS. The Hurricanes do avoid playing any back-to-back away games but they do have away games at North Carolina, Pittsburgh, Florida State, and Duke. That's a tricky set of games on the road minus the Duke game.