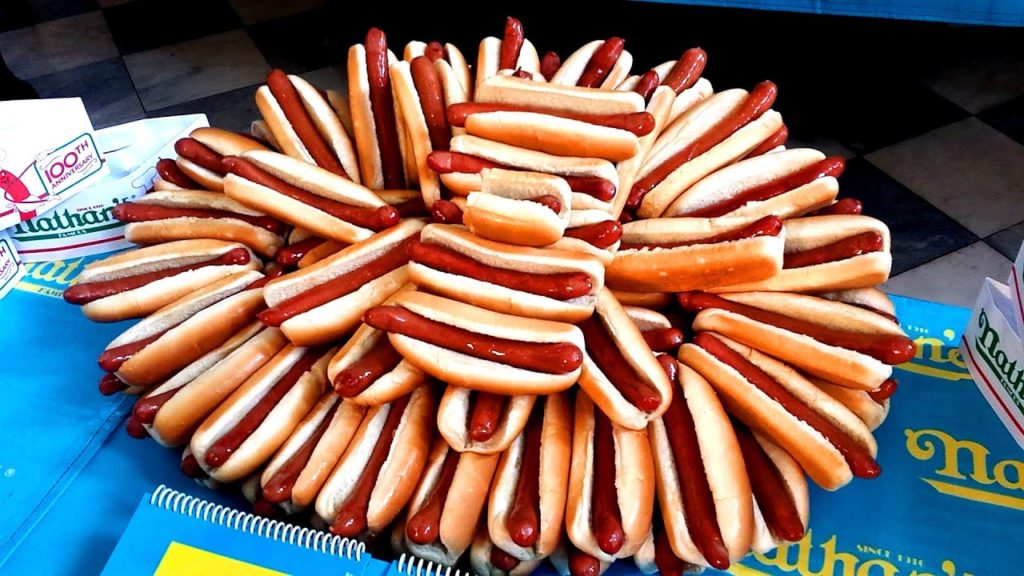 It's going to be a July 4th weekend full of fireworks, ice-cold Coors Light, and, of course, hot dogs. The Nathan's Hot Dog Eating Contest is set for Sunday, July 4th.
Festivities kick off at 11 a.m. ET with the women's championship at 11:30 a.m. and the men's championship at 12:30 p.m.

Joey Chestnut will look to defend long-held crown on the men's side. Chestnut has won the last five contests and 13 of the last 14 dating back to 2007. Matt Stonie took him down in 2015 with 62 hot dogs to Chestnut's 60.
On the women's side, Miki Sudo has won the Women's Championship every year since 2014. However, Sudo is pregnant and will not be competing. That opens up things a bit for the women.
Here are the odds and how to bet on the Nathan's Hot Dog Eating Contest.
Nathan's Hot Dog Eating Contest Betting Odds & Picks
Women's Betting Odds & Pick
Michelle Lesco -1000 is the favorite. You can get Any Other Contestant +500 to oppose her.
Lesco, known as "Cardboard Shell," set her personal best in 2017 with 32 hot dogs in 10 minutes to finish second behind Sudo. "Cardboard Shell" didn't compete last year, but finished second behind Sudo in 2017, 2018 (28), and 2019 (26.5).
Lesco's main competition are Larell Marie Mele and Katie Prettyman. Mele ate just 18 hot dogs last year and is ranked 30th in the world. Prettyman is ranked 25th.
The pick here is Michelle Lesco -1000. I don't think +500 is enough value to pick against Cardboard Shell.
Men's Betting Odds & Picks
Joey Chestnut -5000 is an extremely heavy favorite here. You can get Any Other Contestant +1000 against him.
Chestnut is insane. He blows away the competition nearly every year but had a hiccup in 2014.
Since losing in 2014, Chestnut put down 70, 72, 74, 71, and 75 hot dogs. He's going to get at least 70 again and no one will come close. Chestnut beat second-place finisher Darron Breeden by 33 last year.
So, if you really want to bet on the winner, Joey Chestnut -5000 is probably the pick. But the fact that he lost just six years ago gives me some pause. The field at +1000 has some value for a small bet if you want to root for an underdog, but I can't advise it.
The real value is in the prop bets below.

Nathan's Hot Dog Eating Contest Props
The over/under for hot dogs and buns eaten by Joey Chestnut is set at 73.5. Over 73.5 is -230 with Under 73.5 at +165.
Last year's world record of 75 hot dogs might have a bit of an asterisk on it. The 2020 competition was the first time the event was held indoors without fans and they also had fewer competitors.
Holding the event inside may not seem like a huge difference, but the weather is a factor here. It was in an air-conditioned building last year and while it's not going to be blazing hot on Coney Island on Sunday, it's going to be 77 degrees with some humidity.
Chestnut will be motivated to break his own world record yet again in front of fans for the first time in two years. Even ignoring last year's conditions, Chestnut ate 72 in 2017 and 74 in 2019 for new world records. He regressed to 71 in 2019, but he should be out to prove that last year wasn't a fluke.
If you want to bet on his hot dog total, I'd go with Over 73.5 -230. He's hit it in two straight years (even if one was climate-controlled) and is the best to ever do it.
---
Jockey Made In America 250 NASCAR DraftKings Picks
Most Overrated And Underrated NFC East Players | Diehard Eagles (Ep. 30)