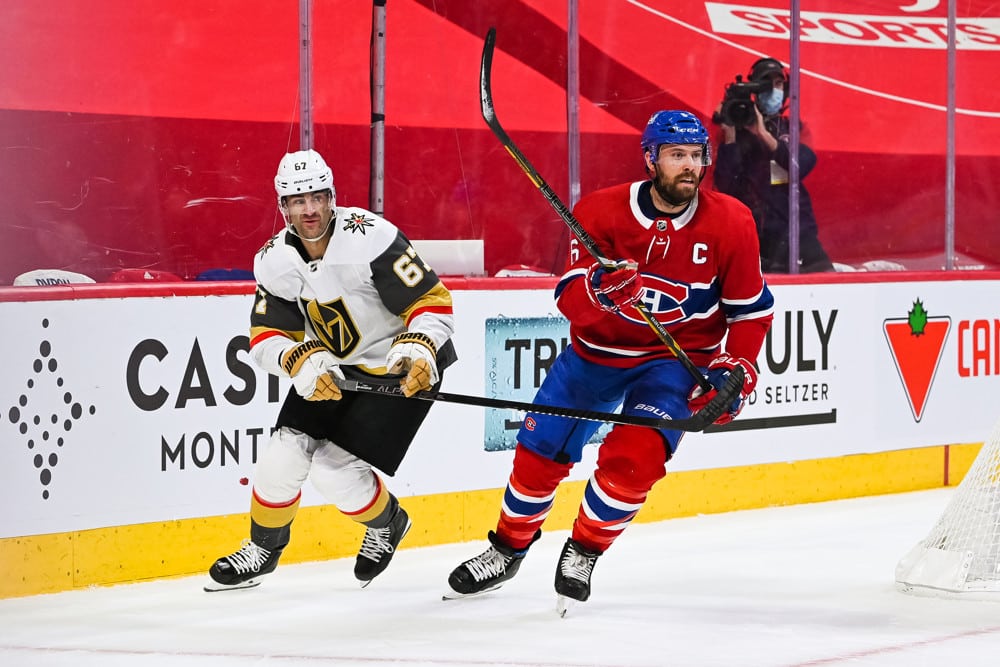 The NHL playoffs continue tonight with another Game 5 on the slate. On Monday night, the Tampa Bay Lightning took control with an 8-0 drubbing of the New York Islanders to take a 3-2 series lead. We hit on Tampa Bay winning and the Over 5 goals rather easily, but it wasn't as close of a game as expected.
Tonight, the Vegas Golden Knights look to follow in the Lightning's footsteps to take a 3-2 series lead at home.
Make sure to bookmark our daily NHL Picks page to get the best bets for every single game!
Here are the odds, best bets, and predictions for tonight's game.
NHL Playoffs Predictions: Canadiens at Golden Knights, Game 5
The fact that this series is tied at two games a piece is shocking. Everyone expected the Golden Knights to steamroll. the Canadians after taking down the Cup-favorite Avalanche. However, Montreal has been right there with Vegas throughout the first four games.
But that should change tonight.
Canadiens at Golden Knights: Series Summary
The Golden Knights beat the Canadiens rather easily in Game 1 by a final score of 4-1. Two nights later, Vegas outshot Montreal 31-23 but couldn't climb out of a 2-0 first-period hole (and 3-0 deficit in the second period).
In Game 3, Vegas dominated all game long and outshot them 45-27 in the game. However, a gaffe by Marc-Andre Fleury allowed the game-tying goal late in the third and Montreal won in overtime. The script was flipped in Game 4 with Robin Lehner making 27 saves on 28 shots in a 2-1 overtime win. Vegas only managed 21 shots on goal.
Heading back to Vegas, I like the Golden Knights to take full control of the series on home ice. And so do the oddsmakers.
The Golden Knights are huge favorites at -245 on DraftKings. I don't want to lay that juice and neither should you. Instead, look at either the puck line or 60-minute line (regulation only).
Canadiens at Golden Knights, Game 5: Best Bets
Vegas Golden Knights 60-minute line -130 / VGK -1.5 (+125)
Vegas was 21-5-2 at home during the regular season and are 6-2-1 in the NHL playoffs. None of those six wins came in overtime, and five of six were by at least two goals.
In fact, since coming into the league in the 2017-18 season the Golden Knights have the most home playoff wins (22) and a league-best .667 winning percentage as well.
If you want to take the value in the Canadiens +205 (or higher), I can't blame you. They've surprised countless times in these NHL playoffs. But I'm going with Vegas to take a 3-2 series lead and if they're going to win, it'll be in regulation — and likely by 2+ goals.
Think you know who's going to win it all? Check out the latest Stanley Cup odds.
Canadiens at Golden Knights, Game 5: Players to score
Max Pacioretty +130
Pacioretty has only played in 11 games this postseason and has points in nine of them. If you can find good odds for him to record a point, go for that as well. But I digress.
In terms of goals, Pacioretty has goals in four of 11 games, all of which came at home in just six games. He's due to strike against his former team after putting up five shots on goal in each of the last two games.
Jonathan Marchessault +165
Marchessault leads Vegas with six goals in 17 playoff games. That may not seem that great for +165 odds. But he has five of his six goals at home in just nine games.
He had five goals against the Avalanche but none yet this series. What better time than a big Game 5 at home?
---
Follow along with me throughout the playoffs on Twitter (@RGilbertSOP) or in the Sports Gambling Podcast Slack chat.