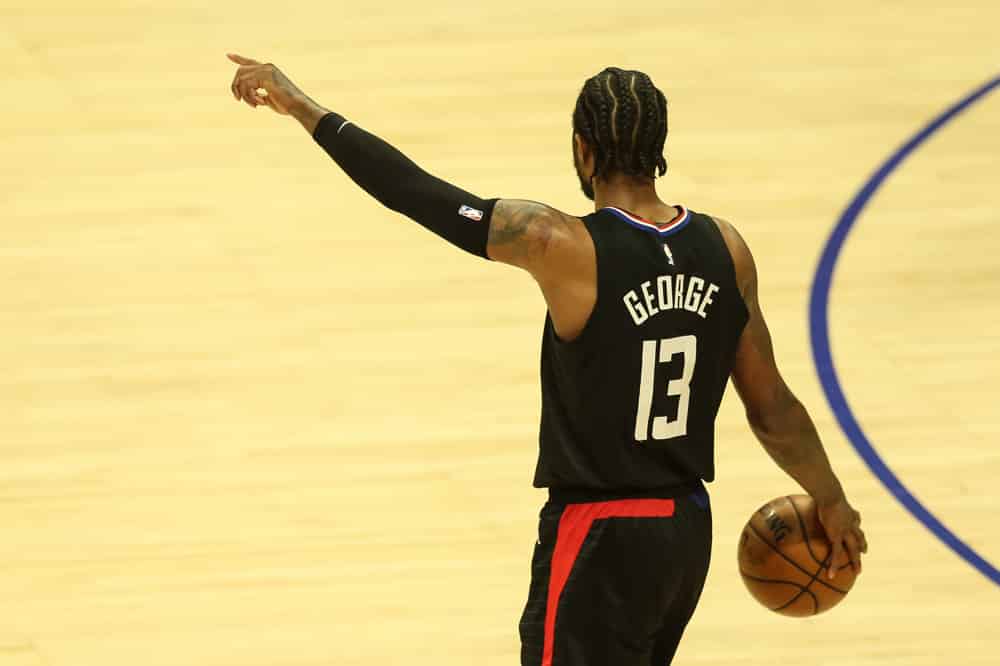 Happy Hump Day everybody! The conference semifinals roll on, and three of the four series haven't disappointed. With a two-game slate ahead today, we have another batch of NBA DFS picks. I have a great feeling about this lineup, and maybe this will be the one that brings home the cake. Feel free to tag along with me on this lineup over on DraftKings, and as always best of luck to all who are playing!

NBA DFS Picks (GPP) June 16th
I feel as though this is a great NBA DFS value play. Bogdan Bogdanovic has been north of $7,000 for much of the season. Although he's been below average these past few games, this is one player who is due for a good game. Bogdanovic is a 46.1% shooter who also shoots 42.1% from three-point range. He went 9-24 last game with a poor 4-13 from three. I look for him to bounce back with a big game today, and I'm loving the price with him as well.
Speaking of players due for a good game, that brings us to Jordan Clarkson. He went M.I.A. the past two games on the road in Los Angeles. This isn't room for concern for me as he went cold for a few games against Memphis before picking things up. The Jazz are back at home for this game which is good news. Clarkson has seemingly been more comfortable at home these playoffs, so I look for a big bounce-back game here.
There are two solid reasons I like playing Royce O'Neale in my NBA DFS lineup. The first is for the same reason as Clarkson – they're back home. Although he doesn't shoot much, O'Neale has seen more than his share of 30+ fantasy points games. He's playing around 35 minutes a game this postseason, and that playing time is hard to ignore. One of these games O'Neale will pop off in, so I feel it's best to play him at this cheap price and rather be safe than sorry.
You can't bring up NBA DFS value without mentioning Nicolas Batum. He's been quietly consistent for the Clippers all postseason, and I see no reason why this stops now. He only averages 21.3 FPPG, but he's now topped 30 fantasy points in two straight. Batum is usually good for around 20 fantasy points regardless. His playing time makes him a pretty safe cheap option regardless, and there's the possibility this recent boost of output may continue.

If you're not playing Embiid, then this is the second-best option in my opinion. Although Rudy Gobert could pop any given night, John Collins has been the personification of consistent. He averages 31.5 FPPG, and he's been good for around that output each night. The court has been opened for Collins with Clint Capela and Trae Young having tough defensive matchups. I'll take a consistent 30ish points here and save some salary for other positions.
I guarantee the winning lineup will have Seth Curry in it simply for his pricing if nothing else. He averages only 22.3 FPPG, but he's averaging 27.5 FPPG this series. Curry has been shooting like his brother against Atlanta as he has shot at least 50% in all four games. The 76ers have this series back at home for a game and they have a chance to win this one. It's hard to ignore a guy who shoots 50.2% with 47.6% from three at home so I'll play him gladly.
It's time to dip back into the Philadelphia player pool with Tobias Harris here. Something about playing him here just feels right. He averages 37.6 FPPG and he's usually good for around that mark at least. It's been a few games since he topped 40 fantasy points though, and I believe this could be the game where he does this. I like what we're getting from Harris, and I love the upside of a 40+ fantasy points game as well.
You're going to want to have one of the two main scorers from the Clippers (well, the only main scorer now that Kawhi Leonard has been ruled out), so I'm going with Paul George here. I feel like he should be much more expensive than he is, so I can't pass on him in this spot. PG averages 43.4 FPPG, and he's dipped below this number only twice in the last ten games. The Clippers can go toe to toe with Utah, and much of this is because of George. He's guaranteed to get his, and I feel like he's a great NBA DFS pick today.
Will's NBA DFS Picks June 16
Make sure to subscribe to NBA Gambling Podcast on Apple and Spotify. Check out Munaf, Dan, and Ryan's updated against-the-spread NBA picks today and EVERY DAMN DAY for EVERY DAMN GAME at SG.PN/nbapicks