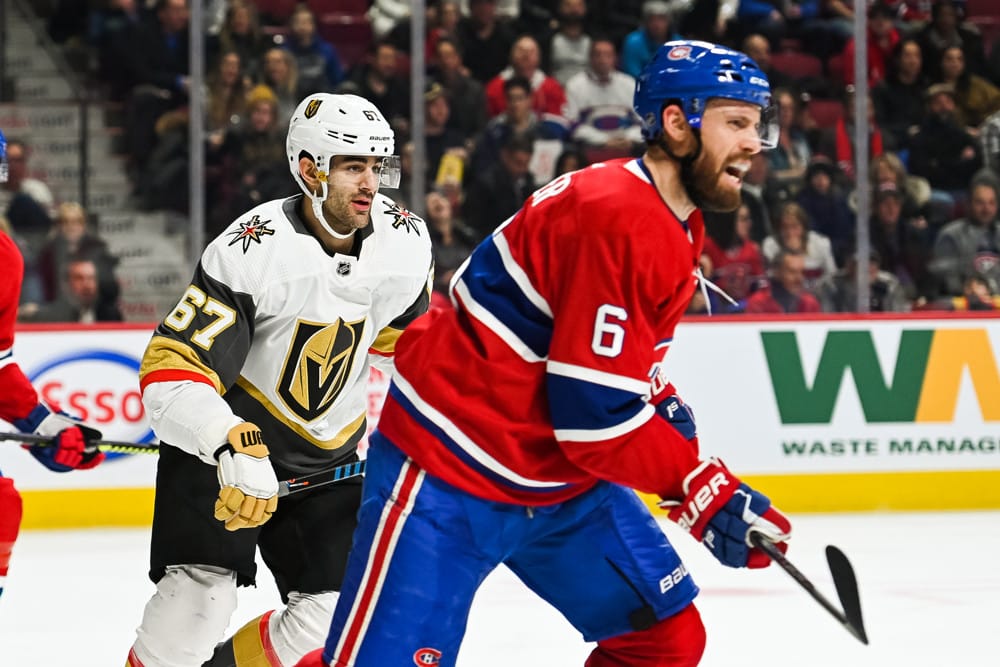 We're down to the final four teams in the NHL playoffs. The Stanley Cup Semifinals are set and will get underway this weekend.

We broke down the first Stanley Cup Semifinal matchup of the NHL playoffs between the Tampa Bay Lightning and New York Islanders. Now, we'll move on to the matchup between the No. 1 seed Vegas Golden Knights and No. 4 seed Montreal Canadiens.
Let's take a look at how these teams got here, how they match up against each other, and what the best bets are for the series.
Make sure to bookmark our daily NHL Picks page to get the best bets for every single game!
Odds are provided by DraftKings.
NHL Playoffs – Stanley Cup Semis: Golden Knights vs. Canadiens
NHL Playoffs Series Schedule: Golden Knights vs. Canadiens
Vegas Golden Knights (1) vs. Montreal Canadiens (4)
Monday, June 14, 9 p.m.: Canadiens at Golden Knights | NBCSN, SN, CBC, TVAS
Wednesday, June 16, 9 p.m.: Canadiens at Golden Knights | NBCSN, SN, CBC, TVAS
Friday, June 18, 8 p.m.: Golden Knights at Canadiens | USA, SN, CBC, TVAS
Sunday, June 20, 8 p.m.: Golden Knights at Canadiens | NBCSN, SN, CBC, TVAS
*Tuesday, June 22, 9 p.m.: Canadiens at Golden Knights | NBCSN, SN, CBC, TVAS
*Thursday, June 24, 8 p.m.: Golden Knights at Canadiens | USA, SN, CBC, TVAS
*Saturday, June 26, 8 p.m.: Canadiens at Golden Knights | NBCSN, SN, CBC, TVAS
How They Got Here
#1 Vegas Golden Knights
The Golden Knights entered the playoffs as the No. 2 seed in the West Division. They faced off against the No. 3 seed Minnesota Wild, who gave them a good scare in the first round.
Vegas were -250 favorites to advance past Minnesota and they got past them in seven games.
The Golden Knights lost Game 1 at home in a defensive battle with the Wild getting the only goal of the game in overtime. Vegas bounced back with a 3-1 win in Game 2, then won both games in Minnesota by final scores of 5-2 and 4-0.
It looked like they were headed for an easy win.
However, the Wild won Game 5 in Vegas 4-2 despite getting outshot 40-14. They then shut out the Golden Knights at home 3-0 to force Game 7. The Golden Knights flexed their muscles with a 6-2 win while outshooting the Wild 34-20 in Game 7.
After a hard-fought seven-game series, the Golden Knights then had the task of facing the Colorado Avalanche. The Avalanche were around -200 favorites after sweeping the Blues in the first round.
Colorado dominated Game 1 just two nights after Vegas won Game 7 to advance to the second round. Vegas lost 7-1 with Robin Lehner in net to give Marc-Andre Fleury a bit of a break.
After catching their breath, the Golden Knights outshot the Avalanche 41-25 in Game 2, but lost 3-2 in overtime. The Avalanche were 6-0-0 in the playoffs and the Golden Knights had lost four of their last five games. It wasn't looking good despite the strong effort in Game 2.
However, that Game 2 effort turned the tide as the Golden Knights outshot the Avalanche 78-38 in Games 3 and 4 to even the series with 3-2 and 5-1 wins. The Golden Knights got their first lead of the series in Game 5 with an overtime win in Colorado and closed things out in Game 6 at home with a 6-3 win despite getting outshot 33-23.
Knocking off the Stanley Cup favorites was big for the Golden Knights. It showed their depth as they took down one of the most talented hockey teams in quite some time.
#4 Montreal Canadiens
The Canadiens' Cinderella Story continues into the Stanley Cup Semifinals. They took down the Maple Leafs in seven games with wins in Games 1, 5, 6, and 7. They won Games 5 and 6 in overtime as the Leafs choked again and failed to seal the deal.
With three straight wins under their belt, they headed into a second-round series against a rested Winnipeg Jets team. The Jets swept the Edmonton Oilers in the first round and waited for their opponent. But that rest did not do them any good as the Canadiens skated right past them.
Montreal won Game 1 5-3 and clawed out a 1-0 win in Game 2 to take a 2-0 series lead back to Montreal. Back at home, they took a commanding 3-0 series lead with a 5-1 win in Game 3. They closed it out with a dominant effort in Game 4, outshooting the Jets 42-16 in the 3-2 overtime win.
The Canadiens were barely a .500 team in the regular season, but they've turned it in on in the playoffs thanks largely to their center depth and their goalie, Carey Price.

Golden Knights vs. Canadiens: Players to watch
Let's start with the Vegas Golden Knights.
The Golden Knights' leading scorer in the NHL playoffs is William Karlsson, who has 11 points (4 goals, 7 assists) in 13 games. Max Pacioretty missed the team's first six games, but has 8 points (4 goals, 4 assists) in just seven games.
Vegas is built on their depth and have 11 players with at least 6 points in these NHL playoffs. Alex Pietrangelo, Mark Stone, and Jonathan Marchessault all have eight points. Alex Tuch, Mattias Janmark, and Reilly Smith each have seven.
The Golden Knights have also been buoyed by one of the best playoff goalies in recent memory. Marc-Andre Fleury is 8-4-0 with a .923 save percentage and sparkling 1.91 goals-against average this postseason. He won three Stanley Cups with the Pittsburgh Penguins and helped Vegas to the Final in their inaugural season. He's showing that he's still got it.
Moving on to the Montreal Canadiens now, it's all really about one player: Carey Price.
Price has, well, carried the Canadiens in these NHL playoffs. He is 8-3-0 with a league-best .935 save percentage and a 1.97 goals-against average. In all situations, he has a GSAA (goals saved above average) of 0.50 per 60 minutes in the playoffs. Only Ilya Sorokin (0.57) and Andrei Vasilevskiy (0.52), who are also still alive in the playoffs, have been better.
Up front, only one Canadiens player has double-digit points. Tyler Toffoli leads the way with 10 points (four goals, six assists). He has one power-play goal and one short-handed goal.
After that, there isn't much. Nick Suzuki has 8 points, Joel Armia and Eric Staal each have 7 points, and Corey Perry has 6 points. Then there are three players with 4 points and five players with 3 points. It's been a full team effort trying to get some offense.
Tale of the tape: Golden Knights vs. Canadiens
The Golden Knights have the statistical advantage over the Canadiens in most categories at 5-on-5 play and the odds reflect that.
| | | |
| --- | --- | --- |
| Golden Knights | vs. | Canadiens |
| 3.08 | Goals per game | 2.55 |
| 2.38 | Goals against per game | 2.18 |
| 40-31 (+9) | Goal differential | 28-24 (+4) |
| 14.3 | PP% | 18.8 |
| 71.4 | PK% | 90.3 |
| 61.68 | CF60 | 54.47 |
| 52.32 | CA60 | 52.5 |
| 54.11% | CF% | 50.92% |
| 2.4 | xGF60 | 2.28 |
| 1.87 | xGA60 | 2.22 |
| 56.20% | xGF% | 50.65% |
However, Montreal could win this series on special teams and goaltending.
The disparity in power-play and penalty-kill efficiency is pretty significant in the Canadiens' favor. They could keep a struggling Vegas power play off the board with their red-hot penalty kill and Price in net. The Golden Knights penalty kill hasn't been sharp either, so Montreal could take advantage there as well.
Golden Knights vs. Canadiens Best Bets
The oddsmakers are giving the Canadiens no respect in this series whatsoever.
The Golden Knights (-500) are huge favorites with the Canadiens (+375) as huge underdogs. That's a huge price in a Stanley Cup Semifinals series.
If you just want to bet on the series, I can't advocate laying the -500 juice. Getting +375 in a series at this point is way too enticing, especially after the Canadiens already beat the Jets and Maple Leafs. So, for the series I am taking the Montreal Canadiens to advance +375, but I have other bets I like better than that.
Carey Price will steal a win or hopefully two (or more). I took this bet in the Bruins-Islanders series and it paid off nicely: Over 5.5 Games (-112). As long as the Canadiens win one of the first three games, you could even hedge in Game 5 if you are worried about the Golden Knights closing it out in five.
As far as the series spread is concerned, the Golden Knights -1.5 Games (-186) is the bet to make if you like Vegas in this series. Even Golden Knights -2.5 Games (+120) is worth a look. Vegas should win the series in six games or less, but hockey is a weird sport and goaltending is huge.
The Canadiens have the value in the series at +375, but the over 5.5 games and a Vegas series spread are likely your best bets here.
The odds are always changing. Be sure to check both DraftKings and Pointsbet for the best prices when you place your bet.
---
Follow along with me throughout the playoffs on Twitter (@RGilbertSOP) or in the Sports Gambling Podcast Slack chat.