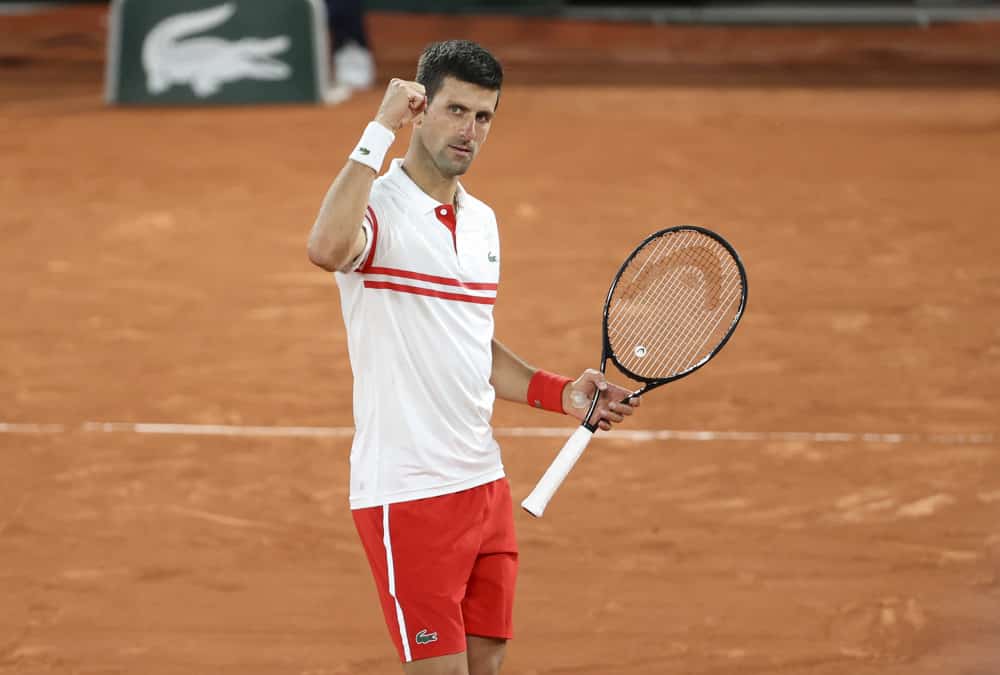 Hello everybody! The ATP and WTA finals are set for this year's Roland Garros. There are really good matchups on both the men's and women's sides, and these two matches should be really good. World number one Novak Djokovic will take on Stefanos Tsitsipas on the ATP side while the WTA side will feature two up-and-comers in Barbora Krejcikova and Anastasia Pavlyuchenkova. Let's jump right into this year's 2021 French Open finals picks, shall we?

2021 French Open Finals Picks – Roland Garros
Barbora Krejcikova vs. Anastasia Pavlyuchenkova (31)
Odds: Krejcikova (-129)/Pavlyuchenkova (+108) @ DraftKings
Let's start with the WTA (women's side), who plays their match tomorrow (Saturday). World-ranked 33rd player Barbora Krejcikova enters as the small favorite against 32nd ranked and 31st seeded Anastasia Pavlyuchenkova. Both come in red hot as Krejcikova has only dropped two sets in six matches, while Pavlyuchenkova has only dropped three sets. Krejcikova's path has been harder and more impressive. She has four straight wins over Elina Svitolina, Sloane Stephens, Coco Gauff, and Maria Sakkari.
All of the data confirms the bookmakers' odds. Krejcikova has a very slight edge here in the matchup, but it's pretty small. Krejcikova has won 11 straight matches. On the other hand,  Pavlyuchenkova has won six straight on her way to the finals after a loss to Aryna Sabalenka last tourney. Krejcikova has a 13-3 clay court record this year and a huge clay experience advantage with 226 clay wins to 89 clay losses in her career. Her opponent has a 9-2 clay record in 2021 with a 97-60 career clay court record.
I'm siding with the oddsmakers here on the slight favorite. Krejcikova has been dominant all tournament and I don't see her slowing down now. Her clay court experience advantage should provide the boost she needs to get this one to the finish line and claim her first WTA singles Grand Slam title. Krejcikova has three Grand Slam mixed doubles tourney wins and two Grand Slam women's doubles tourney wins. I look for her to push her win streak to 12 with a win over Pavlyuchenkova on Saturday.
Pick: Barbora Krejcikova (-129 @ DraftKings)
2021 French Open WTA Finals Bonus Pick
If you're looking for a second sweat for this exciting match Sunday, then this is the play. I believe Krejcikova's slight edge should be enough for her to get the win. However, it is hard to completely count out Pavlyuchenkova. She does hold a 9-2 clay court record this year and has only lost three sets all tournament herself. If Pavlyuchenkova doesn't let the pressure get to her, then she should have no problem taking a set here. She has the skills to make this a competitive contest and I believe she can force a third set in this match.
Bonus Pick: Over 2.5 Total Sets (+138 @ DraftKings)

Novak Djokovic (1) vs. Stefanos Tsitsipas (5)
Odds: Djokovic (-300)/Tsitsipas (+225) @ PointsBet
Top seed and world number one Novak Djokovic fought off his rival Rafael Nadal in four sets to advance to take on five seed and fifth ranked Stefanos Tsitsipas. These two have met on eight previous occasions, with Djokovic holding a 5-3 head-to-head record. All of Tsitsipas's wins in the series have come on hard courts (one in 2018 and two in 2019). Djokovic has three clay wins in this series (2019, 2020, 2021) and two hard court wins (2019 and 2020).
Djokovic has gone 17-3 on clay this year. Meanwhile, Tsitsipas has a firm 22-3 clay court record in 2021. Djokovic holds the experience edge here with a 310-70 career record on clay. On the other hand, Tsitsipas has a career clay record of 142-44. Both come in playing in terrific form and both are riding ten-match winning streaks. Djokovic has dropped four sets this tourney. while Tsitsipas has dropped only three. I feel like there are only two angles to play this match, so let's talk about the first.
We are getting a juicy price on Tsitsipas, who is arguably playing at a better form right now. There's no denying how good Djokovic is, but the cards may be lining up for Tsitsipas to claim his first-ever Grand Slam title. Tsitsipas won his first Masters 1000 title this year, and a Grand Slam title isn't out of reach. Djokovic took a medical timeout before the fourth set last game. Although he did steamroll Nadal in the fourth set, he was taking his shoes off every chance he got. This leads me to believe he may be fighting foot blisters. This could spell disaster facing a player of Tsitsipas's caliber.
Pick: Stefanos Tsitsipas (+225 @ PointsBet)
2021 French Open ATP Finals Bonus Pick
If you're looking for a different angle to play this match, then this spread play is the way to go. So long as nerves don't get the better of Tsitsipas, I believe he can win this match fairly easily. However, even if he doesn't win, I don't picture him being blown out. It's hard to ignore the fact that he's only dropped three sets all tourney and his outstanding 2021 clay court record. Djokovic's experience may give him just enough of a boost to squeeze out a win, but it won't be easy. There is a safer way to play this match, and that's on Tsitsipas +1.5 sets.
Bonus Pick: Stefanos Tsitsipas +1.5 Sets (+123 @ DraftKings)
Want some more action for today? Here are our picks for tonight's huge UFC 263 PPV.