Hello everybody! We have another tricky two-game slate ahead of us on this lovely Tuesday. Yesterday's lineup didn't go so well, but we're ready to bounce back in a big way today. For today's NBA DFS picks, we are going to take a look at today's classic slate where I have a great GPP lineup to share!

NBA DFS Picks (GPP) June 8th
Hate him or like him, Ben Simmons is a solid DFS play. He's consistent if nothing else and he constantly turns in solid stat sheets. He averages 14.4 PPG, 7.4 RPG, and 7.1 APG while putting up 38 FPPG this year. He's playing on another level in the playoffs, averaging 45.8 FPPG.
Simmons is a guy who isn't going to light up the scoreboard usually. However, he is almost always good for 5+ rebounds and 5+ assists. He also has at least one steal in each playoff game this year. Simmons will probably be heavily owned at this price, but I believe this will be with good reason.
This is one of the best value plays on today's slate. Kevin Huerter averages 24.5 FPPG, but he can be a spotty player. However, even in his poor efforts he rarely dips below 15 fantasy points. This provides a nice safety net at this price. There's always the chance he comes out and drops 25+ fantasy points as well.
Huerter's Hawks have a pretty tough matchup defensively in Philadelphia. Although this is the case, Huerter had no problems being efficient in game one. He shot 6-9 from the floor and 3-6 from deep with five rebounds and four assists. Huerter will be the value play of the day if he can replicate that effort.
Everybody in the world will probably be on Kawhi Leonard. I'm not going to make the mistake of not playing him though. He averaged 46.2 FPPG this year, and he's been every bit of playoff Kawhi during the postseason. He averaged 56 FPPG in their previous series with Dallas.
The Clippers are now set to begin a series with Utah. The Jazz are just as their record would indicate. They are a tough team, but Kawhi is still Kawhi. He was extremely good against Utah this year, averaging 24.5 FPPG and 10.5 RPG. I believe Kawhi will have his way with the Jazz and see to it that the Clippers are competitive.
I love squeezing Nicolas Batum in as a solid value play. He only averages 21.1 FPPG, but this is because he either puts up 20+ or single digits. However, Batum has been solid this postseason. His average is up to 23.8 FPPG during the playoffs, and he's fresh off a 33.3 fantasy points outing.
The playing time has been there all year. He's averaging 27.8 minutes per game this year and he played 32.3 minutes per game the last series. He isn't a heavy scorer or anything, but Batum is out there for his defense a lot. If he can turn in a solid stat line, Batum will be a great value play for today's NBA DFS picks.

I believe that John Collins is underpriced on today's slate. He averages 31.6 FPPG, and he's been a pretty consistent player all season long. Collins has put up right at 25 fantasy points in every playoff game this year except for one game. He's also seeing around 30 minutes per game.
Although a matchup with Philadelphia isn't the best, Collins had an outstanding game one this series. He added 21 points with four rebounds, two assists, and two steals on his way to 33 fantasy points. You won't find a better cheap option at the center position than Collins on this slate.
This is going to be the biggest gamble of this lineup. Tyrese Maxey has been inconsistent all year, but he's had his share of decent games also. He only averages 14.4 FPPG, but he did put up a 23.8 fantasy points game as well as a 25.5 fantasy points game last series.
Maxey's seen some playing time in every game this postseason. Although he's only clipped the 20 minutes mark twice, I'll take a shot. If the 76ers have some backcourt foul trouble or get up big, Maxey will clear the 20 minutes mark. He will not be heavily owned and he's cheap, so I'll take a chance on playing him today.
Royce O'Neale isn't the most consistent player out there. However, he is fresh off a decent series with Memphis. He does average only 22.4 FPPG. That being said, O'Neale has seen plenty of 25+ fantasy points games as well. He has put up four-start games with at least 24.8 fantasy points.
Utah is starting a series with the Clippers today, and I like this matchup for O'Neale. The majority of his shot attempts come from beyond the arc. The Clippers had trouble with perimeter defense last series, and this could be the case once again. If O'Neale can get some shots to fall, then he will be worth playing in every lineup.
I can't believe the price we are getting Donovan Mitchell at today. He's been the driving force behind Utah all year, and he's playing at another level in the playoffs. Mitchell scored at least 25 points in each game this postseason. He has registered at least 31 fantasy points in each game as well.
Mitchell has been consistent all season, and this includes Utah's three games with the Clippers. He shot 42.9% in those three games with 33.3% from downtown. Mitchell averaged 44.5 FPPG against the Clippers this year. I believe he will continue this effort as there's a good chance he tops 50 fantasy points today.
Will's NBA DFS Picks June 8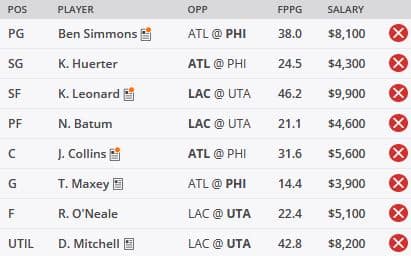 Make sure to subscribe to NBA Gambling Podcast on Apple and Spotify. Check out Munaf, Dan, and Ryan's updated against-the-spread NBA picks today and EVERY DAMN DAY for EVERY DAMN GAME at SG.PN/nbapicks
RELATED CONTENT
NBA Playoff Picks For 6-8, 6-9 & 6-10 (Ep. 1025)
NBA Playoff Picks: Western Conference Semifinals
Fantasy Football Dynasty Trade Value Chart – June 2021 Update