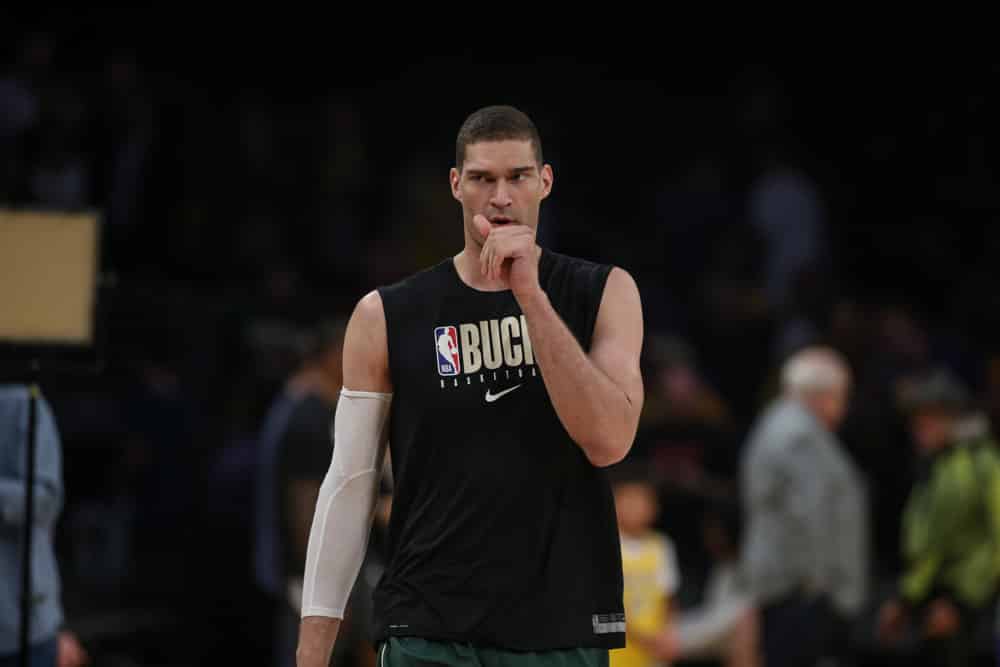 Happy Monday everyone! As the playoffs continue, so do our NBA DFS picks. With a trick two-game slate on the horizon, we're going to take a look at a solid classic GPP lineup. This lineup feels like an easy cash, and I'm excited to share it with you. Let's not keep delaying things, let's dive right in!

NBA DFS Picks (GPP) June 7th
It almost feels like a steal getting Kyrie Irving at this price. James Harden will be out for Game Two, and it's no secret who will lead the charge for Brooklyn. It is imperative to have either Irving or Kevin Durant in today's lineup. You can save $1,100 by playing Kyrie, so that's exactly what I am going to do here.
Irving hasn't been the most consistent the past ten games or so. However, he's still providing solid minutes and points both on the court and in DFS. Kyrie has averaged 22.7 PPG and 49.9 FPPG against Milwaukee this year. I see no reason why he won't have another field day against them Monday.
This is another player who feels massively underpriced compared to his output. Devin Booker has been just as solid of a DFS play as people $1,500+ more than him. I'm a little shocked that he is only $8,500 on this slate. Either way, I will gladly take him as my solid second anchor.
Booker has been the driving force behind Phoenix all year, and he's turned it up even more in the playoffs. Booker averages 39.3 FPPG, and he averaged 45.8 FPPG last series. Denver isn't the best defensive team this year. I believe Booker will have his way with them en route to another stellar outing.
No Harden means that I (and probably many others) are all over Joe Harris today. The three-point specialist doesn't put out stellar DFS outings consistently. However, he is a make-or-break player who can be the key to winning big. His usage takes a jump without Harden, so I'll take a stab.
Harris is a great shooter who shoots 50.5% from the floor and 47.9% from three. He's taken at least eight shot attempts in each game these playoffs, so the looks are there. He dropped 19 points and 28.5 fantasy points last game, and he could do the same here. If Harris can get some shots to fall, he will be a great DFS play.
Jae Crowder has become a risky DFS play, but I like him here. All of his shots in the past two games have come from behind the arc. This isn't a reason to avoid a player, but it certainly makes them more volatile. However, Crowder is fresh off an 18 point game for 36.5 fantasy points, so he has momentum.
Crowder's Suns are set to start a series with Denver on Monday. This is a series that feels like it could play right into Crowder's wheelhouse. Denver isn't the best at defending the perimeter and this should be a physical series. Crowder can get some shots going as well as rebound and steals, so for $5,000 I'll gladly play him.

You aren't going to find a better value play at the center position than Brook Lopez. Although he's a spotty player, you can afford a less than spectacular game for this price. He put up 19 points and five rebounds on his way to 26.3 fantasy points last game, and I believe he can replicate this effort.
He averages 24.1 FPPG, but he does normally hang right around that number. It's worth noting that he has only shot 2-13 from three against Brooklyn this year. If Brook will stick to shots inside the arc, he can maximize his output. The Nets aren't a strong paint team and they can be beaten by an athletic big man such as Lopez.
This is the biggest question mark of this lineup, but I like the play. Bryn Forbes was seeing consistent minutes before, but the injury to Donte DiVincenzo saw Forbes's minutes increase slightly more. He is far from a consistent player, but he shouldn't be heavily owned and could be the boon we need.
Forbes is fresh off a horrid shooting night, as he went 2-8 from the floor and 1-5 from deep. He could be due for a bounce-back game today. He averages only 14.8 FPPG. However, this is because he either gets you around 25+ fantasy points or less than ten. I'll gladly take a stab at a cheap player here who could be a super value play.
I want a piece of this Denver offense, so I am taking Michael Porter Jr. in this spot. He is the second offensive option for the Nuggets behind Nikola Jokic and is massively cheaper than him. Porter Jr. played a huge part in Denver's series win over Portland, and I believe he will continue to play his part.
Porter Jr. put up 26 points in each of his last two games, and those who played him in their NBA DFS picks were rewarded. He put up 51 fantasy points followed by 42.8 fantasy points last game. I expect Porter Jr. to continue this momentum into this series with Phoenix, and I also like the price tag with him.
Mikal Bridges is extremely underpriced on this slate I feel. He does only average 26.1 FPPG. However, he has seen plenty of games where he put up 30+ fantasy points this year. Bridges is an efficient offensive player who shoots 53% from the floor with 42.1% from beyond the arc.
Bridges doesn't normally put up a ton of points in games. However, he is normally efficient with his shots and he typically turns in rebounds, assists, steals, and blocks, as well. For this cheap $4,800 price, I am all over Bridges. He averages 32.7 minutes per game and could be the biggest value player of this slate.
Will's NBA DFS Picks June 7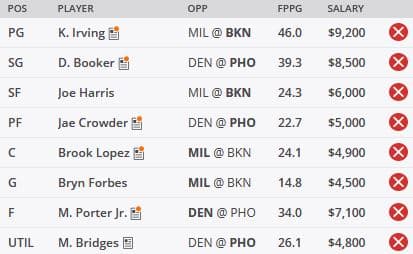 Make sure to subscribe to NBA Gambling Podcast on Apple and Spotify. Check out Munaf, Dan, and Ryan's updated against-the-spread NBA picks today and EVERY DAMN DAY for EVERY DAMN GAME at SG.PN/nbapicks