The biggest X factor heading into the NBA Eastern Conference Semifinals is the man pictured above – Joel Embiid. Stop me if you've heard this one before, but Mr. Embiid finds himself injured, once again. While I'm no doctor, and I don't even play one for SGP, a torn meniscus in your knee doesn't sound like a good thing. Embiid is currently considered, at least publically, as "day-to-day", which makes making my NBA playoff pick for that series a little difficult.
But, it's all a moot point because whoever wins Philly vs Atlanta is just going to get crushed by Brooklyn in the Eastern Conference Finals. Now, on to my NBA Playoff Picks for the Eastern Conference Semifinals.

NBA Playoff Picks: Eastern Conference Semifinals
#1 Philadelphia (-180) vs #5 Atlanta (+160)
All the talk about Trae Young not being made for the playoffs can stop now after he averaged 29 and 10 against the Knicks in the first round. But the Knicks don't have a beast on defense as the Sixers do in Ben Simmons. Simmons, one of the league's best defenders who also towers over Young, will make things much more difficult for Atlanta's star in the semifinals. I'm liking the under on this prop bet:
[pickup_prop id="7965″]
But it wasn't just a one-man show for the Hawks in round one, as four of Young's teammates averaged in double-figures in scoring. They'll need more of the same against the Sixers because even without Embiid they are a formidable squad. Tobias Harris averaged 25 and 10 against New York, Seth Curry stepped up, and Simmons was a walking triple-double. Even assuming Embiid is out all series, the Sixers defense is good enough to write a sad ending to the Atlanta feel-good story.
NBA Playoff Pick: Philadelphia in 6 (+400)

#2 Brooklyn (-210) vs #3 Milwaukee (+175)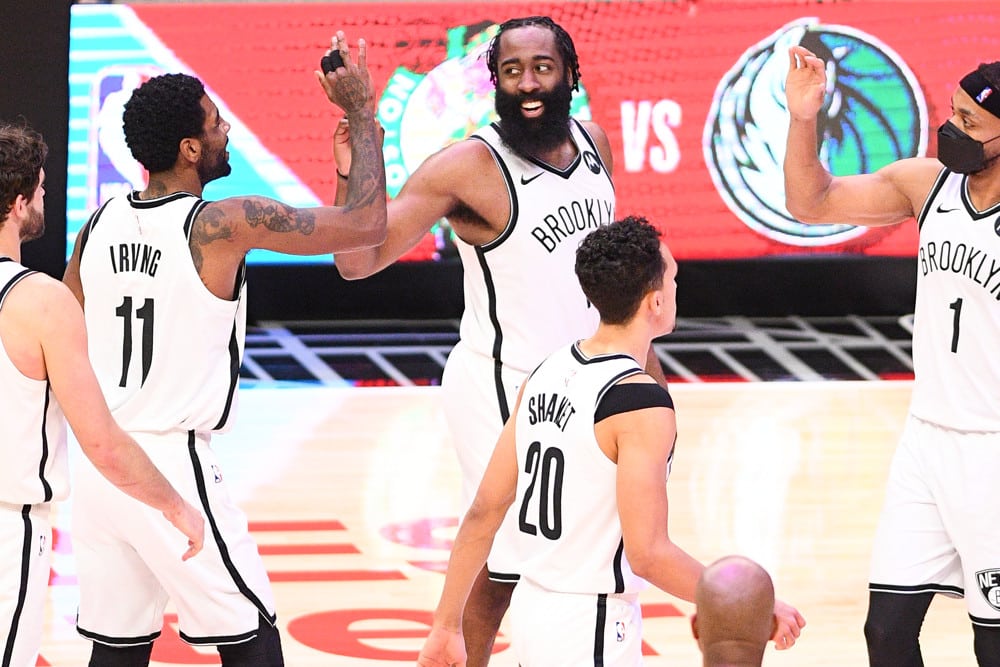 Many are calling this series the defacto NBA Finals, and they could be right. It surely features the best two teams in the East, assuming Embiid is out or not 100%. Thus far in the playoffs, the Nets were what the rest of the league feared they would be, a three-headed monster superteam. Kevin Durant, James Harden, and Kyrie Irving have been exactly what it says on the tin – transcendent stars. Add in Joe Harris hitting three's at a 51.5% clip, and you've got yourself a problem. However, that's pretty much it in terms of talent – the roster is really thin.
The Bucks totally surprised me in their opening series, in which I predicted the Heat would beat them. They spanked the defending Eastern Conference Champions, sweeping them in the process. Now this team is the opposite of Brooklyn – they are deep. Six players averaged double figures in scoring against the Heat, led by all-world Giannis Antetokounmpo, naturally. But it is the addition of Jrue Holiday which is really making the difference for them, as combining him with Giannis and Khris Middleton give the Bucks their own "Big Three".
But, in the end, superstars win in the NBA playoffs, and the Nets have more of them. It should be a fun series, but the season is ending earlier than they hoped, once again, for Milwaukee.
NBA Playoff Pick: Brooklyn in 6 (+425)
NBA Playoff Picks Results:

Series Winners: 2-2
Profit (based on $100 bet): -($180.93)
Series Winner Plus Series Length: 2-2
Profit (based on $100 bet): $220.00
Make sure to visit our odds page for up-to-the-minute lines from various books!