Hello everybody! We are back at it again with another edition of our NBA DFS picks, and this time we're doing things a little different. With only two games on the slate, we're going to zero in on today's showdown slates. Both games today have huge implications, and there's some good money to be made in DraftKings DFS! Let's jump right in shall we?

NBA DFS Showdown Picks – Denver vs. Portland
Let's be realistic. There are only two options you want here as your captain. I'm going to take what seems like the most obvious play in Damian Lillard. He's fresh off a monumental 55 point game on his way to an amazing 92.5 fantasy points on the night. You can guarantee that Dame will put the Trail Blazers in a position to be competitive and possibly even win this and force a Game Seven.
It really feels like the first place lineup is guaranteed to feature both Lillard and Nikola Jokic. Which is captain will be the deciding factor. However, I like going with The Joker in the utility spot. He is going to be the league's MVP for a reason and he continues to lead Denver each night. We're saving a little money playing things this way, and it feels like the best option available.
The rest of the way will be about playing who we can, although I do like what we have. Robert Covington was relatively silent the first four games of this series, but he woke up last game. He dropped 19 points and 11 rebounds on his way to 39.8 fantasy points. With Portland in the position they are, I like for Covington to string together another solid outing in this do-or-die ballgame.
One thing that can be said about Monte Morris, at least for this series, is that he has been consistent. He has seen at least 22 minutes in each game, and he's scored below 22.8 fantasy points in only Game One. Morris isn't a flashy player, but he fills up the stat sheet. That's all you can ask for from a cheaper player in these showdown contests.
Austin Rivers is about as inconsistent as they come. However, when he has his stuff he can be deadly. I don't want to dip too far down in the player pool, and Rivers is seeing the playing time if nothing else. He's played 33+ minutes in three of the five games so far in this series. Rivers will be a solid, cheap anchor if he can get some shots to drop for him in this pivotal contest.
Wrapping up this NBA DFS showdown lineup with Carmelo Anthony here. This is another example of a boom-or-bust scenario, but you take what you can when you have a solid top-of-the-lineup like this. Melo probably won't drop 30+ fantasy points or anything. However, he is pretty guaranteed to get 15+ which isn't bad for a player in this price range.
NBA DFS Picks For DEN/POR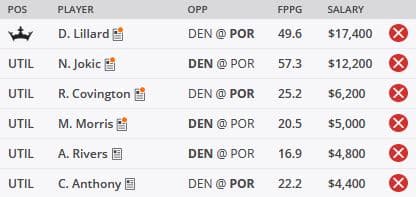 NBA DFS Showdown Picks – Phoenix vs. Los Angeles
He is expensive, but you want LeBron James at your captain spot. It's time to put up or shut up for the Lakers. You can bet LeBron will do everything he can to keep their season alive. He is one of the best to ever play the game, and playoff LeBron is one of the most clutch players ever. I wouldn't be shocked if he drops 60+ fantasy points here.
I don't know if Phoenix closes this series here. However, one thing is for sure – Devin Booker will lead the offensive attack of the Suns. He has been outstanding all season and he has continued that in this series. Booker has scored over 30 points in three of the five games and he's scored no less than 31.5 fantasy points. He's about as safe of an option as there is.
It's been a weird season for Mikal Bridges. He averages 26.1 FPPG. However, he has seen his fair share of bad games also. Bridges finally got going this series last game with a solid stat line and 36.5 fantasy points on the night. He can be a wildcard. I do like what Bridges brings to the table, though, and I have hope that he can fill up the stat sheet again.
This is another example of a hit-and-miss player. However, I believe we will get low ownership from Jae Crowder. He isn't a terrible option either given his playing time. His shooting has been spotty this series, but I will take a chance. Crowder is a solid all-around player and is worth a look at the very least in this contest.
Kyle Kuzma has been unable to find any rhythm in this first-round series. He has seemingly shaken the rust off more and more the last few games though. He's scored in double-digits the past two games, and there's always that off chance that he drops 20 plus. Kuzma is another player worth a look given that the Lakers must win and he can get hot from the floor.
I feel like this could be the sneaky value play of the slate. Marc Gasol has seen his playing time fluctuate all season. However, there is a chance that Anthony Davis misses this game or at the very least is banged up. Gasol is an efficient player when he is on the court. He can fill up the stat sheet when he is given a decent amount of playing time, so I'll take a stab at the veteran center.
NBA DFS Picks For PHO/LAL
Make sure to subscribe to NBA Gambling Podcast on Apple and Spotify. Check out our NBA analysts' against-the-spread NBA picks today and EVERY DAMN DAY for EVERY DAMN GAME at SG.PN/nbapicks