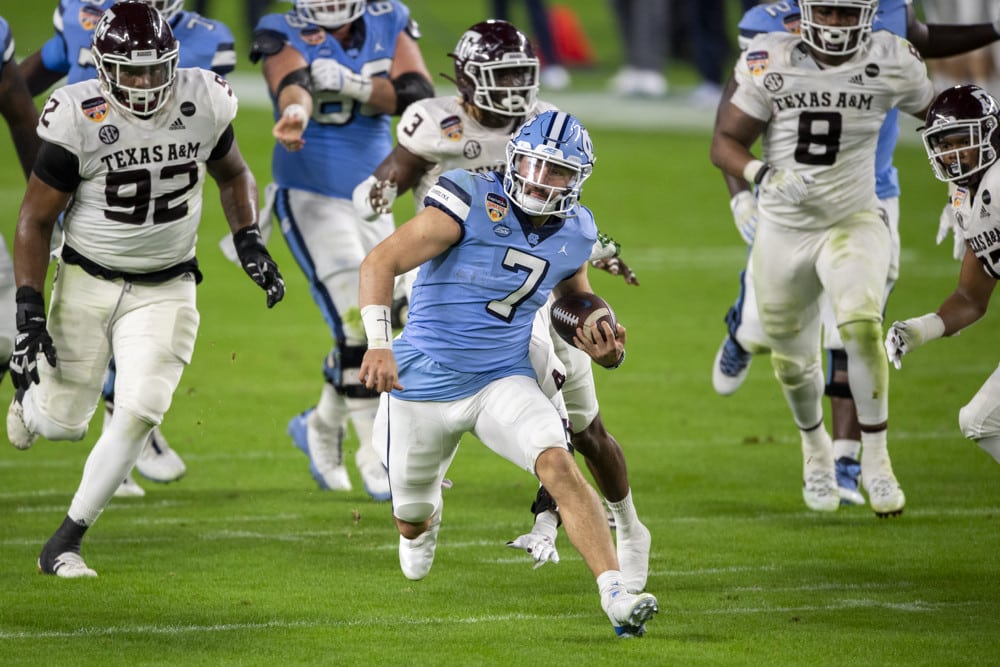 College Football Win Totals & Circa Millions III
The guys (@GamblingPodcast) are joined by the Dantabase to give out some of their favorite early picks for the 2021 college football win totals. Plus they promote the brand new College Basketball Experience and College Football Experience feeds.
Then they're joined by Derek Stevens (@DerekJStevens) to talk about how the Circa is giving away $10 million dollars with their football contests. They talk NFL survivor pool strategy and what Las Vegas is going to be like this NFL season.
Podcast Timcodes
0:01:22 – Intro/Welcome
0:03:56 – College Football Experience and College Basketball Experience Feeds
0:06:42 – Atlantic Coast Conference (ACC) Win Totals and Picks
0:14:44 – Big 10 Conference (B1G) Win Totals and Picks
0:19:04 – Big 12 Conference (Big XII) Win Totals and Picks
0:27:10 – Pacific 12 (Pac 12) Conference Win Totals and Picks
0:32:42 – Southeastern Conference (SEC) Win Totals and Picks
0:39:32 – Owner of Circa Resort and Casino Derek Stevens
0:39:51 – Circa Sports Millions III and Circa Survivor Pro Football Contest Announcements
0:44:11 – NFL Regular Season Week 1 Thoughts
0:46:10 – Demand of Football Contests in Las Vegas Post-Pandemic
0:48:54 – Effects of Las Vegas Raiders on Circa Resort and Casino
Podcast Video
Podcast Transcription
ACC College Football Win Totals
| | |
| --- | --- |
| Team | WinTotal |
| Clemson | 11.5 (+100 / -125) |
| North Carolina | 10 (+110 / -139) |
| Miami | 9.5 (-125 / +100) |
| Boston College | 7 (-113 / -113) |
| Pittsburgh | 7 (+100 / -125) |
| Virginia Tech | 7 (+105 / -134) |
| Wake Forest | 6.5 (-134 / +105) |
| Louisville | 6.5 (+110 / -139) |
| NC State | 6 (-139 / +110) |
| Virginia | 6 (-134 / +106) |
| Florida State | 5.5 (+110 / -139) |
| Georgia Tech | 4.5 (-113 / -113) |
| Duke | 3.5 (-125 / +100) |
| Syracuse | 3 (+110 / -139) |
Big 10 College Football Win Totals
| | |
| --- | --- |
| Team | WinTotal |
| Ohio State | 11 (-113 / -113) |
| Wisconsin | 9.5 (+110 / -139) |
| Penn State | 9 (+100 / -125) |
| Iowa | 8.5 (-113 / -113) |
| Michigan | 8 (+110 / -139) |
| Indiana | 8 (+120 / -152) |
| Minnesota | 7 (-113 / -113) |
| Northwestern | |
| Nebraska | 6 (-113 / -113) |
| Maryland | |
| Purdue | 5 (-113 / -113) |
| Michigan State | 4 (-129 / +105) |
| Rutgers | 4 (-113 / -113) |
| Illinois | 3 (-167 / +131) |
Big 12 College Football Win Totals
| | |
| --- | --- |
| Team | WinTotal |
| Oklahoma | 11 (-139 / +110) |
| Iowa State | 9.5 (-141 / +112) |
| Texas | 8 (+110 / -139) |
| Oklahoma State | 7.5 (-113 / -113) |
| TCU | 7 (-125 / +100) |
| West Virginia | |
| Kansas State | 5.5 (-113 / -113) |
| Baylor | 5.5 (+110 / -139) |
| Texas Tech | 4.5 (-139 / +110) |
| Kansas | 1 (-139 / +110) |
PAC 12 College Football Win Totals
| | |
| --- | --- |
| Team | WinTotal |
| Oregon | 9 (-113 / -113) |
| Arizona State | 9 (-113 / -113) |
| USC | 9 (+110 / -139) |
| Washington | 9 (+105 / -134) |
| Utah | 8.5 (+100 / -125) |
| UCLA | 7 (-106 / -121) |
| Washington State | 6 (-139 / +110) |
| California | 5.5 (-121 / +106) |
| Oregon State | 4.5 (-113 / -113) |
| Colorado | 4.5 (+120 / -152) |
| Stanford | 4(+110/-140) |
| Arizona | 2.5 (+125 / -159) |
SEC College Football Win Totals
| | |
| --- | --- |
| Team | WinTotal |
| Alabama | 11.5 (+100 / -125) |
| Georgia | 10.5 (+100 / -125) |
| Texas A&M | 9.5 (+100 / -125) |
| Florida | 9 (-139 / +110) |
| LSU | 8.5 (+100 / -125) |
| Ole Miss | 7 (-139 / +110) |
| Missouri | 7 (-125 / +100) |
| Auburn | 7 (+110 / -139) |
| Kentucky | 7 (+100/-125) |
| Tennessee | 6 (+110 / -139) |
| Mississippi St. | 5.5 (-125 / +100) |
| Arkansas | 5.5 (+110 / -139) |
| South Carolina | 4 (+120 / -152) |
| Vanderbilt | 3 (-113 / -113) |