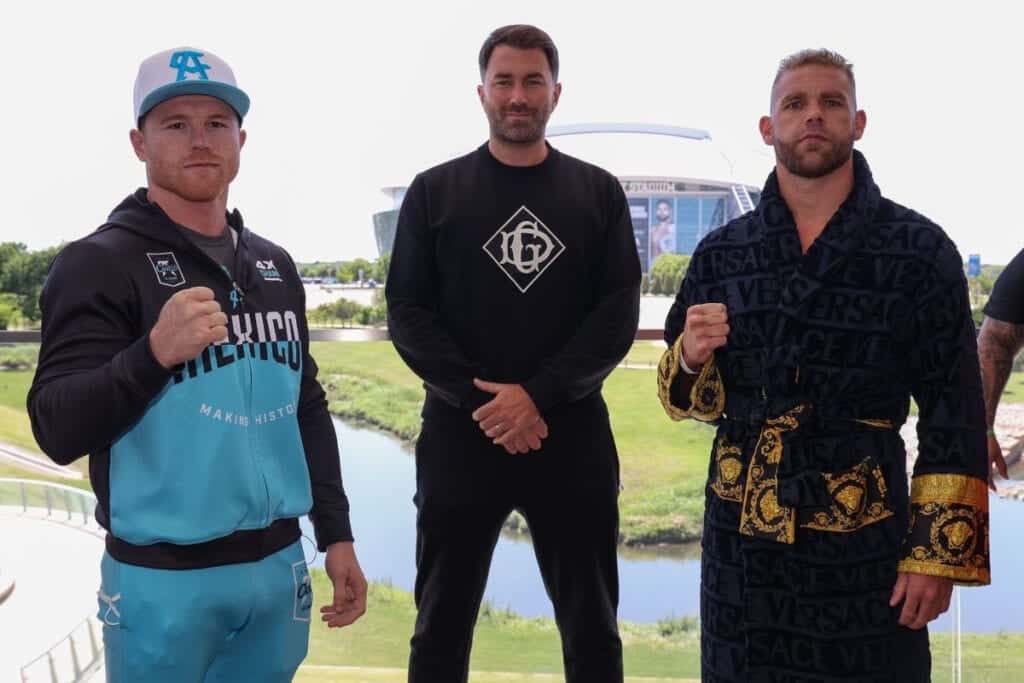 One of the biggest names in boxing, Canelo Alvarez, is back in the ring Saturday night in the home of the Dallas Cowboys in front of a massive crowd and we are ready to preview it on the Big Fight Weekend Podcast.

Host T.J. Rives returns with a slew of guess as Canelo, 55-1-2, steps through the ropes coming up at AT&T Stadium to battle England's unbeaten, 30-0 Billy Joe Saunders in a Unified Super Middleweight championship bout.
T.J. talks first in England with David Payne of Boxingwriter.Co.Uk website. David gives the feel from England about whether Saunders has any hope of being able to upset one of the greats in the sport in Canelo? David also lays out whether or not the British fans believe in Sanders's chances? And, he also discusses with T.J. about Canelo's place in history and currently in the landscape of the sport.
Then, one of the broadcasters who will call the fight on the DAZN streaming service, Sergio Mora "The Latin Snake" jumps back on the podcast to help review the fight live from Arlington, Texas. The Snake is a former Middleweight contender himself earlier in the 2000s and has great insight on what the Mexican legend, Canelo brings to this Texas showdown? And, we get Sergio's analysis on how Saunders might be able to stay in the fight with his boxing style or will Alvarez get the KO?
Then, we wrap up the podcast with senior writer from BigFightWeekend.com, Marquis Johns, back aboard and he and T.J. go over the news of the week.
This includes the horrific story involving Lightweight Contender Felix Verdejo down in Puerto Rico, who is charged with kidnapping and murder of his mistress last weekend. The once promising career of Verdejo is obviously now in serious jeopardy with him facing charges that could put him in prison for the rest of his life, if not the death penalty.
The guys recap the fight card from last weekend, including the Heavyweight pay-per-view win by Andy Ruiz / Chris Arreola in California.
They also discuss the Floyd Mayweather upcoming June pay-per-view with Logan Paul and the circus around Thursday's press conference with Mayweather scuffling, "pro wrestling style" with the Paul brothers.
Then TJ and Marquise go over their thoughts and predictions including with the odds for Canelo Saunders on Saturday night in front of over 65,000 fans.
Hear it all on the Big Fight Weekend podcast and make sure to subscribe / review us on Apple Podcasts, Spotify, Google, etc!