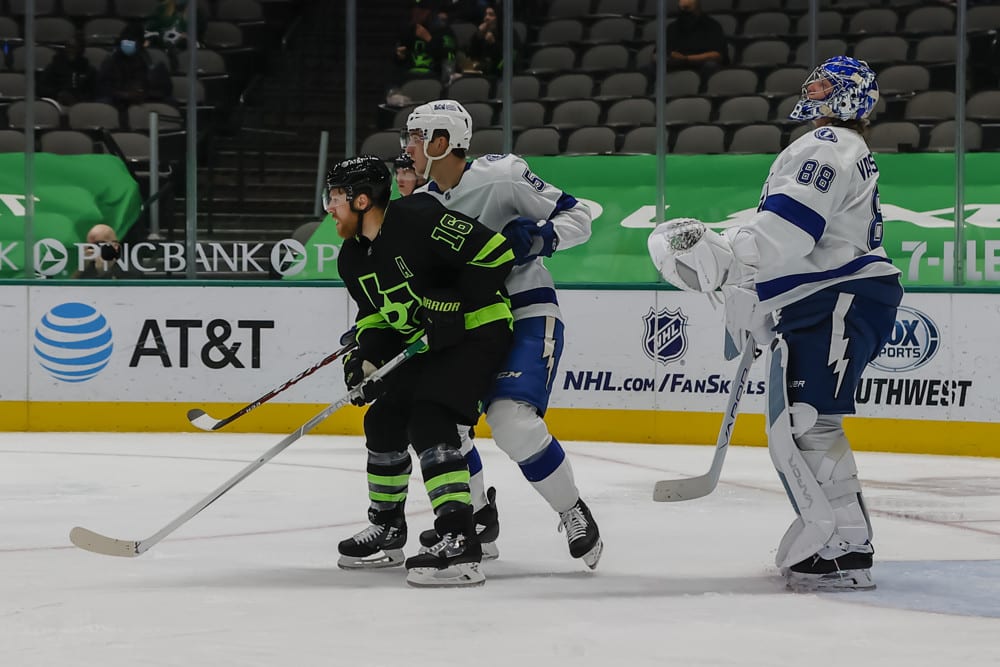 We're here. It's finally May. The NHL regular season will conclude in the coming weeks as the stage gets set for the Stanley Cup Playoffs. But there are still games to be played before then. Today, we have a few NHL picks and best bets for Wednesday night.
Make sure to bookmark our daily NHL Picks page to get the best bets for every single game!
It's a full slate tonight, so instead of trying to spread ourselves thin, we're going to focus in on three picks that should be easy cash.
As always, odds are provided by PointsBet. If you're not signed up already with our great PointsBet promos, what are you waiting for?

Dallas Stars at Tampa Bay Lightning – 7 p.m. ET
The Tampa Bay Lightning took down the Dallas Stars for last year's Stanley Cup and have had their number this year.
NHL Picks – Lock: Tampa Bay Lightning -160
The Lightning are 5-1-0 against Dallas and have outscored the Stars 19-8 this season. Tampa is battling for playoff position atop the Central Division while Dallas is the outside looking in for the fourth and final playoff spot.
The Stars were shining in the middle of the season, but they've burnt out recently. They've lost five straight games, including a 3-0 loss to Tampa Bay. Meanwhile, the Lightning are 5-0-1 in their last six and 9-3-1 in their last 13.
The Lightning have a chance to gain ground in the playoff race and crush the Stars' hopes at the same time. They're 20-6-0 at home and Andrei Vasilevskiy is 30-8-1 this season. Bet on Tampa Bay.
The money line is the safest pick here, but even money for the Lightning to win in regulation is a good bet as well. The puck line (-1.5 at +160) is a bit risky
In their five meetings, the Lightning won by 2+ three times (including last game) and won in regulation four times. One of their wins came in a shootout.
Think you know who's going to win it all? Check out the latest Stanley Cup odds.
---
Nashville Predators at Columbus Blue Jackets – 7 p.m. ET
The team that the Stars are chasing in the Central just happens to be the Nashville Predators, who have an easier opponent tonight.
NHL Picks – Lock: Nashville Predators -180
Nashville is 6-1-0 against Columbus this season — including wins in four straight meetings — and have outscored them 21-13.
The Predators are playing some pretty good hockey right now. They've won two straight, four of five, and are 6-1-1 in their last eight games. Columbus, on the other hand, has lost two straight and are 1-7-4 in their last 12 games.
Ride the hot team here with the Predators, and that's the team that also has more to play for. A better team on a hot streak with a chance to pull away in the playoff picture is a good bet at -180.
---
Vegas Golden Knights at Minnesota Wild – 8 p.m. ET
The Vegas Golden Knights are one of the best teams in the league but they've had their hands full with the Wild this season.
NHL Picks – Value Pick: Minnesota Wild +105 / to win in regulation +150
The Wild have beaten the Golden Knights in five straight meetings. Even when it looks like the Golden Knights have exorcised their demons, like with a 5-3 lead in the third period on Monday, the Wild find a way to win.
I find it a bit odd that the oddsmakers have the Wild as an underdog here. They've won five straight against Vegas and haven't lost at home to the Golden Knights all season. On top of that, they're coming off back-to-back wins and are 9-1-1 in their last 11 games.
Vegas is still a pretty good team though, so it wouldn't shock me if they finally beat the Wild. However, I have to take the Wild here at plus-odds, and to win in regulation at +150 is pretty good too since four of the last five wins vs. Vegas came in regulation.
---
Follow me on Twitter if you have any questions, want more analysis, or just want to talk some hockey!