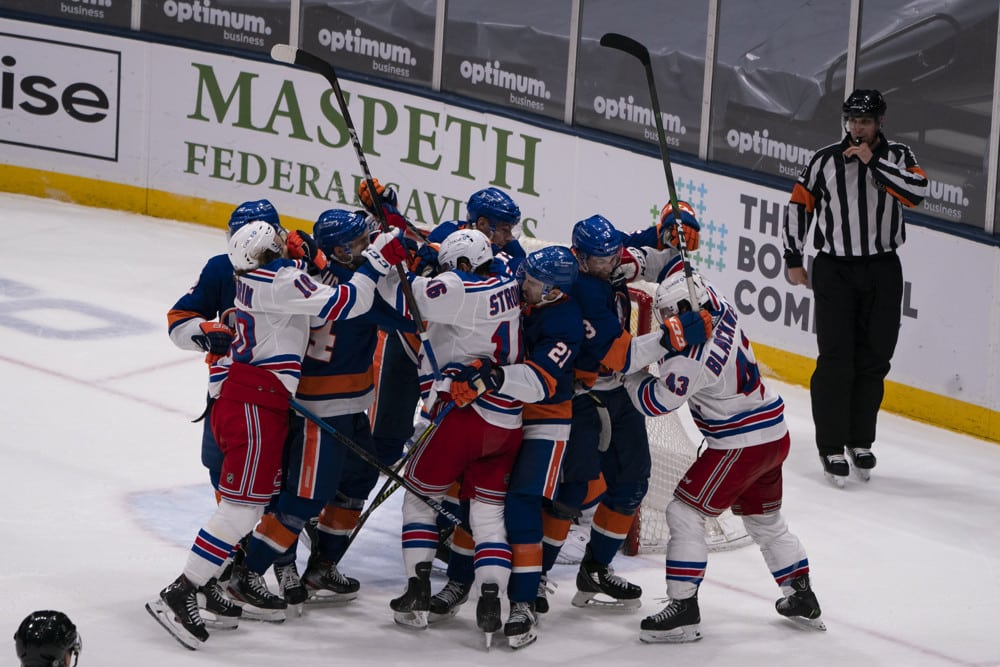 Tuesday night is usually a pretty heavy hockey night in the NHL and there are eight games on the ticket tonight. There are a few heavy favorites, some toss-up games, and everything in between.
After going 2-1-0 on my three locks on Sunday (including 2-1-0 on puck lines, making it a profitable day), I'm going right back to the well with three of my favorite plays for Tuesday night.
 Make sure to bookmark our daily NHL Picks page to get the best bets for every single game!
I've honed in on two favorites that should win with ease and an underdog that should be a good value bet.
As always, odds are provided by PointsBet. If you're not signed up already with our great PointsBet promos, what are you waiting for?

New York Rangers at New York Islanders – 7 p.m. ET
It's a battle between the two New York teams on Long Island.
NHL Picks – Value Underdog: New York Rangers +105 / -1.5 (+280)
I took the Rangers as big favorites on Sunday and they came through for me on the Moneyline and puck line. We're going right back to them tonight against the Islanders. I like them on the money line again tonight, and I might throw a bet on the alternate spread -1.5 (+280) for them as well.
The Rangers are playing some really good hockey right now. They've won four straight games all by multiple goals (outscoring opponents 18-6) and are 8-1-2 (outscoring opponents 44-26) in their last 11 games.  Six of those eight wins have been by multiple goals, including a 4-1 win against the Islanders on the 9th of this month.
The Islanders, on the other hand, have been slowing down recently. They barely beat the Flyers on a lucky bounce on Sunday night and have just one regulation win in their last eight games. Granted, they've won four others in overtime or a shootout, but they haven't been impressive.
The two New York rivals have traded wins in the season series so far. The Islanders won in a shootout last meeting, which is a good sign given that trend.
It should also be a low-scoring affair, so perhaps take the Rangers to win & under, or just bet the under on its own.
---
Columbus Blue Jackets at Florida Panthers – 7 p.m. ET
The Panthers beat the Blue Jackets 4-2 on Monday night and will finish their two-game set tonight.
NHL Picks – Lock: Florida Panthers -215 / -1.5 (+115)
The Panthers are ready to pounce. They're 8-3-1 in their last 12 games and are 6-0-1 against the Blue Jackets this season. They've outscored the Blue Jackets 27-16 in those seven games and their last three wins over Columbus have been by multiple goals.
The Blue Jackets are really struggling this season and even more so as of late. They've lost six straight games, are 1-8-1 in their last 10, and 2-11-2 in their last 15.
Not really much else to say here. The Panthers are winning and winning with ease; 16 of their 29 wins have been by 2+ goals, including four of their last five and seven of their last eight. Columbus has lost three straight by multiple goals and haven't been competitive against Florida.
---
New Jersey Devils at Pittsburgh Penguins – 7 p.m. ET
The Penguins are back home as the Devils start their road trip with a game in Pittsburgh.
NHL Picks – Lock: Pittsburgh Penguins -270 / -1.5 (-110)
The Penguins burned me as a road favorite on Sunday. They were my only loss of the three picks, but it hurt. They outshot the Sabres 36-28 but lost 4-2. Oh well, onto the next one … and this is that next one.
Pittsburgh is not losing back-to-back games against two bad teams. It's just not happening.
The Devils might be worse than the Sabres right now. They've lost six straight games (outscored 29-12, all six losses by 2+ goals), are 1-8-2 in their last 11, and 2-10-2 in their last 14.
The Penguins are 3-1-1 against the Devils this season, but they've won the last two meetings. They beat the Devils 6-4 on April 9th and 5-2 on April 11th, both games were in New Jersey. They're back in Pittsburgh now, where they have a 16-3-2 record.
Lock in the Penguins on the money line, puck line, and to win in regulation.