One week after a thrilling Masters, the PGA Tour cools off with a laid back trip to Hilton Head, South Carolina. This week a solid field plays the RBC Heritage at Harbour Town Golf Links. As always, here is your early deep-dive on the RBC Heritage and a preview for how to bet.
RBC Heritage Preview: The Field
Headlining the field this week is Webb Simpson. Webb won the rescheduled RBC Heritage last June after the COVID restart. The 2020 leaderboard was thrilling with several top names fighting for the victory late on Sunday. In the end, Webb Simpson birdied five of his last seven holes to take the victory. He's in solid form heading into this tournament. It would not be a shock if he repeated in 2021.
Also in the field are two names who you wouldn't think would be a good fit for the golf course. Dustin Johnson and Bryson DeChambeau, two big bombers, will take a crack at the claustrophobic Harbour Town Golf Links. Dustin Johnson annually plays this tournament because he's an RBC ambassador. As for Bryson DeChambeau, maybe he wants to break Harbour Town to fuel his ego. He said after last year's tournament that he couldn't "unleash the Kraken" at the place. Can he do it this year?
Other notables in the field include Daniel Berger, Patrick Cantlay, Tommy Fleetwood, Sergio Garcia, Collin Morikawa, and Will Zalatoris.
For the full field, click here.
RBC Heritage Preview: The Golf Course
Harbour Town Golf Links is a public golf course designed by Pete Dye in 1967, with consultation from Jack Nicklaus. Over 38,000 rounds per year are played at Harbour Town. It's one of the most popular public golf courses in America.
For an amateur, it is a wonderful golf course to play. Even from the back tees, the golf course is not overly long. The bunkers are also relatively shallow and very playable. However, the greens are very small. They average only about 3,700 square feet per green. For perspective, the average green side on the PGA Tour is just under 6,600 square feet. Harbour Town has the 2nd smallest greens on the PGA Tour, and are well guarded by water hazards and bunkers as expected from the diabolical Pete Dye.
There are also trees EVERYWHERE. It's the perfect golf course for the retirees who do nothing but hit every shot dead straight over and over and over. But for those who fight a nasty slice, this golf course is certainly not for you. Even the longest and highest of hitters won't be able to cut corners over the oak and palmetto trees.
Admittedly, this isn't my favorite of the Pete Dye collection. It's primarily from the perspective of a fan of the PGA Tour. It's not a very television-friendly golf course. With the golf course so tree-lined and the fairways so tight, it's tough to get a good understanding of where a player is on the golf. The backdrop of the first 15 holes looks mostly the same. The use of shot tracer also takes a hit because the golf course rarely allows a player to take crazy lines off the tee to give the viewer the wow factor when someone tries to be bold.
However, the final three holes of the golf course are a lot of fun, mainly because it starts to open up and it plays along the inter-coastal for some nice views of the ocean on television:
16th Hole – Par 4, 434 Yards
If you took anyone with just a smidge of knowledge about golf architecture and asked them who designed this hole, I bet they'd come up with the right answer. This is such a classic Pete Dye design. The hole is protected down the left side by a large elongated fairway bunker, but it encourages the pro to play towards it so they have a shorter and better angle at most hole locations.
There's also a tree right smack in the middle of the fairway, though it likely will not create a direct obstruction for players not named Bryson DeChambeau. But for those who play down the right side not only will they have a longer approach in, but on days where the pin location requires a draw, the tree provides quite the obstacle for that shot shape. Pete Dye is famous for these tiny little annoyances on a hole to fluster golfers, but it's a very good hole and one that totally fits in with his style.
17th Hole – Par 3, 174 Yards
(Courtesy of GolfCourseGurus.com)
This one is played directly into the prevailing winds off the sound. It's an intimidating tee-shot on Sunday if the winds are up. Anything short of the green will either find the marshes short or the small strip of the bunker about four feet below the putting surface that they'll have to blast up towards. In addition, a very narrow rectangular bunker to the right of the green can create impossible lies and stances to get the ball up and down for par. There's also a lot of cool tucked pin locations that can be placed here that will make the players visually uncomfortable.
18th Hole – Par 4, 472 Yards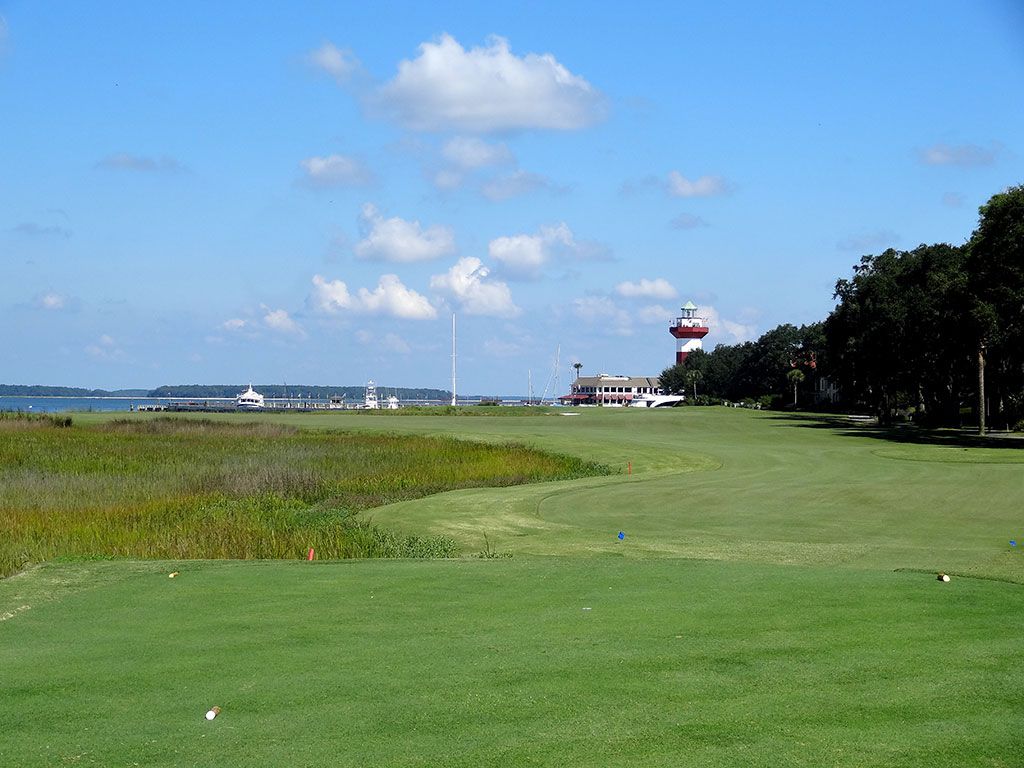 (Courtesy of GolfCourseGurus.com)
This is the signature hole on the golf course, as it plays towards the famous Hilton Head lighthouse in the distance and requires two forced carries over the marshes and the sound. With the wind coming from the left it will take a very errant hook from a right-handed golfer to hit in the water on both the tee-shot and the approach. Still, with water all the way down the left and a large elongated bunker short right of the green, it's a very intimidating final hole that could provide some fireworks for the tournament if a player does indeed get in trouble.
Notable Golf YouTube Vlogger Mark Crossfield did a film series of Harbour Town in some very challenging wind conditions. Here's a video of him taking on the final three holes of the golf course:
RBC Heritage Preview: Betting Strategies
Harbour Town Golf Links isn't overly long, is protected by doglegs and feature well-guarded small greens. Hitting driver isn't a necessity in Harbour Town, as positional golf off the tee most of the time is the better strategy than hitting it as far as you can. On golf courses such as these, accuracy, iron play and scrambling are a premium to put yourself in a position to shoot low scores.
This is largely borne out when looking at both past leaderboards as well as the relative skill set plot chart of the golf course:
Harbour Town doesn't really allow the bomb and gougers to play how they want. For one, there is almost no chance for any of them to try and carry dog legs or hit over the trees. The trees are too tall and the tee boxes feel very claustrophobic. They'll have to play the golf course as Pete Dye designed it. That means positional golf to set up the most optimal approach shot. In addition, the greens are so small, which means scrambling will take even more importance this week.
While you shouldn't immediately scratch off longer premium players from winning at Harbour Town, it's important to separate this tier of players based on iron play and scrambling abilities. In addition, the shorter tacticians should be on more equal footing as the other strong players in the field.
It's also important to point out some differences between last June's RBC Heritage and its traditional April timeslot. Hilton Head, SC is a lot more muggy and humid in June than in April. In addition, it's susceptible to pop up thunderstorms to keep the golf course soft. The April date tends to play much more firm, windier and dry. That makes the golf course play tougher, especially because the greens are some of the smallest on the PGA Tour. It's not easy to hit the green in regulation at Harbour Town, especially in these crispy firm conditions.
Another key difference is the grass types. The golf course is naturally bermuda, however during the winter and early spring months it is overseeded wtih ryegrasses and poa trivialis. That grass type is typically what is played on in the early April date. Last June, however, temperatures were warm enough to allow the bermuda to grow back in. As such, the June 2020 RBC Heritage played on a completely different grass type than an April RBC Heritage. This is especially important when considering putting specialists on different surfaces. Do not make the mistake of overloading on bermuda green specialists.
Last year the winning score of the RBC Heritage was -22. In the 10 years before that, the winning score only got past -13 twice. The 2020 RBC Heritage is not a preview of what's to come in 2021. Expect much different conditions this year than what we saw last year.
Lastly, here are the players in the field who have gained more than a stroke per round at Harbour Town (minimum of 10 rounds):
Patrick Cantlay – +2.55
Luke Donald – +2.00
Matt Kuchar – +1.72
Bryson DeChambeau – +1.67
Webb Simpson – +1.56
Rory Sabbatini – +1.54
Branden Grace – +1.51
Russell Knox – +1.46
C.T. Pan – +1.44
Tyrrell Hatton – +1.32
Kevin Na – +1.28
Shane Lowry – +1.14
Kevin Kisner – +1.12
Andrew Landry – +1.08
Daniel Berger – +1.08
Si Woo Kim – +1.06
Matthew Fitzpatrick – +1.06
Wesley Bryan – +1.03
Emiliano Grillo – +1.00
Ian Poulter – +1.00
With the exception of post-bulk up Bryson DeChambeau, almost all these players are very accurate and precise ball strikers. Their biggest attributes are their consistency tee-to-green, not their length or explosiveness. Pete Dye and Jack Nicklaus golf courses tend to demand consistent, precise golf in order to play well. It's no surprise that's a common trait among several golfers listed above.
RELATED CONTENT
The Masters DFS Picks w/ Nagels Bagels | Golf Gambling Podcast (Ep. 46)
The Masters Preview and Betting Strategies