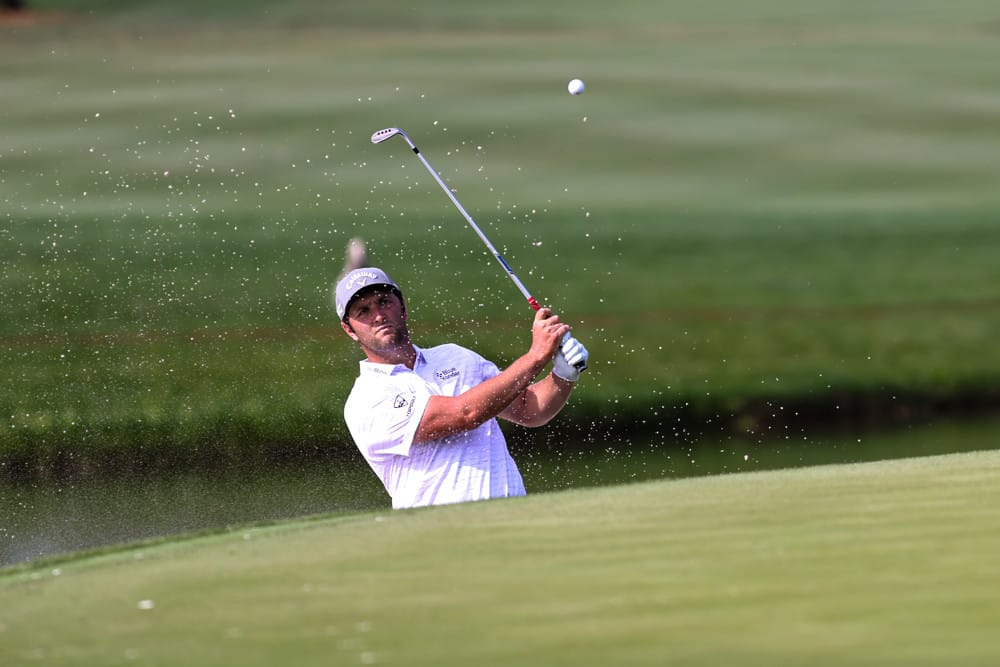 Who will win The Masters? Please check out The Masters Preview and Betting Strategies for the types of golfers you should look to target for your Masters' picks. With that in mind, here are my favorite bets to win the Masters (odds courtesy of PointsBet, *Promo Code SGP*).
Best Bets to Win The Masters
Jon Rahm – 12/1
The number on Jon Rahm got a lot shorter as the week went on. It was as high as 18/1 heading into this weekend. The uncertainty of it he'd even play the Masters drove his price down because no one knew if his son would be born in the middle of the tournament.
Fear not. Kepa Cahill Rahm arrived happy and healthy, and his wife is doing great too. That also has put Jon Rahm into a fantastic mood and puts his mind at ease ahead of the Masters. Now he can play free and loose without the weight of the impending birth of his first kid looming.
And the performance on the golf course has been great too. Over his last 16 rounds, Jon Rahm has gained 1.69 strokes per round tee-to-green. He also fits the narrative of several recent winners. He's won a tournament within the last calendar year, something that 10 of the last 11 Masters winners have done. He comes into the event ranked inside the Top 10 in Strokes Gained Tee-to-Green, something that eight of the last nine Masters winners have also done. And his course history is phenomenal.
Even at this short of number, it's worth betting Jon Rahm to win the Masters.
Rory McIlroy – 20/1
There's been a few golfers that blindly auto-betting an absurdly low price solely on their pedigree has worked out tremendously. Brooks Koepka was 40/1 to win the Waste Management Phoenix Open, which he did. Collin Morikawa was 45/1 to win the WGC – Workday Championship, which he did. And Justin Thomas was 20/1 to win the Players Championship, which he did. All had concerns about their form heading in. And all proved the doubters wrong and made everyone remember why they're so great.
There's not a lot to be encouraged about Rory McIlroy's game right now. He admitted that chasing distance like Bryson DeChambeau has hampered him. His recent results haven't been good. And his usually rock-solid ball-striking isn't quite as solid.
But he might not be as far off as some people may think. He did gain eight strokes tee-to-green at the WGC-Workday Championship about a month ago. And he was in the mix at Bay Hill. But the public perception of him has many people counting him out.
We might not see a 20/1 number on Rory McIlroy again. His results at the Masters are really good. And like Dustin Johnson last year, he's in a window based on past appearances where a win might be in his future. Like the examples I pointed to above, blindly betting Rory McIlroy this week on name value alone might be very profitable.
Brooks Koepka – 30/1
No one knows how Brooks Koepka will play after yet another knee procedure. It's a huge gamble to bet a guy 19 days removed from a knee surgery to then go out and win the Masters. But this is Brooks Koepka we're talking about here. Already he's trolling doubters on social media who think he's not capable of contending. And if he's right, 30/1 on him is a steal.
He was in form before the injury too. He won the Waste Management Phoenix Open and finished T2 at the WGC – Workday Championship. Over his last 16 rounds, he's gaining 1.20 strokes tee-to-green. And his history at Augusta National is quite strong. He finished T2 to Tiger Woods in 2019. And he came into last year's Masters, not in great form, and still managed a Top 10 finish.
Like Rory McIlroy, betting Brooks Koepka to win the Masters is purely a bet on his name only. If he's healthy and feeling great, this is a great number to bet a proven commodity.
Collin Morikawa – 33/1
There are pros and cons to betting Collin Morikawa to win the Masters this week. As far as cons go, he did not show very well in his debut at the Masters last November. No golf course is more dependent on course history than Augusta National. Between limited and bad experience, he's behind the eight ball.
He's also wildly inconsistent with his putter. Over his last three tournaments, he's had the following performances on the greens: -7.55, +3.96, -2.08. He also has lost almost half a stroke per round on the greens over his last fifty rounds. Poor putting doesn't bode well for a Masters hopeful.
Now for the good news. Morikawa fits into several nice trends of recent winners of the Masters. Collin Morikawa ranks inside the Top 10 in Strokes Gained Tee-to-Green heading into the event. His irons have been fantastic over his last fifty rounds, and he's improved on his scrambling. He also has won a tournament in the last year. All of these are key attributes of recent winners of the Masters.
There's also a blueprint for a player like Morikawa to win a firm and fast Masters. Augusta National played firm, fast, and difficult in 2013 and 2014 with similar weather conditions that we'll see in 2021. Those years, Adam Scott and Bubba Watson won the tournaments. At the time, both were tremendous players tee-to-green that flashed high upside if their streaky putter was firing on all cylinders. Morikawa demonstrates a similar explosive ceiling when the putter is on.
Lastly, just because a player doesn't have both a volume and successful history at Augusta National doesn't mean he can't do well. Danny Willett finished T38 in his Masters debut before winning in his second year. Xander Schauffele finished T50 in his debut before a runner-up finish in 2019. Patrick Reed didn't even have a Top 20 to his name before winning the 2018 Masters in his fifth try. Morikawa is already a more accomplished player than Xander Schauffele and Danny Willett are, and will likely have just as good of a resume as Patrick Reed does. If not better.
Morikawa is too good of a player to hang a 33/1 number on him at a big event. He's already accomplished so much at a young age and proven he can beat the best in the world. Bet him 33/1 to win the Masters.
Matthew Fitzpatrick – 50/1
It's hard to believe that this will be the seventh Masters for Matthew Fitzpatrick. After all, he's only 26 years old and doesn't look a day over 12.
But he definitely has the game to get the biggest win of his career at the 2021 Masters. Over his last 16 rounds, Fitzpatrick is gaining over a stroke per round tee-to-green. He's an awesome scrambler and a lethal putter. In a tournament that might have some tough scoring conditions, the ability to get up and down for par while draining the occasional long-range birdie is a great combination for this year's tournament.
He also checks a few boxes of indicators of success at Augusta National. Per a DataGolf study, players see a jump in performance at their seventh Masters. And Matthew Fitzpatrick has a victory under his belt in the last 12 months, which is a common trait of many recent Masters winners.
50/1 for Matthew Fitzpatrick is a fantastic price for a player in form. He also owns a Top 10 in some of the hardest scoring conditions at Augusta National in recent memory, proving he can do well at the golf course. With fast and firm conditions expected this week, he's certainly up to the test. Make him one of your bets to win The Masters.
Paul Casey – 50/1
Paul Casey has played tremendous golf over the last 12 months. He finished runner-up at the 2020 PGA Championship at Harding Park. He won the Omega Desert Dubai Classic in January. And he finished T5 at the Players Championship.
"But it's Paul Casey" one may say, "there's no way he's going to win the Masters". Well, why not? He has put up statistics as good as the game's elite players. In fact, no player in the field has gained more strokes per round over their last 16 rounds than Paul Casey has.
Not only is his ball-striking on point, but he's also vastly improved his putting. The putter is what has cost Paul Casey in the past. With that firing on all cylinders, that's a big game-changer for him.
He seems unassuming, but Paul Casey is a major threat to slip on the Green Jacket. At 50/1, he's a great bet to win the Masters.
RELATED CONTENT
The Masters Preview and Betting Strategies
World Men's Curling Championship – Curling Odds and Picks