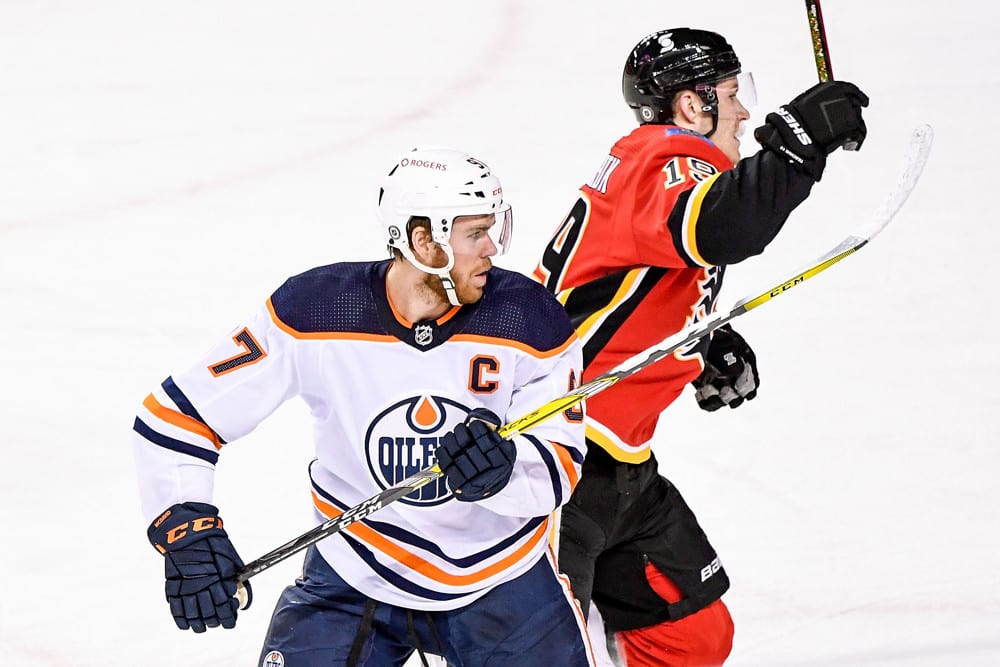 The calendar has flipped to April and the hockey action is heating up. We're in the season's final full month with the trade deadline approaching. Friday night provides us with a slate of six games to pick from.
I've been providing my Daily NHL Picks for every game here – bookmark that page so you don't miss out –, but I wanted to dive into the best bets and give some analysis behind my picks on certain days. Today is another one of those days.
There are six games on the docket with a good mix of locks, underdogs, and toss-ups. Let's get right into it.
All odds are provided by Pointsbet. Click on the link to get a great bonus from us here at Sports Gambling Podcast!

Washington Capitals at New Jersey Devils – 7 p.m. ET
The Capitals are coming off of an 8-4 loss on Long Island just last night, while the Devils have had a few days off after a 5-4 shootout loss to the Bruins on Tuesday. This should be an intriguing matchup between a sliding Capitals team and a stuck-in-the-basement Devils squad.
NHL Picks: Washington Capitals -170
The Capitals have lost back-to-back games for the first time in over 20 games. I don't see them losing three in a row, especially with the Devils on the schedule.
Washington is undefeated in six games against New Jersey this season. They are 6-0-0 with five of those wins coming in regulation. The Capitals have outscored the Devils 25-14 on the season as well, which is an average score of 4.17 – 2.33.
The Devils just played a tough game against the Bruins in which they blew two two-goal leads. They were also outshot 48-35 by Boston.
The Capitals will be looking to get back on track and the Devils are the perfect opponent for that.
---
Toronto Maple Leafs at Winnipeg Jets – 8 p.m. ET
The Maple Leafs are rolling with four wins in their last five games as they finish off a two-game set in Winnipeg. Toronto took the first game 3-1 on Wednesday night and the Jets will look to bounce back tonight.
NHL Picks – Value Pick: Winnipeg Jets +125
The Jets are a better team than people give them credit for. They are in second place in a tough North Division, behind only the Maple Leafs.
Winnipeg hasn't shied away from the competition this year with a 2-2-1 record against Toronto. The games have been rather even with the Maple Leafs having a 15-14 edge in goals.
The Jets lost the first game of the two-game set, but they have rarely been swept this season. In fact, they've only lost back-to-back games twice this season. They have been able to bounce back from losses, especially against the same team at home.
Toronto may flex their muscles, but the Jets at +125 are a great value pick as they look to move closer to the Leafs in first place.
---
Calgary Flames at Edmonton Oilers – 9 p.m. ET
The Flames are floundering and the Oilers are back at home. We're locking this one in.
NHL Picks – Best Bet: Edmonton Oilers -140
Calgary has lost five of their last six games and six of their last eight games. They have not been on top of their game at all recently, nor have they this season with a 16-18-3 record.
The Oilers, on the other hand, are 22-14-1 on the season and are hot recently. They are 4-1-1 in their last six games and 8-3-1 in their last 12 games.
Edmonton is coming off of a bad 4-0 loss, which may be keeping the line down, but don't let that deter you. Take advantage of it. The Oilers played a hard-fought game in Toronto the night before travelling to Montreal. They were spent.
Now, Edmonton is back home where they have won six straight games, outscoring their opponents 25-10 in the process.
It's always fun watching Connor McDavid play and it's even better when he helps win you money.
---
St. Louis Blues at Colorado Avalanche – 9 p.m. ET
This is a tough game to handicap. The Blues are coming off four straight losses, including two as a huge favorite (-210, -225). Now, they are a huge underdog against the dominant Avalanche.
NHL Picks: Value Pick – St. Louis Blues +190
I hate to pick against the Avalanche, but +190 is too good of a price to pass up for the Blues.
While the Blues may have lost their last three games, they were the better team on the ice. They outshot the Wild 37-11 in a 2-0 loss, then outshot the Ducks 34-22 and 40-24. That 40-24 shot total came in an overtime loss.
The Avalanche are absolutely rolling, though. They just beat the Coyotes 9-3 and the Ducks 5-2 while outshooting them 48-15. The Avalanche are really, really good. However, hockey is a weird game and really good teams lose sometimes.
The Blues have the wherewithal to rebound from a few unlucky losses. Going on the road shouldn't be a problem for them, either, as they are 12-5-2 on the road compared to 4-8-4 at home.
Don't put a ton on it, but the Blues could give you a nice underdog value play on Friday night.
---
San Jose Sharks at Los Angeles Kings – 10 p.m. ET
The battle of California continues as the Sharks travel down to LA.
NHL Picks: Value Pick – San Jose Sharks +110
The Sharks started out the season slowly but they're playing faster – and better – recently. They just swept the Wild in a two-game set and swept the Kings in a two-game set early last week.
San Jose has struggled on the road, but they split their first two-game set in LA earlier this season.
The Kings upset the Golden Knights on Wednesday night, but they haven't had any consistency this season. They haven't won back-to-back games since winning six straight in February. In March, they lost all four games after their wins.
The Sharks are finding their game as the season moves along and are a good value in a toss-up in LA.
---
Arizona Coyotes at Anaheim Ducks – 10 p.m. ET
In a game that could be played on Animal Planet, the Coyotes will face off against the Ducks. Both teams are coming off losses after winning a few games in a row.
NHL Picks: Arizona Coyotes -120
The Coyotes have had the Ducks' number this season. They have won four of the six meetings thus far, including a 5-1 blowout in their last game on March 20th.
Arizona just got smacked by the Avalanche, 9-3, but they've responded well to blowout losses so far this season. They beat the Avalanche the night after losing 5-1 and did the same to the Wild after losing 5-1 as well.
The Ducks don't have much firepower and the Coyotes should be able to keep them in check.
I don't love this game, but give Arizona a slight edge.
---
NHL Picks Summary:
WSH -170
WPG +125 (Value)
EDM -140 (Best Bet)
STL +190 (Value)
SJS +110 (Value)
ARI -120