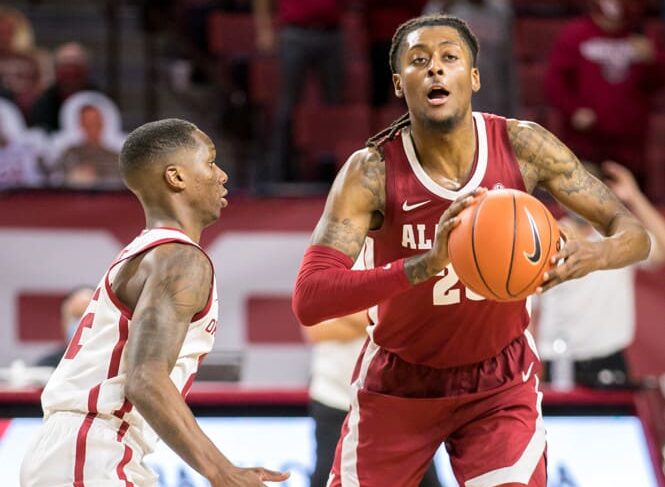 This tournament has NOT disappointed thus far. After an intense weekend of games, the Sweet 16 is set. The East Region started out as one of the tougher regions to preview. However, it seems to be playing out as we expected (more or less). Three of the four top seeds have made it to the Sweet 16 and are one step closer to a trip to the Final Four.

East Region Teams Remaining:
1-seed: Michigan
No surprise here, right? Michigan was top ten in adjusted offensive and defensive efficiency, according to KenPom. The only concern with the Wolverines was that they were going to be without arguably their best player—senior forward Isaiah Livers.
Coach Juwan Howard responded by starting Brandon Johns Jr. into the starting lineup and leaving his sixth man, Chaundee Brown, to keep the second unit going. Johns Jr. may not have Livers production, but he drives hard into the lane and gets to the line and hits his free throws— hitting at 80% since the Livers injury.
Additionally, the Wolverines are sharing the basketball more in the tournament without Livers on the court. Opposed to the 15.8 assists per game they average on the season they are up to 20.5 per game in the first two rounds of the tournament. This led to an easy routing of Texas Southern and a contested battle with LSU.
Ultimately, Michigan's dynamic scoring offense paved the way as they scored 80+ in both games. In the second round, Michigan shot 54% from the field and 40% from three. They are also outrebounding their tournament opponents by 8.5 rebounds per game. LSU was competitive for majority of that second-round game, but Michigan's sheer dominance offensively and ability to dial in defensively when needed lifted them to the Sweet 16.
2-seed: Alabama
Again, not really any surprise here? The Tide sport the second-best defense in the nation. They have been sheer dominant in their performances thus far. The Tide have won both games by double digits points, including a 20-point win over Maryland to punch their ticket into the Sweet 16.
Guard play was always going to need to be strong for them to make the tournament run. Alabama has three guards in John Petty Jr., Jaden Shackleford, and Jahvon Quinerly that are averaging double-digit points in the NCAA tournament.
In their second-round game, the Tide shot 53% from the field and 37% from three. Alex Reese came off the bench to give the Tide 13 points and was three for five from behind the arc. He has always been an X-factor for the Tide that when they needed some additional scoring he can step into that role. If he and their core group of stars are on, then the Crimson Tide are going to be a tough out with all the havoc they can force on the defensive end of the ball.
Go here for more college basketball picks.
4-seed: Florida State
Florida State has always seemed to keep their name relevant in recent history. Coming off an upset in the ACC championship game, the Seminoles were prepared to make this tournament run.
Like Alabama, Florida State has found a way to defeat their tournament foes by double-digit points. In their first matchup versus UNCG, it was all about the big guys down low. Raiquan Gray and Balsa Koprivica both had double-digit scoring and over their season averages in rebounding. The team shot 52% despite not making one three-point attempt. (0-9)
Things were different when they played the Colorado Buffaloes in the second round. The Seminoles went 6-17 from the three-point line. That comes out to 35%, however, slightly inflated since Anthony Polite hit four of their six threes as he cooked the Buffs for 22 points and four assists.
Florida State's defense has been nothing short of elite holding opponents to under 55 points thus far and under 25% shooting from three. This has supplemented the Seminoles struggles from the three-point line, however, they are going to need to pick it up if they want to keep their run going past the Sweet 16.
11-seed: UCLA
Alright. You got me. I had no faith in this UCLA team. But in my defense, I liked the 11 seed in the East region going into the tournament, but I just thought Michigan State would be the one to make it through. But still, the fade of BYU did not let me down. UCLA held the Cougars to 17% from three in their first-round matchup after an overtime defeat of Michigan State in the first four.
The Bruins have turned up the notch exponentially for the defensively. They held BYU and Abilene Christian to 62 and 47 points, respectively, which is way below their season average of 73 points per game.
Offensively, the Bruins are getting points from their top guys. Johnny Juzang and Jaime Jaquez Jr. have three 20-point games between them this tournament and have scored in double figures in every game.
UCLA, being a PAC-12 team has not really gotten the respect they deserve in the postseason. However, the run they are on is very Cinderella-like as they try to become just the fifth 11 seed to advance to the Final Four.
East Region Sweet 16 Games:
Michigan vs Florida State
Odds: Michigan -2.5, O/U 143.5
Time: Sunday 5:00 pm ET
I think the most important part of this game is going to be the battle down low. Koprivica is going to need to find a way to slow down slow Hunter Dickinson and keep him at bay in the paint. Florida State has played well defensively as late but Michigan is on a completely different level in terms of creating ways to get the ball in the basket.
Then there is the question, "What is Michigan going to do about Raiquan Gray?"
I do not think that Johns Jr. is the best matchup for himself defensively. Franz Wagner is probably one of the best defenders on that Wolverines squad with his length, but he is giving up a lot of weight to Gray. If the Seminoles want to stay in this game, they are going to need a good outing from Gray who I feel like has a great matchup. He also is very underrated as a passer and I can see him making smart plays out of the double team and finding open shooters.
Florida State is 10-0 in their last ten against ranked teams. I think this is the game that the Wolverines miss Livers offensively and defensively. I like the Seminoles to win and cover.
The Pick: Florida State +2 (sprinkle some on the ML)
Alabama vs UCLA
Odds: Alabama -6.5 O/U 145.5
Time: Sunday 7:15 pm ET
Guard play is key.
This is a tremendous matchup between great guards for these two teams. Juzang and Jaquez are leading the charge for the Bruins in scoring. However, this Crimson Tide team is excellent at keeping opponents' guards down. The test is going to be what does this UCLA team looks like when their shots are not falling.
It's the same thing for the Crimson Tide. This Bruins team has taken it to another notch defensively and has proven this tournament they can contain the opposing teams offense. This is going to become a defensive struggle really quickly. Whoever can get their shots to fall first is going to win. I like the red hot shooting of Alabama to lift them up in this one on to the next round.
The Pick: Alabama -6.5
---
NCAA Tournament Sweet 16: South Region Predictions
NCAA Tournament Sweet 16: West Region Predictions