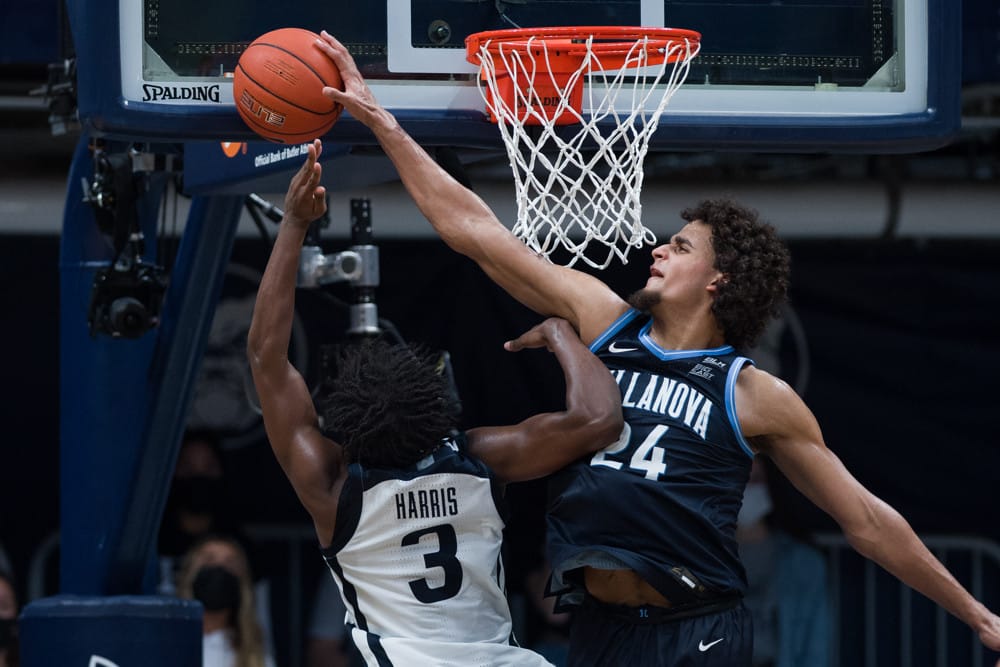 What a wild opening two rounds we've witnessed in this year's edition of March Madness. Per the usual, the best sporting event on the planet has delivered like it always does. The South Region, specifically, has had its share of excitement and intrigue. We've had buzzer-beaters, big upsets, and highly ranked Big 10 teams going down. Now that the smoke has cleared and the dust has settled, it's time to look at who's remaining and what games we have coming up next.

South Region Teams Remaining:
1 seed – Baylor Bears
Baylor got off to a sluggish start in round one against the Hartford Hawks. At the under-eight timeout in the first half, they were still down one and had only put 13 points on the scoreboard vs the 16 seed. Eventually, the Bears pulled away and won by more than 20 but certainly didn't look dominant in the process. Leading scorer, Jared Butler, only shot 5-16 from the field and 1-8 from three.
In the second round, Baylor squared off against Wisconsin (who was fresh off an 85-62 beating of UNC) and looked more impressive. With 12+ mins left in the first half, Baylor hit a three to go up 14-11 and never trailed for the remainder of the game. The Wisconsin backcourt simply couldn't hang with the more athletic Baylor guards. The Bears ratcheted up the intensity on defense and forced Badger guards Brad Davidson and D'mitrik Trice into a combined 8-28 from the field and 4-14 from three.  See highlights below.
Look, it's March – by now we know who Baylor is. Jared Butler, Macio Teague, and Davion Mitchell form the best backcourt in college basketball. Additionally, Adam Flagler and Matthew Mayer come off the bench to inject energy and provide a nice scoring punch. In the first round, it was Flagler who went 3-5 from deep and put up 12 points. In the second round, it was Mayer's turn as the senior from Austin hit 5 of 6 three-pointers on his way to scoring 17. The contributions from these guys are critical to Baylor's success.
The one glaring issue with Baylor is the complete lack of production from the frontcourt. Against Hartford, the two big men (Flo Thamba and Jonathan Tchamwa-Tchatchoua) combined for nine points on 4 of 11 shooting and only pulled down 7 rebounds. Against Wisconsin, it was even less impressive, with the two only totaling 6 points and 4 rebounds while only playing a combined 27 minutes. For the majority of the game, Baylor's played small ball and went with up to 5 guards on the court. Now it should be noted that while G/F Mark Vital is only 6'5" he weighs in at 250 which certainly helps around the rim. Plus, Matthew Mayer who while listed as a guard is about 6'8. Either way, Baylor could be in trouble against a real big man…say Villanova's Jeremiah Robinson-Earl perhaps.
3 seed – Arkansas Razorbacks
I will be the first to admit that I was wrong about the Razorbacks. I did not have this squad in the Sweet 16 as I was concerned about their lack of experience, especially on the perimeter. Head coach Eric Musselman deserves a lot of credit for getting another team back into the Sweet 16 (in 2018 he took Nevada).
With just over five minutes to go in the first half of the opening round game, Arkansas was down 33-19 to Colgate and I was patting myself on the back for fading the Razorbacks. Well, then Arkansas goes on a 17 point run to close the half and take the lead. Down big, Musselman decided to go with a full-court press which the athletically over-matched Raiders had no answer for. Colgate also had no answer for senior big man Justin Smith who scored 29 points, brought down 13 rebounds, and recorded five steals while playing the full 40.  See highlights below.
In round two, Arkansas saw their 13 point second-half lead evaporate to only one before hanging on for the win vs Texas Tech. Once again, Justin Smith led the way with 20 points on 9 of 11 shooting with six rebounds. However, the real story of this game was the suffocating defense Arkansas applied to the Red Raider perimeter players. Mac McClung was limited to 9 points on only 2 of 6 shooting while his other backcourt mates (Terrence Shannon Jr, Kevin McCullar, and Kyler Edwards) shot a combined 16 of 40 or 40% from the field.
Perhaps even more impressive, Arkansas has advanced without their backcourt guys playing up to their potential on the offensive side of the ball. Leading scorer, freshman Moses Moody, has had rather pedestrian scoring outputs of only 12 and 15 points in the first two games. Point Guard Jalen Tate has only shot 7 of 22 from the field while key reserve, JD Notae, has shot an abysmal 6 of 23. If the guards can step their games up moving forward, watch out for the Razorbacks.
5 seed – Villanova Wildcats
Who needs Collin Gillespie, right? Even without their senior PG, Villanova beat Winthrop and North Texas by double digits. While one could argue that the Wildcats have had a relatively easy path to the sweet 16, you can only play the teams in front of you, right? Now here comes a stiffer test vs one-seed Baylor.
Villanova pulled away in the second half of their opening-round game vs Winthrop and cruised to a 10 point win. The Wildcat D limited the Eagles to 36% shooting from the field and only 31% from deep. In the process, they completely shut down Winthrop's leading scorer, Chandler Vaudrin, to 9 points on 2 of 10 shooting. Jeremiah Robinson-Earl was an absolute beast scoring 22 points while snatching 11 boards and dishing out 6 dimes. Additionally, guards Justin Moore and Caleb Daniels filled in admirably for Gillispie, combining for 25 points.
Round two against the Mean Green of North Texas was even easier as Nova crushed the C-USA champion, 84-61. Robinson-Earl had another outstanding all-around game, scoring 18 points while collecting six rebounds and six assists. Again, Moore and Daniels had efficient games, this time combining for 26 points while committing only two turnovers. As a team, the Wildcats shot over 55% from the field and 50% from three on their way to the Sweet 16.  See highlights below.
Ok, so moving forward, Robinson-Earl is one of the best players in the country and we should expect similar performances from him every time he steps on the court. He will be an absolute mismatch against Baylor's limited frontcourt. The real question is if Caleb Daniels and Justin Moore can ride their hot streaks against a step-up in competition. Lastly, I'd be remiss if Nova's second-best player, Jermaine Samuels, went without mention. He's a swiss-army-knife type player that does a bit of everything for Jay Wright's squad. Through the first two games, Samuels has 26 points, 16 rebounds, and 6 steals.
15 seed – Oral Roberts
America's darling and the highest seed left in the tournament, the Golden Eagles of Oral Roberts dispatched 2-seeded Ohio State and 7-seeded Florida to reach the Sweet 16. The inside-outside combo of (G) Max Abmas and (F) Kevin Obanor has been absolutely lethal and the Summit League better watch out because these guys are only a sophomore and a junior, respectively.
In the 75-72 win against the Buckeyes, Obanor dropped 30 while Abmas put up 29. That's 59 of the 75 points or 78+% of the offensive output. In round two, Oral Roberts beat Florida 81-78 with Obanor scoring 28 points and Abmas with 26, for a combined 66+% of the offensive production. If Arkansas can limit just one of these guys, Oral Roberts will have a hard time advancing.
By now you have probably heard that Oral Roberts is one of the best free-throw shooting teams in the nation. Make no mistake about it, hitting 14-18 freebies against Ohio State and 19-23 against Florida is a major reason why the Golden Eagles are still alive. On the flip side, it's troubling how badly Oral Roberts has been outrebounded. Ohio State was +17 on the glass and Florida was +13. With no one on the roster over 6'8" it shouldn't come as a surprise, but it's an area that Arkansas should take full advantage of.  Here's the Oral Roberts comeback vs Florida.
South Region Sweet 16 Games:
Villanova vs Baylor
Odds: Baylor -6.5, O/U 139
Time: Saturday 5:15 ET
This matchup might come down to how effective Baylor is at slowing down Jeremiah Robinson-Earl. On paper, Robinson-Earl has a clear advantage over anyone Baylor can put on the court. However, the same is true when comparing Baylor's backcourt to the Gillispie-less Wildcat perimeter.
We assume that at some point Villanova will really miss Collin Gillespie and I have a feeling that time is now. In Nova's loss to Georgetown in the Big East tournament, Justin Moore had a solid game with 10 points and a couple of assists, but Nova got absolutely nothing from Caleb Daniels, Chris Arcidiacono, and others. Usually, when the calendar turns to March, it's more beneficial to have the edge on the perimeter than having the better frontcourt. I like Baylor to get it done but my overall respect and admiration for the Vilanova program makes me think they'll keep it close.
The Pick: Villanova + 6.5 (Baylor wins outright)
---
Oral Roberts vs Arkansas
Odds: Arkansas -11, O/U 159
Time: Saturday 7:25 ET
This is actually a rematch of a game that took place on December 20th in Fayetteville. In that game, Oral Roberts was up by 10 at halftime only to be outscored by the Razorbacks by 21 in the second half to lose by 11. Kevin Obanor had 21 and 10, but Max Abmas only had 11 points while shooting 4-11 from the field and 1-6 from three.
While Oral Roberts came up with outstanding offensive performances vs Ohio State and Florida, those schools rank 81st and 42nd in the country in Adjusted Defense. Arkansas ranks 10th. The Razorback size and athleticism will wreak havoc on Oral Roberts and make it difficult for Abmas again.
While I'll be pulling for the dog, I'm afraid that Arkansas is a much better team in March than they were in December. Remember, five of Arkansas's top six guys are either freshman or transfers new to the program. They have improved as the season has progressed and are a matchup nightmare for Oral Roberts.  Now with a couple of NCAA tournament wins under their belt, Arkansas is primed to advance even further.
The Pick: Arkansas -11