I feel like I need to get this UFC 260 predictions column typed and published post haste, as this card is in seemingly endless disarray. Fights and fighters are falling off it and being added by the minute, so hopefully by the time you read this it is still relevant (you can check out the updated fight card right here).
So, without further ado, here are all the winning picks for Saturday's pay-per-view.
RELATED
Fighting Styles Should Influence Your UFC Betting Picks
8 UFC Stats That Will Win You Money
All odd courtesy of PointsBet
UFC 260 Predictions
Francis Ngannou (-130) vs Stipe Miocic
Francis Ngannou is a big, scary dude. That is the main reason I'm picking him to win the UFC Heavyweight Championship on Saturday. Size and strength and athleticism are cheat codes in MMA, especially in the heavyweight division, and Ngannou has them in spades. Despite Stipe Miocic beating him in their first encounter three years ago, I doubt his chin is still solid enough to withstand the blows the challenger is bound to land Saturday night in Las Vegas.
Vicente Luque (-260) vs Tyron Woodley
Former welterweight king Tyron Woodley hasn't just looked bad in his last few fights – he's looked utterly hopeless in the last 70+ minutes in the cage, basically not winning one second of the action. He definitely looks like a fighter who is shot. Vicente Luque should be able to pick him apart and perhaps send him into retirement.
Sean O'Malley (-350) vs Thomas Almeida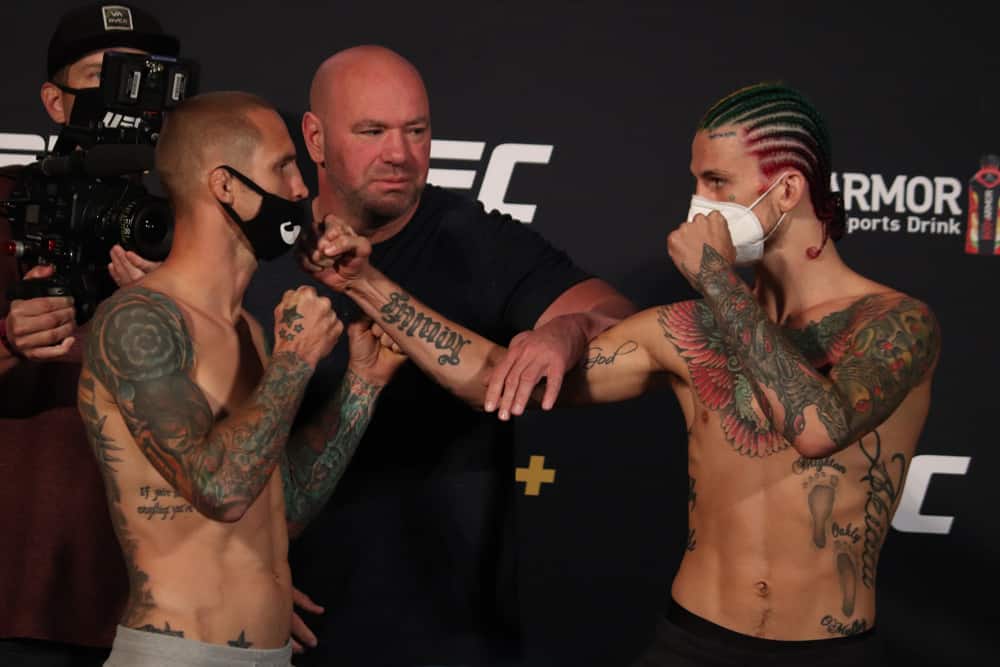 'Sugar' Sean O'Malley might look like a clown and act like a clown and talk like a clown, but he's a fairly decent MMA prospect. While he got knocked out his last fight – a fight he oddly claims he still won – his opponent on Saturday has lost three straight and hasn't won a fight since 2016! While O'Malley has holes in his game, he should be able to finish Thomas Almeida in pretty quick order.
Miranda Maverick (-170) vs Gillian Robertson
While Gillian Robertson is a grappling wizard, I highly doubt she'll be able to display this against the more physically dominant Miranda Maverick on Saturday. Maverick has the makings of a real top prospect and should be able to dictate how this fight unfolds this weekend.
Khama Worthy (-135) vs Jamie Mullarkey
Jamie Mullarkey has yet to secure his first UFC win despite two kicks at the can, and Khama Worthy is a dangerous striker who will have the advantage on the feet in this one. He's the pick.

Alonzo Menifield (-250 – not posted on PB yet) vs Fabio Cherant
Fabio Cherant could be a UFC caliber fighter, but he's making his debut here on extremely short notice – he was announced for this fight yesterday. Alonzo Menifield also has the distinct striking advantage, so he's the easy choice to get the W here.
Abubakar Nurmagomedov (-250) vs Jared Gooden
I think Abubakar is actually his more famous namesake Khabib's blood cousin, but it's hard to keep track – there are lots of Nurmadomedov's floating around the MMA space. Regardless, he is a bit overrated due to his famous last name, but is still a formidable enough grappler to beat Jared Gooden.
Modestas Bukauskas (+140 – not posted on PB yet) vs Michal Oleksiejczuk
Despite getting KO'd in his last fight, Modestas Bukauskas is a solid light heavyweight prospect and not one to be overlooked. I'm liking getting him for plus money against Michal Oleksiejczuk, who hasn't been anything more than average during his UFC career.
Omar Morales (-180 – not posted on PB yet) vs Shane Young
This fight is on-again, off-again, but we'll assume it's going to happen (it all depends on Shane Young continuing to pass COVID tests, considering he was in contact with an infected teammate recently). Omar Morales has the grappling chops and the size to get his hand raised on Saturday.
Marc-Andre Barriault (-125) vs Abu Azaitar
The curtain jerker features two guys coming off of drug suspensions, with Abu Azaitar being out of action since 2018. I'm going with my fellow Canadian, Marc-Andre Barriault, since he's bigger, younger and a superior striker.
UFC Predictions Overall Results 
Overall Record: 366-313
2021
Record: 57-55
Earnings:  -($2293.73)
Return on Investment:   -(20.5)%
UFC 260 Predictions Related Posts
UFC 260 Preview & Picks | MMA Gambling Podcast (Ep. 23)