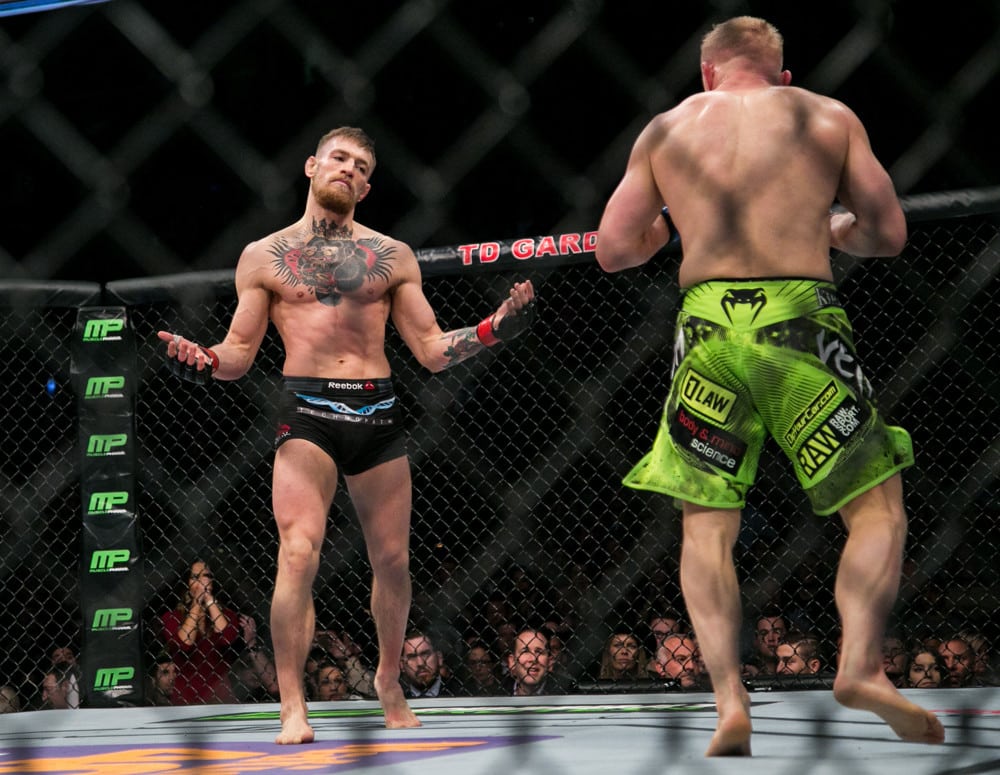 For such a young sport, mixed martial arts has more than its share of famous expressions. "Do you want to be a fighter?" "Who the fook is that guy?!" "Send me location." But none of those are applicable to UFC betting strategies. One that is, however, is "Styles make fights." Researching fighting styles can help with your UFC predictions.
"Styles makes fights" is one that you hear all the time. If you do your research on MMA fighting styles, it does help with pick UFC winners. With MMA being the ultimate one-on-one sport, the various skills, styles, and strategies a fighter brings with him/herself into the cage has an enormous effect on the outcome of a fight.
This was more pronounced in the olden days of MMA, when you'd have one-dimensional fighters and you'd get matchups like "BJJ vs boxing" or "brawler vs sumo wrestler." Modern MMA contains elite athletes with well-rounded skill sets. With that being said, the majority of pugilists still have a preferred style of fighting, or at least one where they excel more in.
Let's take a look at a few fight style matchups that you can take advantage of and make some sweet, sweet coin off of.
Knockout Artist vs Glass Jaw
Another absolute in life you can add to "death and taxes" is that once a fighter loses their chin, it's all over for them. By chin I mean a fighter's ability to eat a strike to their head without having the lights go out on them. It happens to every fighter eventually, no matter how iron their jaw is, if they stick around in the game long enough they lose their chin. And once a fighter loses the ability to absorb strikes, it's lights out for them, not just in that fight, but in their career. However, often the fighter is the last to realize this.
Take the example of former UFC Middleweight Champion Chris Weidman. He was a perfect 13-0 as a pro heading into his title defense against Luke Rockhold at UFC 194 in December of 2015. Rockhold, whose career would also go down the tubes due to becoming "chinny", knocked out Weidman that night and the former champ has never been the same. In the seven fights since that time, he's 2-5, with 5 KNOCKOUT LOSSES! His only wins have come against wrestlers in Kelvin Gastelum and Omari Akhmedov. Yet Weidman still thinks he can eat punches and has another title run in him.
When you come across a fighter like this who has been getting knocked out consistently of late, and he/she is going up against a knockout artist, fade them big time. Even better, you can make more money by playing a prop for that fighter to win via knockout. Oh, and Weidman's next fight? That would be against knockout machine Uriah Hall, who is currently only a small betting favorite.
Wrestler vs Kickboxer
Perhaps the most important skill to have in a MMA fight is the ability to dictate where a fight takes place. If you're able to keep the fight in the realm that you are most comfortable and most successful in, you've got a leg up on your opponent. The most obvious example of this, and the one most exploited, is when a very strong wrestler goes up against a striker with weak takedown defense. Or, even better, a kickboxer who throws lots of kicks which allows a wrestler to attack their legs and take them down.
Simple way to bet on this is head over to UFC Stats and check out upcoming match ups. If you see a fighter with high takedowns going against a fighter with poor takedown defense, Bob's your uncle (Bob is actually my father-in-law, but nonetheless).
BJJ Wizard vs Tap Machine
Another simple style matchup you can look up and take advantage of is BJJ Wizard vs Tap Machine. If a fighter is a submission wizard and he/she is going up against someone who has lots of submission losses on their record, then you've got yourself a bet. Plus this is another one where you can get some of that sweet prop action betting on the fight ending via submission.
Old Dog vs Young Pup
This was one I highlighted in a recent UFC betting article on stats that can help you win your bets. Not to be an "ageist" here, since I'm noticing more and more gray in the old beard and the remaining hair on my head I have, but athletics are a young man's game. And mixed martial arts is no different. In that aforementioned article, I revealed that the younger fighter has won their fight 59% of the time in 2020 in the UFC. Since publishing that story, that number has become even more pronounced – it's up to 62%. While this is perhaps not a "style" issue, it is still a matchup variable that you can hammer for profit. When you see an age gap between fighters (the bigger the better), put your money on the young pup.