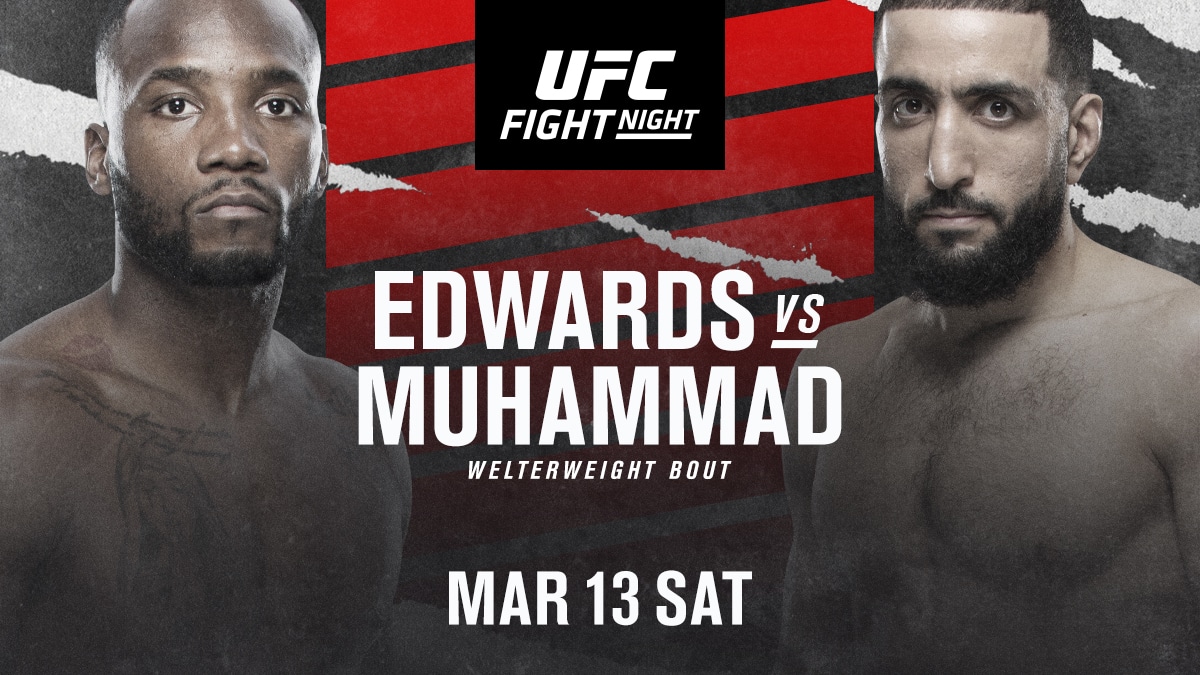 The good thing about the UFC is when you have a crummy betting week, like I did last week going 6-9, you can immediately plot on turning things around with the next event. Which I plan on doing this week with my totally perfect UFC Vegas 21 predictions. Let's try to make that a reality.
RELATED
Fighting Styles Should Influence Your UFC Betting Picks
8 UFC Stats That Will Win You Money
All odd courtesy of PointsBet
UFC Vegas 21 Predictions
Leon Edwards (-280) vs Belal Muhammad
We've got two contrasts here in our welterweight top contender main event – inactivity vs immediate turnaround. Leon Edwards has been out of action since July of 2019, while Belal Muhammad just fought a month ago and jumped into this matchup as a last minute replacement. The stats say late replacements fair far worse than inactive fighters (38% win percentage vs 49%), plus I think Edwards is the superior fighter, so he's my pick.
Misha Cirkunov (-130) vs Ryan Spann
I've gotten a reputation for picking against my fellow Canadians, but I'm bucking that trend and riding with Misha Cirkunov in this light heavyweight battle. He's just the better fighter of the two, both in terms of striking and grappling, and Ryan Spann is coming off of getting knocked out in his last fight.
Dan Ige (-145) vs Gavin Tucker
And just like that I've reverted to type and I've picking against Canadian Gavin Tucker. I'm not super confident in this pick, but I think Dan Ige has the goods to get the job done here against the late replacement Canadian. He's bigger, younger and has the ever-important striking stats in his favor.
Davey Grant (+240) vs Jonathan Martinez
My MMA Gambling Podcast co-host Daniel 'Gumby' Vreeland is very good at picking undercard winners, and he likes Davey Grant in this one (this fight has since been moved up to the main portion of Saturday's card). As do I. Grant has only lost via submission in his career, and that's not Jonathan Martinez's game. Plus Grant has the striking and grappling stats on his side and is coming off of a nice knockout win. It's worth a roll of the dice for almost 2.5 times our money.
Matheus Nicolau (+115) vs Manel Kape
Back-to-back live dogs here as I'm also backing flyweight Matheus Nicolau. Nicolau went 3-1 in his first UFC run before being cut because it looked like the promotion was eliminating the weight class. After winning two straight outside of the octagon, he's back, fighting top prospect Manel Kape, who didn't look very good in his UFC debut recently. I'm liking this plus money.
Darren Stewart (-190) vs Eryk Anders
You've got to back a fighter nicknamed 'The Dentist', right?! Plus Darren Stewart is the superior fighter here, with edges in striking and grappling, as well as being the younger fighter (the younger fighter wins 60% of the time).

Angela Hill (-375) vs Ashley Yoder
The (current) main event of the prelims is a rematch four years in the making (that was delayed a little longer after being cancelled last minute a few weeks ago). Angela Hill won the original fight via unanimous decision, and that's my exact prediction for the outcome of part two.
Charles Jourdain (-270) vs Marcelo Rojo
Marcelo Rojo is taking this fight on short notice, hasn't fought since September of 2019, and will be moving up a weight class. Plus, Charles Jourdain is just plain better. Keep it simple.
Rani Yahya (-300) vs Ray Rodriguez
Almost 20-year veteran Rani Yahya is a demon on the ground, and Ray Rodriguez has been submitted eight times. Yahya via submission is the prop bet to play.
Nasrat Haqparast (-375, not on PB yet) vs Rafa Garcia
UFC newcomer Rafa Garcia is taking this fight on just a few day's notice, and Nasrat Haqparast is a stud, so this is an easy pick.
Cortney Casey (+120) vs JJ Aldrich
I'm taking another dog here, and another one that co-host Dan agrees with (for what that's worth). I like Cortney Casey's resume better, and she's a stronger grappler than JJ Aldrich.
Jinh Yu Frey (+150, not on PB yet) vs Gloria de Paula
This is probably former Invicta FC Atomweight Champion Jinh Yu Frey's last chance to salvage her UFC career, having dropped her first two fights in the octagon. I think her experience and grappling gets the job done against the debuting Gloria de Paula.
Matthew Semelsberger (-130) vs Jason Witt
Matthew Semelsberger is my "lock" pick of the week. He's bigger, longer, younger and a better fighter than Jason Witt, as well as being on a four fight winning streak.
UFC Predictions Overall Results 
Overall Record: 351-307
2021
Record: 42-49
Earnings:  -($2758.42)
Return on Investment:   -(30.3)%
UFC Vegas 21 Predictions Related Posts
UFC Vegas 21 Preview & Picks | MMA Gambling Podcast (Ep. 19)