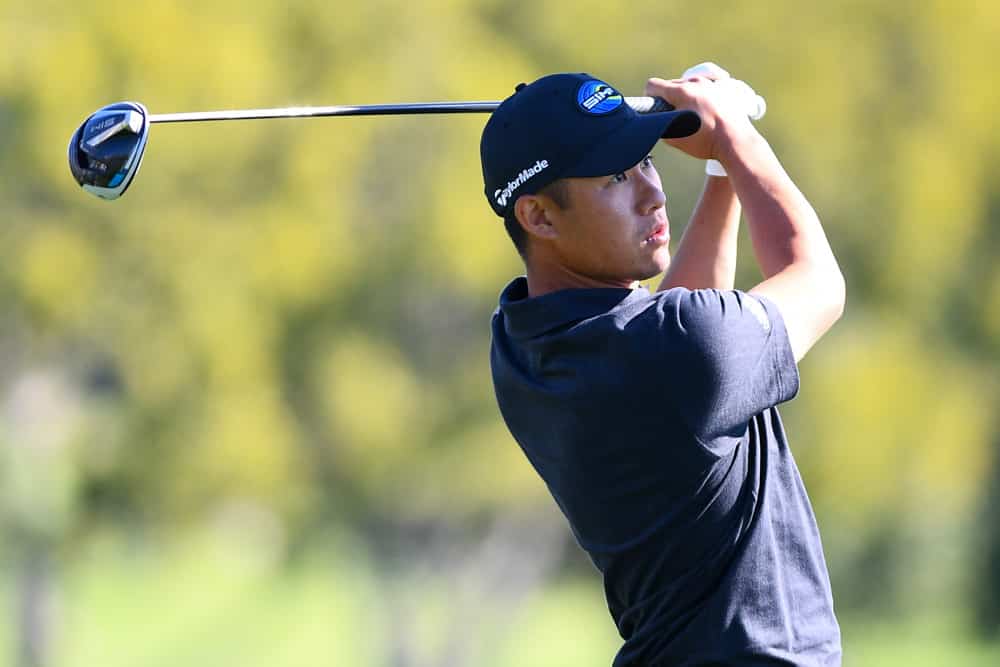 For those who missed it, check out the The Players Championship at TPC Sawgrass Preview and Betting Strategies for the types of golfers you should look to target for your picks. Using that as a guide, let's take a look at some of the best bets to make this week. Here are my 2021 Players Championship Picks (odds courtesy of PointsBet, *Promo Code SGP*)
The Players Championship Picks:
Outright Winners
Justin Thomas – 20/1
This is an auto-bet. A player with as much win equity and talent as Justin Thomas possesses should never be 20/1+ on a book. Even with his struggles, two weeks is an eternity for an elite player to get right. Maybe he straightened out his off-the-tee woes that have plagued him over his last few tournaments. Maybe he found some magic with the putter. Maybe his head is in a good place after some off-the-course issues. There are a lot of unmeasurable variables that bettors can't account for when looking just at his recent form.
In addition, the TPC Sawgrass he'll face this week fits his strengths. With the overseed, the golf course will play slow and soft. That allows Justin Thomas to fire at pin positions with his elite iron game. The weather also looks to be very scoreable this week, which favors Justin Thomas even more. He's a great pick for the Players Championship this week.
Collin Morikawa – 20/1
I learned the hard way a few weeks back that when a book undervalues Collin Morikawa, bet it blind. I resisted because of the struggles with the putter. I missed out on a big payday when he won the WGC – Workday Championship at The Concession.
I'm not making the same mistake twice. While 20/1 isn't as appealing a number, it's still too low for the win equity Morikawa possesses. He's a Top 3 ball-striker in this field and should pepper the soft TPC Sawgrass greens for great looks at birdie. His precision off the tee should keep him out of the trouble areas around the golf course. I have zero concerns tee-to-green about Collin Morikawa at TPC Sawgrass.
Whether he wins the tournament will come down to how well he putts. It's worth betting Morikawa at 20/1 to find out if he can show form with the flat stick.

Patrick Cantlay – 20/1
Earlier in the week when I found Patrick Cantlay 25/1, I hammered it immediately. Ever since he's been a popular Players Championship pick all week. As a result, he has been bet down to 20/1 as of this morning. He's even dipped into the teens on some other books. PointsBet currently has a price on Cantlay better than the market.
There are several arguments for Patrick Cantlay this week. He's one of the most complete golfers in the field. He has virtually no weaknesses tee-to-green and his putter has come alive over the last few months. He also shows well on both similar Pete Dye golf courses and other places that demand positional golf. Cantlay might check the most boxes of anyone in the field for a bettor.
Unfortunately, popular picks generally don't work out well for bettors. I wouldn't be surprised if he was the most bet golfer on the books this week. If you don't like following the crowd, Cantlay probably isn't for you this week. But if you want to bet a player who fits TPC Sawgrass perfectly and you believe he can be a Golf Betting Industry winner for everyone, he's your man.
Tyrrell Hatton – 33/1
Bettors may have soured on Tyrrell Hatton as a viable Players Championship pick. He was a popular bet for the WGC – Workday Championship and failed to live up to expectations. He was again a popular pick last week for the Arnold Palmer Invitational. After a disastrous 77 in Round 1, bettors ripped up their outright tickets by the end of the evening.
I have not soured on Hatton. I won't give up on a player who gained over 10 strokes tee-to-green the week prior. That's more than good enough to win a golf tournament. What isn't good enough is offsetting that by losing nearly five strokes putting. Hatton's long-term putting metrics are strong, though, and I expect a regression towards his mean.
He also is a proven winner, earning victories in strong fields both here and abroad over the last 12 months. With better fortunes on the greens at TPC Sawgrass, he's a great pick to win the Players Championship.
Paul Casey – 50/1
Paul Casey did not come through for me at Bay Hill. But I'm going back to the well at a reduced price. All the reasons I liked Paul Casey last week apply to this week. His ball-striking over the last few months has been tremendous, and he's significantly improved his putting. He's the solid, consistent player tee-to-green that thrives at TPC Sawgrass. With newfound form on the greens, it might propel him to victory.
Louis Oosthuizen – 80/1
Louis Oosthuizen also did not come through for me at Bay Hill. But his reason was a much more annoying one. Oosthuizen didn't even make it to this tee time and withdrew shortly after the tournament began. The visions I had of Louis donning the red Arnold Palmer sweater on Sunday were simply a pipe dream.
Luckily, my bet on him was no actioned. So why not take that bet and roll it into this week! While the last-minute withdrawal was curious, my opinion of his game from last week hasn't changed a bit. Oosthuizen has shown tremendous form over the last couple of months with a series of strong performances. The concerns I have with his irons is slightly alleviated because of the steady improvement he showed over his last three tournaments.
For anyone else who saw their pre-tournament bet on Louis Oosthuizen last week refunded, pick him to win the Players Championship again at a discounted price.
The Players Championship Picks:
Positional & Other Props
Xander Schauffele Top 10 – +220
Like the others listed above, Xander Schauffele is also 20/1 to win this week. I considered long and hard on betting him outright, but ultimately he didn't make the cut. Instead, betting him on a Top 10 prop is the avenue I will take.
Admittedly, Schauffele has been a little flat over his last two tournaments. It's primarily his putting that has dragged him down. Otherwise, the form tee-to-green is still as strong and consistent as it was for the last few months. Xander is a great putter and a regression to his mean is overdue.
If he wins the Players, so be it. At least I'll have a small piece of his success with this.
Daniel Berger Top 10 – +400
Daniel Berger is getting a little lost in the shuffle this week. Maybe because he disappointed at the WGC – Workday Championship. But overall his long-term ball striking and putting statistics makes him an ideal fit for TPC Sawgrass.
Berger scores well in Strokes Gained Off-The-Tee through accuracy, not distance. Distance is mitigated at TPC Sawgrass, so that gives Berger an edge. He also has struck his irons very well and is a tremendous putter. He's a great pick to finish inside the Top 10 at The Players Championship.
Scottie Scheffler Top 10 – +400
Scottie Scheffler is playing tremendous golf. Over his last five tournaments, he has gained 1.27 strokes per round tee-to-green. He has demonstrated a high upside with his putter in recent form. And he was very strong on a tough and demanding golf course at The Concession. Scheffler is more than capable of delivering just as strong a performance at TPC Sawgrass. Include him with your Top 10 player props this week.
Joaquin Niemann Top 20 – +250
The bold would go a step further and bet Joaquin Niemann 66/1 this week. For those not as risky, may I suggest Top 20 at +250?
Joaquin Niemann has gained over 1.5 strokes per round tee-to-green in the last 16 rounds. That's good enough to overcome the lack of course history he has a TPC Sawgrass. He's a great pick for a Top 20 at the Players Championship this week.
Brian Harman Top 20 – +700
Brian Harman is a solid, respectable golfer with enough game for a decent showing. He's an accurate player tee-to-green and is a great putter. He also has a few great finishes at TPC Sawgrass over the last few years. Harman finished T8 at both the 2015 and 2019 Players Championship. The T8 in 2019 shows that he can still produce on a slow, soft, and overseeded TPC Sawgrass. Another good solid finish may be in the cards for him.
Other Top 20 Props to Consider:
Cameron Smith +250
Abraham Ancer +300
Billy Horschel +320
Max Homa +400
Kevin Na – +500
Cameron Davis +600
Matthew NeSmith +900
Rory Sabbatini +1200
Bo Hoag +1200
Cut Line 143 or Less – +190
Since the overseed was applied to the golf course for the March date, the golf course has played much easier than it played in May. The overseeded ryegrass and greens played much softer and forgiving than the crispy, firm Bermudagrass the tournament saw when it was held in May. In such conditions, players fired at receptive greens for many chances at birdie. The fairways also played softer and the rough was no longer as penal either. Much of the bite has been taken out of TPC Sawgrass.
In 2019, the cut line was 143. In 2020, it was well on its way to being under par before the tournament was canceled after Round 1. In ideal scoring conditions, 83 players finished the day under par. If the field was cut there, 143 would have been the cut line. And with another round of play in yet more ideal scoring conditions, the cut line would have moved even further under par.
The weather the first two days looks ideal for scoring once again. The golf course will be bathed in sunshine and not see much wind. Scoring could be a little tougher if the PGA Tour learned its lessons the first two years and firm up the golf course. It's a possibility given the complaints players had for numerous mud balls they experienced during Round 1 in 2020.
If not, however, expect low scoring across Thursday and Friday once again. The cut line should be under par, which would cash this prop.
The Players Invitational Picks:
Matchup Props
Rory McIlroy -120 over Bryson DeChambeau
I consider myself a Bryson DeChambeau whisperer. I felt he would struggle at The Concession because he had to play positional golf and couldn't blast it over all the trouble. I was right. I felt last week that Bay Hill set up well for him because he had the ability to cut dog legs and access areas of the golf course others could not. I was right again.
So I feel very confident that Bryson won't enjoy similar advantages over the field at TPC Sawgrass as he did last week at Bay Hill.  With so many forced layups, Bryson must play positional golf and test himself with his irons. In tournaments like these, Bryson tends to struggle.
Meanwhile, while Rory McIlroy has issues closing while in contention he continues to put up consistent finishes week after week. He should do enough to beat Bryson straight up at TPC Sawgrass.
Tyrrell Hatton -115 over Hideki Matsuyama
My praise for Tyrrell Hatton is above. As for Hideki Matsuyama, his form has significantly fallen off. Though he consistently makes cuts, he never seems to be in the mix for a win anymore.
The reason for his struggles is in his ball-striking numbers. Over his last 50 rounds, Matsuyama only gains about 0.6 strokes per round off the tee and with his irons. And over his last 16 rounds, he is only gaining about 0.4 strokes per round with those same clubs. While these are good clips for most players, it's a far cry from what he once was. In fact, it's his putting lately that has saved him. Given he's historically an atrocious putter, that's a big surprise. That's bound to end at some point. And when it does, without an improvement in his ball-striking his finishes will greatly suffer.
As such, Hatton is my pick to beat Hideki Matsuyama at the Players Championship.
Tommy Fleetwood -120 over Adam Scott
This matchup pairs two golfers going in opposite directions. In one corner, Tommy Fleetwood continued his display of solid ball striking with a good finish at Bay Hill. In the other corner, Adam Scott has lost 0.46 strokes per round tee-to-green over his last 15 rounds. The only thing going for Adam Scott is his wonderful course history at TPC Sawgrass. That same strength is also shared with Fleetwood. Take Tommy Fleetwood head to head over Adam Scott at about coin-flip odds.
RELATED CONTENT
The Players Championship Picks & Props Show | Golf Gambling Podcast (Ep. 38)
2021 The Players Championship DraftKings Picks
The Players Championship DFS Picks w/ Nagels Bagels | Golf Gambling Podcast (Ep. 37)
The Players Championship Preview Show | Golf Gambling Podcast (Ep. 36)
The Players Championship at TPC Sawgrass Preview and Betting Strategies