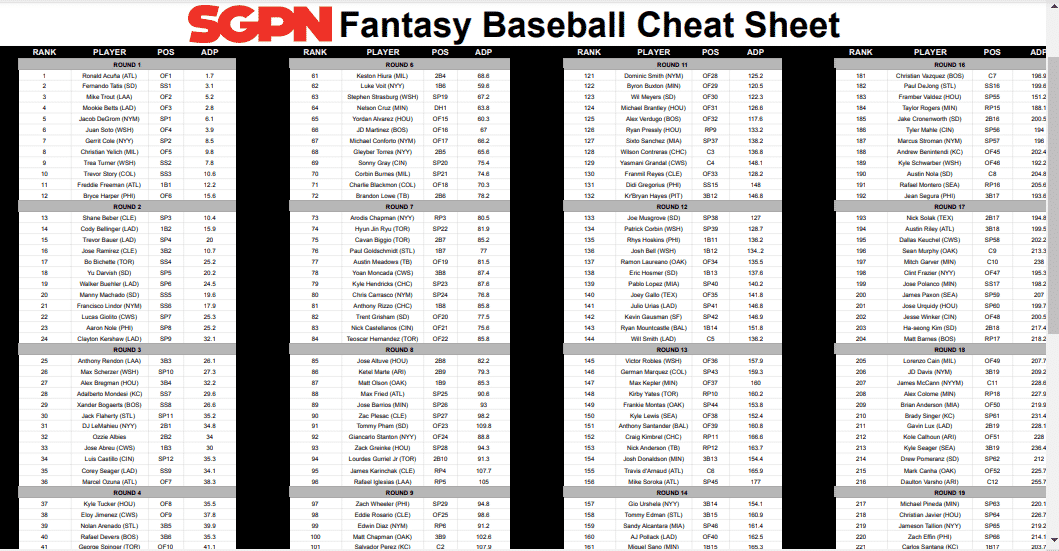 The pitchers and catchers have arrived. The games have started. The rosters are taking shape. You know what all of this means – it's time for fantasy baseball. And we've got the cheat sheet to start you off on the right foot. Printable and fully customizable – the round by round breakdown laid out here is perfect for setting those targets.
With all of the weirdness of last season, you're likely in the dark on the location of some players. However, with all the info provided here, you'll be the expert of your draft. Speaking of which, with opening day less than a month away, that draft is right around the corner. So peep the lists below to make sure you don't miss on the next big prospect that can win you the big buck.
For the sake of positioning, I've listed each player where it would be most advantageous to draft them. For instance, Vladimir Guerrero Jr. is eligible to play at first or third base. Because he would be the seventh third baseman off the board, but only the fifth first baseman, he's listed as the 1B5.
2021 Fantasy Baseball Rankings
Click here for a printable PDF version.
Click here for the customizable Google Sheets version. You can download this version in Microsoft Excel (.xlsx) or .csv file. Then you'll be able to customize the rankings to fit your needs, leans, and specific league rules. You can also make a copy for your own Google Drive and edit or share it from there.

More MLB Content
For more great MLB content, check out all that we have under the MLB tab. If you're looking to get started Malcolm Bamford provided a solid guide to jumping into fantasy baseball. There's also plenty of articles about win total as well as more goodness on the way. Don't miss any of it.