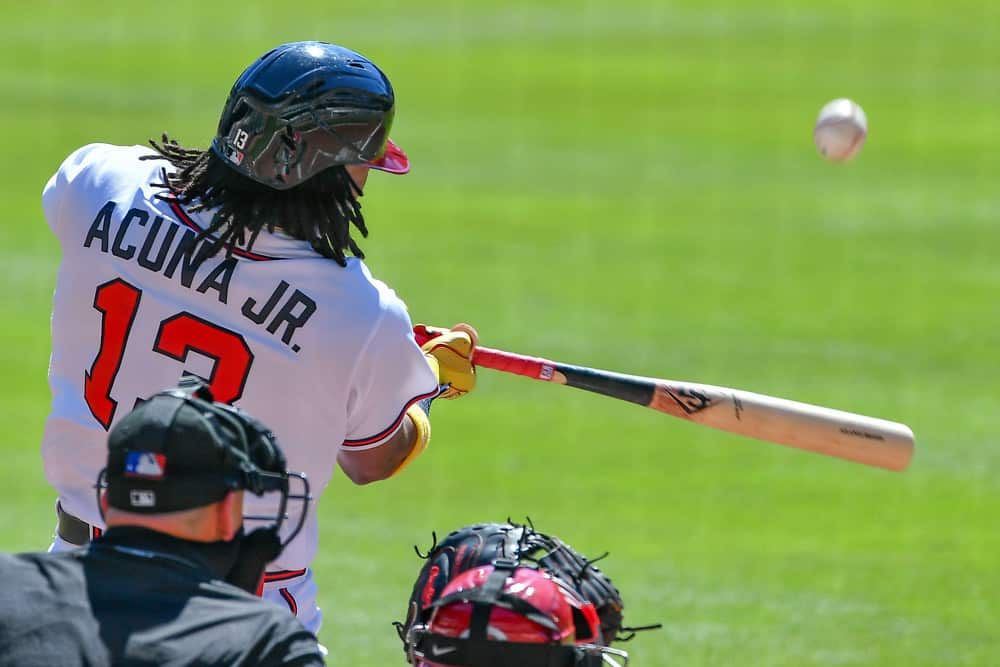 The Great Fantasy Baseball Invitational is a league for those in the industry of producing fantasy content, and at the SGPN we intend to dominate baseball like we do football. I'm representing the degens in this year's TGFBI, so I thought I'd throw out an introduction to fantasy baseball before I get into how I'm going to try and take down this tourney.
Choose the Correct Format For You
Fantasy Baseball comes in a lot of guises and finding one that suits you is a skill in itself. The season is long, and this can be mirrored in your fantasy experience.
Simpler Formats – If you want to draft a team and forget it, find a 'Draft and Hold' or 'Bestball' league. These minimize the amount of attention that you have to pay during the year and you can check in and see how you're doing at your leisure.
Deeper Formats – If you want to be more involved, look for a league with, for instance, a waiver wire, FAAB, trades and roster lock deadlines. nfc.shgn.com are hosting TGFBI and have a wide range of leagues and at Fantrax.com you can find a game for $10 or even get your home-league hosted. A points league scores similar to DFS, points gained by doing good stuff and lost by doing bad stuff. Roto leagues take five pitching categories and five hitting categories and you score points through ranking in each of these 10 areas.
Know the Rules
As obvious as this sounds, knowing the rules and nuances of your league gives you a huge advantage. I guarantee you that there will be players in your league who can not win because they aren't fully aware of what is required.
Things to be aware of:
Scoring system – is one category weighted more than another? Is a league OBP over ERA? Do relievers score points for holds? Is there a minimum or maximum number of Starting Pitchers (SPs) you can use.? One or two Catchers? Knowing this and drafting accordingly gives you an edge on your competitors.
Roster lock times
Does your league have one lock-time per week or is it two? Lots of leagues let you change your hitting line-up midweek. You can maximize playing time and match-ups by tinkering with your team. Use a pitcher making two starts that week or drop a one-start man with a tough opponent.
Resources
The fantasy baseball industry is big, there are hundreds of podcasts and websites you can use. My advice would be to find two or three that you like and stick with them. It's impossible to consume all of the content out there and you'll end up tying yourself in knots. Average Draft Position is a good guide when drafting, but that's what it is, a guide. Each pick differs due to the needs of your roster at that time and the specific requirements of your league. You can't always just go out and draft the best player available. I love using the Roster Resource section of fanraphs.com – playing time is key, and this will give you up to the minute projected lineups.
TGFBI Strategy
TGFBI is a 15 team, 5×5 roto league. Thirty roster spots with a weekly FAAB waiver wire. The five hitting categories are batting average, runs, RBI's, home runs and stolen bases. The pitching categories are ERA, strikeouts, WHIP (walks+hits per innings pitched). Here is how I'll be attacking the draft.
Play all 10 categories – it can be tempting to punt a category, especially one of the specialist ones (steals and saves, more to follow) but remaining competitive in your weakest categories means you can capitalize on your strongest.
Draft a solid base – I'll be looking to get out of Round 4 with two pitchers. This position thins out quicker than the hitter pool and there is a real elite tier of studs.
Don't just fill open spots – there may be better players at a spot you've already filled than those at a spot that you still have empty. Take them – it's a long season and you're going to use a lot of bodies.
Roster flexibility – players who are multi-position eligible can really help you. As a result, it's less likely that an injury or two will cripple your lineup. Don't get hung up on it every round but you'll be grateful for them as the season progresses.
Saves and Steals – these are the stand alone categories. If you let these categories slide too long in the draft it can be very hard to catch up. Get some top end speed early – it really does save you a headache later in the draft. Use projections to find players that can steal you bases, especially in the later rounds. Sneaky steals can win you a league. Saves are a nightmare. Most of them are left on the waiver wire at the end of the draft and as a result you have to be really lucky. Look to pick up a closer every 10 rounds. Use Roster Resource and projected bullpen lineups to find your guys then cross your fingers.
Middle Rounds – address any shortfalls you have in a category. Pick those players that can improve an area you're lacking in without hurting the others.
Late Rounds – by now you know how your team will look starting the season, but what will it look like by the autumn?  Drafting rookies that you think will get called up later in the year, or players starting the season injured but slated to return will give your team a boost as you hit the home-stretch.
Get your guys! – it's a game and it's fun. If you have a player you like watching don't be afraid to reach and get them.
Fantasy baseball can seem daunting, but find a league that you like and understand and I promise you'll love it.
Read this: