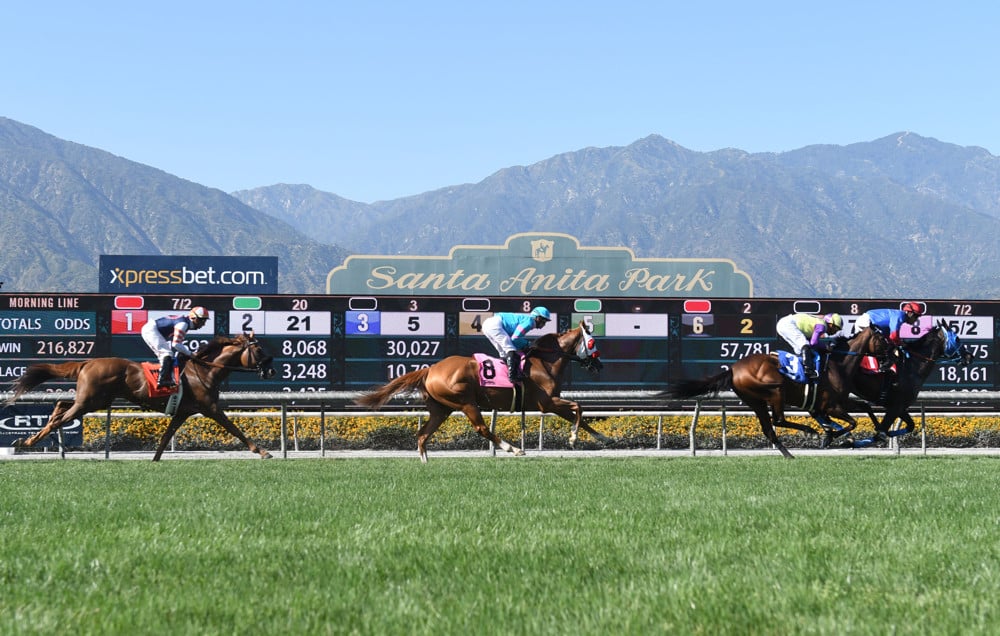 The Grade 1 Santa Anita Handicap tops off a good days racing in the shadow of the San Gabriel mountains on Saturday evening.  The original Hundred Grander, offering $100,000 at its inception in 1935, was also a byword for the career of the legendary Seabiscuit, who eventually took down the Big 'Cap aged seven in 1940. This weekend's renewal is worth $400,000, so let's look at finding the winner.
The Race
Now for four-year-olds and upwards, the 1m2f Grade 1 event will be contested by a manageable field of nine runners. I don't anticipate any traffic problems. The track is big and fair. We have an apparent front-runner and a raft of closers. In other words, no excuses, let's get amongst it.

The Contenders
Maxfield – Evs is the obvious one. The horse is five for five. Juvenile wins and recent successes sandwiched a missed triple crown year through injuries. Connections want to make up for lost time and are using The Santa Anita Handicap as a stepping stone to the Dubai World Cup. Florent Geroux had to do little more than shake the reigns three weeks ago when he won the Grade 3 Mineshaft Stakes. This is a proper horse.
King Guillermo – 14/1looked set for better things after he won the Tampa Bay Derby last March. Trainer Juan Carlos Avila has continued to try the horse in good company, but he struggles to lay a glove on horses in top class company. His last run was a concern, finishing behind a lot of today's opponents. Until we see more, the King is dead.
Idol – 7/1 is lightly raced for a four year old. As a result of this you get the impression that there is more to come from him. He was favorite for the San Pasqual Stakes in January but took an age to get organized in the stretch, possibly an indication of his lack of racing. He finished strongly and is worth another shot.
Multiplier – 33/1 is a grand old performer. The seven year old could get around Santa Anita with his eyes shut and ran well last time in the San Gabriel Stakes. However, his last win was in a Claimer and was his first in 23 attempts. He'll run his race but will be no match for the younger horses.
Independence Hall – 13/2 ran third in the Grade 1 Pegasus World Cup, which is solid form. To my eye, however, he did little more than plug on at one pace and will struggle to pick up when others press the button here. Graded company has been an issue for him since his juvenile days, which tells me there'll be a few too good here.
Tizamagician – 16/1  is the speed angle and is the one I hope sets the race up for the latecomers. He should get to the front uncontested, but won't stay there for the long when the race is really on. He's not up to winning a Santa Anita Handicap.
Kiss Today Goodbye – 16/1  intrigues me. At first glance his seventh placed finish in the Pegasus World Cup is disappointing. He got a long way back in that race, however, and was passing horses at the finish. Previous to that he'd won the San Antonio Stakes (G2) on Boxing Day in fine style. He came with a strong stretch drive and I think that the extra distance and smaller field will suit him here. Like.
Express Train – 9/2 might be the biggest danger to Maxfield on his home track. He came from off a strong pace that Tizamagician set when he won the San Pasqual Stakes. The horse was a well-regarded two year old but has missed 11 months with injuries. As a consequence he remains unexposed and looks a live runner here.
Coastal Defence – 20/1 finished sixth in the Pegasus World Cup, but the five year old has ran down the field on too many occasions in Graded races for me to think that this time is going to be any different.
Selections and Staking Plan
Maxfield could be just too good. The missed triple crown campaign has left the owners wanting compensation and this is a big prize. He has an easy running style and can put this to bed coming off the last turn.
Behind Maxfield I'm looking at the closers. Idol needs to get organized quicker than last time but can figure. Kiss Today Goodbye could be eating into this extra furlong and will be closest at the finish. Express Train has more to offer and did everything right last time. Let's put Maxfield on top and put these three with him in exactas and trifectas. Good luck.