Happy Monday my fellow degens! There's a nice seven game NBA DFS slate laid out for us on this President's Day, and I'm excited to get into things. We're going to deploy a nice mix of superstars and low ownership angle players for this lineup. Best of luck to all who trail, and happy cashing!
NBA DFS Picks Monday February 15
PG – Stephen Curry ($9,900) – GS
Let's start things off with one of 10 players on this slate with a usage rate percentage higher than 30% in Stephen Curry. The 32-year-old point guard hasn't missed a beat this season. Furthermore, some would say he's piecing together his best campaign yet.
Steph averages 49.1 FPPG and he's having his best shooting campaign since the 2015-16 season. Curry's reminding us how good of a player he is regardless of who is playing around him, and I want him on any lineup I can. He's a pricy option, but I'll definitely take the chalk with Steph.
SG – Bradley Beal ($8,900) – WAS
Speaking of high usage rate players, let's move along to the shooting guard position and Bradley Beal. Of all the players on this slate, his usage rate percentage is the highest at 35.4% so far. Anyone who thought Westbrook would cut into his production has long changed their mind.
Beal is carrying an average of 49.5 FPPG into this ballgame and he's showing no signs of slowing down. He's topped the 30 points mark in seven of his last 10 games. His Wizards will take on a Houston team who is not good at all. I believe Beal will continue to be a NBA DFS workhorse and we will take him in this spot.
Think you know who is going to be the best player in the NBA this year? Check out NBA MVP odds.
SF – Andre Iguodala ($3,200) – MIA
This is an interesting play for our small forward position. Andre Iguodala is clearly not the 30+ minutes player he used to be. However, he's still got a nice role in Miami's offense as he averages 15.6 FPPG in 21.3 minutes per game so far this season.
It's been an odd season for Iguodala as some games he's taking a pedestrian role. However, he has topped the 20 fantasy points mark in four of his last 10 games. The Heat play the Clippers, which is a game where Iguodala could be called on more for his defensive ability. Expect low ownership here with a chance to be a difference maker.
PF – Isaac Okoro ($3,400) – CLE
For the power forward position, this is another low ownership player who can be the difference in cashing big. Rookie forward Isaac Okoro hasn't been the most consistent player this year. However, he's seeing plenty of run as he averages 33.3 minutes per game.
There's only one thing really holding Okoro back from being an outstanding NBA DFS option. This is the fact that in a decent amount of games he simply doesn't take many shot attempts. If Okoro will get some shots up, then this is going to be the play of the night. If we can get 20 fantasy points here, then we got what we paid for plus some.
C – Robin Lopez ($3,500) – WAS
When I saw the pricing here, my mind was blown. The center position for Washington is basically a timeshare between Alex Len, Moritz Wagner and Robin Lopez. Although Len is usually seeing slightly more time, Lopez is an efficient big man with his shots.
He averages only 15.8 FPPG, but his role has increased over the past few games. Lopez will regularly top the 20 minute mark and this will be no different. The Wizards play Houston, which on paper should be a game better fit for Lopez. For only $3,500 we could possibly have the value play of the slate.
G – Trae Young ($9,500) – ATL
We're hopping back into the high usage players here for the stud Trae Young. He averages 46.8 FPPG and he's arguably the most consistent NBA DFS player out there. He regularly churns out double-doubles in points and assists, so he's going to be pricy.
Young's usage rate percentage is 31% so far this season and he's second in the league in assists per game, behind only James Harden. Atlanta takes on the Knicks on Monday, and this is a great matchup for them. The sky is the limit for Trae and I expect him to top the 50 fantasy points mark in this one.
F – Timothe Luwawu-Cabarrot ($3,600) – BKN
Timothe Luwawu-Cabarrot is another player than can be the one that sets you apart from others without being too expensive. He averages 14.2 FPPG over 19.4 minutes per game. However, I like a few things about him in terms of NBA DFS.
Luwawu-Cabarrot has the potential to top the 20 fantasy point mark, which is exceptional for this price. The second thing I like about him is that his floor isn't as low as some. He puts up at least 10 fantasy points in almost every game, where others are below this mark in half their games. It isn't pretty, but for a value play I'll take it.
UTIL – Donovan Mitchell ($8,000) – UTA
We're going to wrap this lineup up with a bang. Utah leads the Western Conference right now, and this has been mainly because of two players (Donovan Mitchell being one and Rudy Gobert being the other). Spider averages 39.8 FPPG and his Jazz take on the 76ers on Monday.
Mitchell averages 20.2 PPG over his career against Philadelphia, and this feels like a game that he will take over and possibly lead all scorers in. For a player that regularly tops the 40 fantasy points mark, $8,000 seems extremely cheap. Take this one to the bank because the winning lineup will definitely feature Mitchell in some capacity.
Will's DraftKings GPP Lineup February 2/15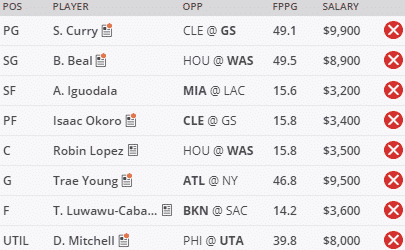 Make sure to subscribe to NBA Gambling Podcast on Apple and Spotify. Ryan and Zach continue picking every NBA game against-the-spread and posting right here: sg.pn/nbapicks