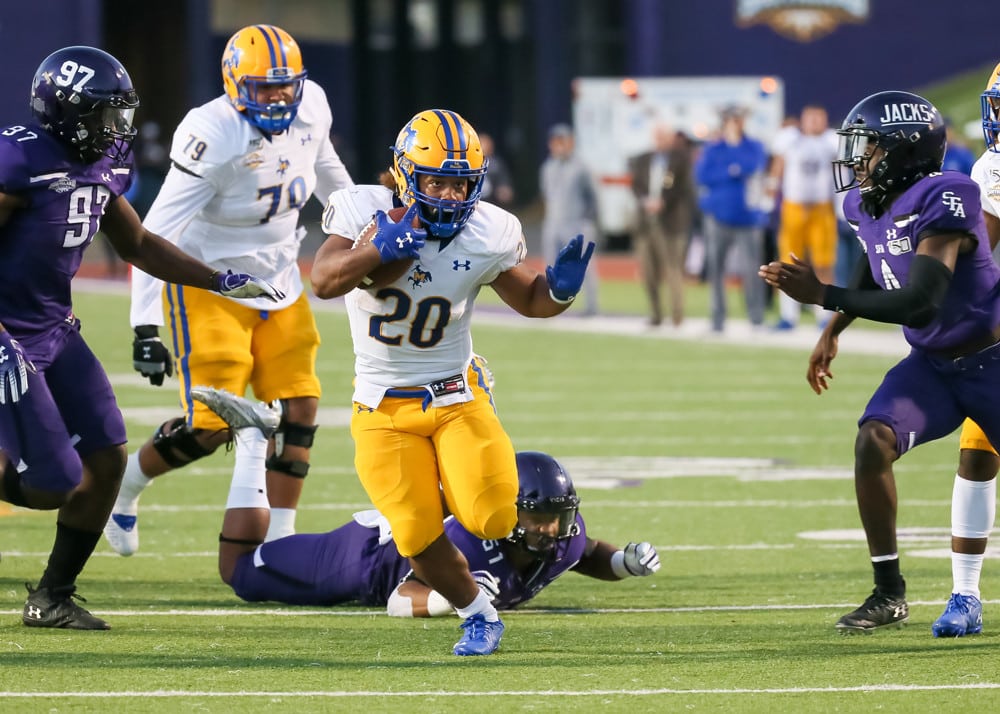 College football begins its Spring season this Saturday as the McNeese State Cowboys take on the Tarleton State Texans. The Championship Series welcomes the Texans and the Western Athletic Conference to the fold to kick off their schedule. They are the only game in town and the perfect opportunity for you to scratch your football betting itch. Here are some suggestions on how to place those bets.
McNeese State vs. Tarleton Cowboys
Game Info
Time: Saturday, February 13th, 4:00 PM Pacific (7 p.m. EST)
Location: Memorial Stadium, Stephenville, Texas
Weather: 26f Cloudy and Breezy
TV: Fox Sports Southwest
Spread: McNeese State -2.5
Total: 51
McNeese State vs. Tarleton Cowboys Betting Odds and Picks
McNeese State -2.5 (-110)
Both of these teams will enter Saturday's game under the disadvantage of not seeing action in over a year. Tarleton is further disadvantaged by their rookie status in the FCS. Tarleton bulldozed their way through Division II last season. They won the Lone Star Division with an undefeated 8-0 record in conference and an 11-1 overall record. Impressive as that is, they are now facing a new level of competition in the FCS subdivision. Not to mention, they haven't seen game speed action since the end of 2019.
https://twitter.com/TarletonFB/status/1360017580103245826
The Texans' learning curve will begin with McNeese State, who finished last season with a 7-5 record. Their 5-4 mark in the Southland Conference landed them in fifth place for the 2019 season. They will enter this unusual season with their starting quarterback for last season, Cody Orgeron. The Cowboys also welcome back senior running back Elijah Mack. Both will look to show Tarleton what Division 1-AA football is all about. McNeese State closed out the 2019 campaign by winning four of their last five games. Look for them to handle their business against the new kids on the block.
https://twitter.com/McNeeseFootball/status/1360381381998764034
Total: Over 52 (-110)
Dissecting the implied totals gives you an estimated final of 28-25 in favor of the Cowboys. Taking a look at last season, McNeese State scored more than 28 points in half of their games. In fact, they scored more than 30 points in every game in which they did so. They maxed out in a 42 point game against Houston Baptist.
As for the Texans, only once last season did they fail to score 30 points. Unfortunately for them, it was in the playoffs. Overall, their offense was explosive. They reached the 40 point mark four times, 50 points three times, even hitting a high of 66 in a complete undressing of Midwestern State.
Obviously, both of these teams have had time off and will have to readjust to new players on their rosters. But, with neither seeing action in quite some time, there will be a need to unleash months of pent up football energy. It should translate to a higher scoring game than predicted.
---
McNeese State vs. Tarleton Related Articles:
FCS College Football Preview & NFL Futures (Ep. 955)
McNeese vs Tarleton State Preview & FCS Football Picks | The College Experience (Ep. 559)