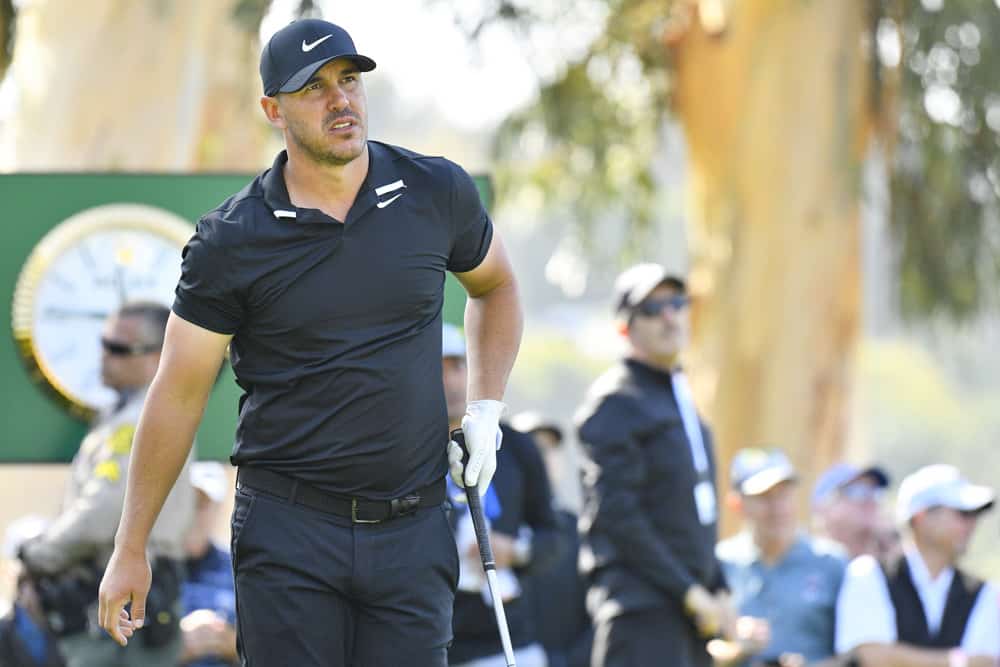 For those who missed it, check out the 2021 Farmers Insurance Open Gambling Preview and Strategies for the types of golfers you should look to target for your picks. Using that as a guide, here are some of the best bets to make this week – here are my 2021 Farmers Insurance Open Picks and Props.
2021 Farmers Insurance Open Picks:
Outright Winners
Before we get into the 2021 Farmers Insurance Open picks, a couple notes on how to bet outrights this week.
Unlike last week where longshots prevailed a lot at the American Express, typically the favorites and big names prevail at Torrey Pines. Here are the last 10 winners of the Farmers Insurance Open, and their odds pre-tournament:
2020: Marc Leishman – 50/1
2019: Justin Rose – 14/1
2018: Jason Day – 20/1
2017: Jon Rahm – 50/1
2016: Brandt Snedeker – 15/1
2015: Jason Day – 12/1
2014: Scott Stallings – 250/1
2013: Tiger Woods – 7/1
2012: Brandt Snedeker – 20/1
2011: Bubba Watson – 50/1
Not a ton of slouches on that list. Only Scott Stallings can be considered a true out of nowhere winner. Favorites win at Torrey Pines because it's a hard and demanding golf course tee-to-green. It also is a golf course that heavily favors longer hitters. Longer hitters generally are the better players on the PGA Tour, and therefore typically are among the betting favorites.
In addition, there may be opportunities to live bet the favorites after Round 1 if they start on the South Course. The South Course plays harder than the North Course. If one of the favorites plays the South Course on Thursday, their odds to win the tournament might lower due to players populating the top of the leaderboard after Round 1 who played the North Course. This may provide an opportunity to bet, say, Jon Rahm or Rory McIlroy at slightly better prices than pre-tournament.
As we stand here today without tee times set, here are pre-tournament outrights that catch my eye:
Brooks Koepka – 30/1
Originally I planned this week to just bet Brooks Top 10 at +300 (a bet I'm still making). But seeing his outright price all the way down to 30/1 is disrespectful. Koepka missing the cut at the American Express shouldn't have come as a surprise. He practically told the world he wasn't concerned with it. The goal was to tune up in order to be ready to play this event, which would serve as a practice round for the U.S. Open in June. This week, we'll get an engaged and focused Brooks Koepka. And he's at a golf course that fits his strengths. Out of principal, bettors should place a bet on Koepka at this price.
Matthew Wolff – 35/1
Over the last year, Matthew Wolff has feasted on long, narrow, straight golf courses with thick rough. That sums up Torrey Pines perfectly. Wolff possesses nearly untouchable length off the tee that gives him a big edge over his competitors. Unlike last week where it punished one for being out of position off the tee, Wolff can hit it both left and right without much repercussion. The perception that driving accuracy matters at golf courses like Torrey Pines are false. He has shown that several times in his young career. He owns great finishes at places like Harding Park and Winged Foot, two venues where driving accuracy was thought to matter. He (and other bombers) showed that it didn't. Wolff is in a great spot to not only bounce back from a disappointing finish last week, but to earn his second career win.
Jason Day – 40/1
There's a few question marks surrounding Jason Day this week. He has new clubs in the bag and a new coach whispering in his ear. But considering his great form beginning last summer when he split from his longtime coach and his great form at Torrey Pines, throwing a bet on him to win at Torrey Pines is still worthwhile. He's won the event twice and annually crushes the Poa greens he sees on the California swing. He has all the attributes to win this event, and is primed for his third title at Torrey Pines.
Bubba Watson – 40/1
Like Day, Bubba showed a tremendous improvement with his ball striking towards the end of last year. Over his last 50 rounds, Bubba Watson has gained 1.02 strokes per round tee-to-green. Bubba has a strong track record both here and Riviera. The common link between the two are the Kikuyu fairways and rough. He's won the event before and his game continues to check all the boxes of a potential winner. While it's unknown if he can pick up where he left off from last fall, it's worth finding out at a 40/1 price.
Gary Woodland – 66/1
Before his hip injury, Gary Woodland had transformed into one of the best players in the world. He had won both the Waste Management Phoenix Open and the U.S. Open and climbed all the way to 14th in the world. But a torn hip labrum hampered him towards the end of last season. Woodland showed back up last week at the American Express and played great, gaining almost a stroke per round tee-to-green at the Stadium Course. Woodland checks the boxes as a long driver who's a fantastic ball striker and possesses a good short game. All those things make up a champion at Torrey Pines. Woodland could be the next one.

Positional Props
Tony Finau Top 10: +225
There's a lot of negativity around Finau after his disappointing final round at the American Express. There should be more optimism around him given how well his game translates to Torrey Pines. Finau also has a decent track record of bouncing back after near misses. Thirteen times in his career he's followed up a Top 10 with at least a Top 20 finish. He has a very high floor this week at a golf course that maximizes his strengths. He's in a great spot to finish towards the top of the leaderboard once again.
Cameron Smith Top 20: +275
Many Australians are getting a lot of love from experts this week. Cam Smith seems to be getting the least. He possesses more length off the tee than you'd think to get by at Torrey Pines. Even so, he makes up for those shortcomings with fantastic scrambling and solid putting on Poa surfaces. He has a solid track record at Torrey Pines, which might have to do with the Kikuyu grass he grew up playing on in Australia. Smith is in position for another good finish at Torrey Pines
Will Zalatoris Top 20 – +275
This is probably the toughest test of Zalatoris's career on the PGA Tour. Zalatoris dominated several weaker fields in the fall to post great finishes. The field he faces this week is one of the toughest yet. But Zalatoris's game matches up great at Torrey Pines because he's very long off the tee and is one of the best players with their irons. He also passed with aces at Winged Foot, a similar demanding golf course of both narrow and thick roughed traits. His premier ball striking should give him a tremendous edge on the field for a great finish at Torrey Pines.
Other Top 20 Props To Consider:
Cameron Davis  +300
Cameron Champ  +300
Sam Burns  +350
Carlos Ortiz  +400
Erik Van Rooyen  +450
Luke List  +500
Brandt Snedeker  +750
J.B. Holmes  +800
Andy Ogletree  +1100
Beau Hossler  +1400
2021 Farmers Insurance Open Picks:
Matchup Props
Rory McIlroy -120 over Xander Schauffele
It's bizarre why Xander hasn't found success at Torrey Pines given his attributes as a golfer. He attended La Jolla High School and played the golf course hundreds of times as a kid. But he has admitted that playing in his home town causes unnecessary distractions for him. That explains why he has missed the cut three of four times at the event. Xander Schauffele might be a good GPP Pivot on DraftKings this week because of this perception for bettors. But as for this matchup, Rory McIlroy is a much more consistent and reliable player at Torrey Pines than Xander. Take his side on this matchup prop.
Brooks Koepka -105 over Sungjae Im
The praise for Koepka is above. As for Sungjae Im, he has several negative trends going against him. He's not the longest player off the tee, which puts him behind the eight ball. The ability to scramble and putt well has been known to reduce this gap for players with average length off the tee. But these are two areas Sungjae has struggled with over the last six months. Over his last 50 rounds, Sungjae has lost a combined 0.17 shots per round to the field with his putting and scrambling. He also is coming off an American Express where he gained over seven strokes putting in the event. That is bound to regress. Brooks should beat Sungjae head to head.
Viktor Hovland -105 over Patrick Reed
2021 has not gotten off to a good start for Patrick Reed. Across the Sentry Tournament of Champions and one ShotLink measured round at the Stadium Course, Reed has lost 4.7 strokes total tee-to-green to the field. That helped deliver a lackluster finish at Kapalua and a missed cut at the American Express. As for Hovland, he played this event once as an amateur and it did not go well for him. But he has matured into a more refined ball striker and a much improved scrambler. Those two things should help provide for a stronger showing this year. Hovland should beat Reed straight up.
J.B. Holmes -110 over K.H. Lee
Holmes is technically the underdog in this matchup, as K.H. Lee's odds here are at -120. Injuries hampered J.B. Holmes in 2020, but bettors have no idea what the state of his health is at the moment. What bettors do know, however, is that J.B. Holmes has a great career at Torrey Pines because he bombs it off the tee and putts well on Poa surfaces. Taking him heads up against an inferior player at a coin flip price is well worth it.