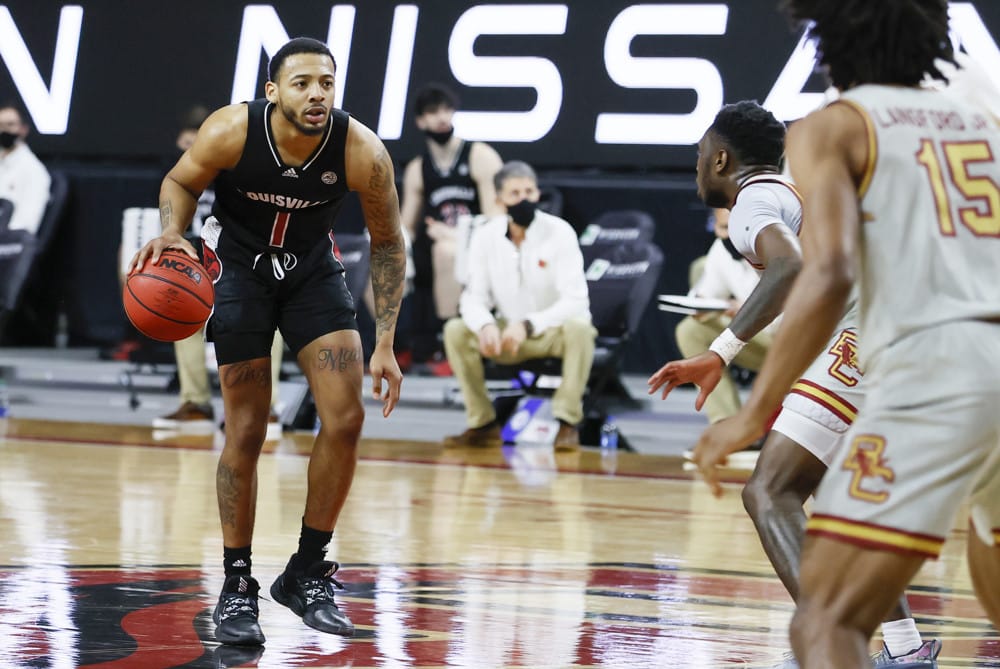 Welcome back College Basketball Daily Fantasy fans. We're set for a huge college basketball weekend. With both NFL games on Sunday, most of the sports world will be tuning into college basketball on Saturday. Other than a golf tournament going on, college b-ball has the stage to itself and we have quite the slate of games. Nineteen of the top 25 teams in the country are playing on Saturday, which includes three games where ranked teams square off against each other.
The Saturday DraftKings slate consists of 10 marque matchups. Let's dive right in with our College Basketball Daily Fantasy Picks.
College Basketball Daily Fantasy Picks
Guards:
Carlik Jones, Louisville – $8.8K
Louisville plays Duke this weekend and I've been all about fading this shaky Blue Devils defense. Earlier in the week, Pitt put up 79 on Duke and just a few games ago, a mediocre BC squad scored 82. It makes a lot of sense to roster a Louisville Cardinal or two and Carlik Jones is their leading scorer.
Jones is the second most expensive guard in Saturday's slate, but I expect a huge outing. Jones just had a streak of four straight games over 30 fantasy points snapped against Florida State. Expect a big time bounce-back game as the Radford transfer will be licking his chops to go up against a true blue-blood. Forty fantasy points is within range.
Tyrese Martin, UConn – $7.2K
Here's a guy who has been an absolute monster of late. How does three straight games above 30 fantasy points sound? With James Bouknight out with an injury, Martin has seen his playing time increase to around 35 mins per game. In addition to scoring in double digits, he has an insane 11 steals over the last two games and has three games on the season with over 10 boards.
The game with Creighton should be a high scoring affair. Look for Martin to stuff that stat sheet once again. Plus, being listed as a G/F adds flexibility to building your lineup.
Bargain Bin:
Leaky Black, North Carolina – $5.6K
It could be argued that Leaky Black's three years in Chapel Hill have been somewhat of a disappointment. However, the junior guard is currently playing the best basketball of his collegiate career. UNC has a revenge game against NC State this Saturday and will need Black to have the all-around game he recently displayed vs Wake Forest.
Against the Demon Deacons, Black only scored eight points, but he also registered eight assists, six rebounds, and a couple steals in 30 minutes of action. Total all those stats together and that's 31 fantasy points for a guy that's south of $6K. I believe he's primed to do it again.
Hunter Cattoor, Virginia Tech – $4.6K
The Hokies have a boatload of guards who all play substantial minutes. In fact, there are three others guards on this roster who log more court time than Cattoor. Although the sophomore is only averaging 19.2 minutes a game, he's been getting more burn of late mostly due to his excellent three point shooting.
Va Tech is traveling up to The Carrier Dome for a matchup against Syracuse and their dreaded zone defense. One way to beat that zone is to shoot lights out from deep. On the season, Cattoor is 20 of 41 or 48%. He's hit three treys in two of his last three games. Expect him to be on the court often against the 'Cuse and he's got a green light.
College Basketball Fantasy Picks
Forwards:
Jalen Johnson, Duke – $7.6K
I'll admit that this is a risky proposition. The true freshman has only played six games this year and his play has been up and down. For example, after putting up 56.8 fantasy points in the season opener, he followed it up with only 23 in the next game. After being sidelined with a foot injury for a few weeks, Johnson is now healthy and ready to roll.
Against Pitt earlier in the week, all Johnson did was register 67.3 fantasy points. That's not a typo. He had 24 points, 15 rebounds, 7 assists, 4 blocks, and 2 steals. He's the best pro prospect on Duke and should be in store for another 30+ minutes vs Louisville. Here's his highlights vs Pitt if you need more convincing.
Damien Jefferson, Creighton – $7.2K
Creighton has one of the best offenses in America (ranked #11 in Ken Pom). Much like Gonzaga or Iowa, whenever you see the Blue Jays on the slate, it's wise to consider guys like Jefferson, Mahoney, and Zegarowski. For this week, give me Damien Jefferson as I love his potential vs UConn.
Jefferson just played his best game of the year as the senior scored 26 of Creighton's 70 points vs Butler. Expect the momentum to continue. In the last five games, D.J. has been north of 30 fantasy points three times. He's on a roll right now and I'll follow the hot hand.


Bargain Bin:
Brandon Johnson, Minnesota – $5.3K
The grad transfer from Western Michigan is solidifying his part as an important piece of the Golden Gopher squad. At a cheap price, you are getting a guy who's going to play between 20 to 30 minutes and has double-double upside.
Additionally, one could argue that Johnson may be a better matchup against the athletic big men at Maryland than Minnesota's 7-footer, Liam Robbins ($7.4K). It wasn't that long ago when he put up 26 points with nine rebounds against Iowa and Luka Garza.  He should get the minutes and produce on Saturday.
Trey Anderson, South Carolina – $4.5K
The Gamecock frontcourt is a bit of a mess right now. Jalyn McCreary and Alanzo Frink are both out with COVID and will not play vs Auburn. While that's unfortunate for them, it opens opportunity for others. A week ago, I had never heard of Trey Anderson, as the sophomore forward was only receiving limited playing time.
With a depleted roster, Anderson logged 24 minutes against Mizzou on Tuesday, scoring 17 points and bringing down five rebounds with a couple assists dished out. All in all, he registered 27.3 fantasy points. He'll have the same opportunity on Saturday against an average-at-best Auburn defense. If I can get 20+ points for only $4.5K, I'm a happy man.
Listen to this:

College Basketball Weekend Preview | The College Experience (Ep. 538)