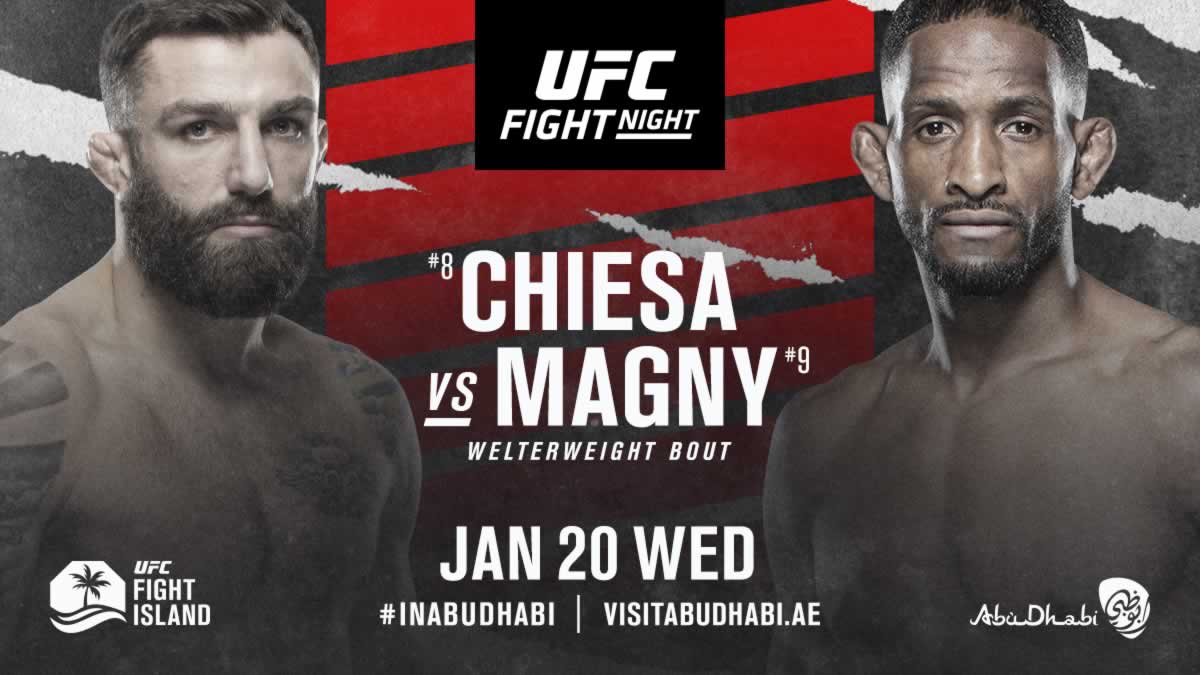 Who's ready for some Wednesday morning fights?! Anybody???? Bueller??? Bueller??? Bueller??? Well, tough, you're getting some Wednesday morning fights this week, as the UFC beams to us UFC Fight Island 8 aka UFC Fight Night: Chiesa vs Magny, starting at 9:00 am Eastern (main card at noon). Regardless of start time, let's make some money on Wednesday – here are my UFC Fight Island 8 predictions.
RELATED
Fighting Styles Should Influence Your UFC Betting Picks
8 UFC Stats That Will Win You Money

UFC Fight Island 8 Predictions
Neil Magny (-140) vs Michael Chiesa
This welterweight battle was original scheduled to be the co-main event until the Leon Edwards-Khamzat Chimaev fight fell through, once again. But Michael Chiesa and Neil Magny are game, and ready for a five round war. Both men have won three straight fights, but I'm counting on Magny to make it four straight after Wednesday. He's got the height and the reach and the ever-important striking stats in his favor, plus he's a solid enough grappler to keep Chiesa off him.
Mounir Lazzez (-240) vs Warlley Alves
Not a very sexy co-main event, at least on paper. The 10-1 Lazzez is my pick, as he's on a nice hot streak (three straight), is bigger, and is the superior grappler. Plus Alves has been on the sidelines since November of 2019.
Vinicius Moreira (+105) vs Ike Villanueva
While we like the #chunkyguys at the MMA Gambling Podcast, I'm picking against Ike Villanueva in this one. Moreira losing all three of his UFC fights might explain this betting line, but Villanueva hasn't been much better, going 0-2. However, the Brazilian is bigger, younger, and has the striking plus the grappling stats on his side. Go get that plus money.
Viviane Araujo (-330) vs Roxanne Modafferi
I'm not so keen on this huge line, but I'm taking the Brazilian in this fight too. She's won three of her four UFC fights, while the veteran Roxie has alternated wins with losses (she won her last fight, so….). Araujo is also four year younger and has the striking and grappling in her favor.
Matt Schnell (-105) vs Tyson Nam
Taking another slight underdog here in Matt 'Danger' Schnell. He was on a four fight winning streak before dropping his last fight. He's seven years younger than Nam, he's bigger, he's got the striking and grappling stats, blah blah blah.
Lerone Murphy (-305) vs Douglas Silva de Andrade
I like Murphy here, but not at this number as I think this is a much closer matchup. And you can probably guess why I like him – all the same reasons as most of my picks – bigger, younger, striking and grappling stats. Hey, go with what works, and my research says these factors matter.

Tom Breese (-160) vs Omari Akhmedov
Breese has been sneaky good in the UFC, winning five of his seven fights. He's also younger and bigger and a better striker than Akhmedov. As long as he can keep this fight standing, he should get the W.
Ricky Simon (-420) vs Gaetano Pirrello
Belgium's Pirrello will be making his UFC debut on the strength of back-to-back TKO wins. But he's been out of action since October 2019 and has a bad matchup here in Simon. The Vancouver, Washington native is just the better, and more experienced, fighter.
Su Mudaerji (-490) vs Zarrukh Adashev
Lots of big favorites on this fight card, and I'm not recommending betting on any of them (unless you want to #throwtheminaparlay), but I guarantee to pick winners, and winners I'll pick. Mudaerji's weakness seems to be grapplers, which the kickboxing Adashev isn't, so he should be winning this one.
Dalcha Lungiambula (-140) vs Markus Perez
Assuming the fire hydrant Lungiambula can safely cut all the way down to 185-pounds for this fight, he should be able to stop the short notice replacement Perez. You might want to put a bet down on him winning early via KO.
Jerome Rivera (+120) vs Francisco Figueiredo
I think we're getting plus money here due to Francisco's famous brother, UFC Flyweight Champion Deiveson. Rivera is the bigger, younger fighter and Figueiredo has been on the shelf since September of 2019.
Mason Jones (+135) vs Mike Davis
The debuting Mason Jones is a perfect 10-0 as a pro and a double champion in Cage Warriors (as was Conor McGregor). Getting him for plus money here feels like stealing.
Umar Nurmagomedov (-540) vs Sergey Morozov
Another famous last name getting probably an unwarranted bump on his betting line. I'm still taking Khabib's cousin to win his UFC debut here, but not at -540.
Victoria Leonardo (+160) vs Manon Fiorot
I took more dogs on this card than I realized. I like the debuting Leonardo to beat the debuting Fiorot due to her superior high level experience and size.
UFC Predictions Overall Results 
Overall Record: 196-124
2021
Record: 5-5
Earnings:  -($244.75)
Return on Investment:   -(24.5)%
UFC Fight Island 8 Predictions Related Posts
8 UFC Stats That Will Win You Money
Fighting Styles Should Influence Your UFC Betting Picks